Malaysia With Kids
There are plenty of fun things to do in Malaysia with kids. Malaysia is a very child-friendly country. Malaysians love kids and most Malaysian parents would not dream of going to a restaurant for example without their kids.
I am not going to try to catalogue every single kids' attraction in the country but here are some of the family activities which we have tried and found enjoyable.
---
Theme Parks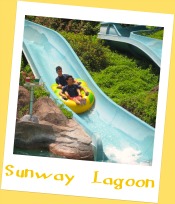 We have twice visited the world famous Legoland Malaysia and this has taken over the number one spot as my daughter's favourite theme park in Malaysia. It is located in Johor which is rather far away from us as we live in KL but I expect we shall manage to visit again.
Her second favourite theme park, Sunway Lagoon is more conveniently located on the southern outskirts of Kuala Lumpur. It is an international-standard theme park with a water-based section (wave pool, water slides, lazy river etc.), land-based amusement park (thrill rides etc.), an extreme park, scream park and wildlife park.
Her next favourite theme park is probably Lost World of Tambun near Ipoh. Also managed by Sunway Group, the park includes a water park, land-based amusement rides, a petting zoo and a hot spring resort.
Also in Perak is Movie Animation Park Studios (MAPS), Asia's first animation theme park featuring both Malaysian and international animated characters. (Since closed down).
Genting Highlands is a close runner up with indoor and outdoor amusement parks, a cable car ride, a Ripley's Believe It Or Not and a casino (for adults!).
Another very good indoor park is Berjaya Times Square Theme Park which has probably the scariest roller coaster in Malaysia.
There are a number of cheaper water parks and amusement parks scattered around the country including Wet World Water Park in Shah Alam and A'Famosa Resort near Melaka. There is a small water theme park at Lake Kenyir should you find yourself in that beautiful corner of the country.
Bukit Merah Laketown Resort is another option. While its waterpark may not be as good as Sunway Lagoon or Lost World, it does have the added attraction of Orang Utan Island.
For something completely different you could take the kids to i-City in Shah Alam. Here you can experience a winter wonderland in Snowalk and admire an amazing forest of lights. Here too is the recently opened Waterworld@i-City, a water theme park which includes the Ultimate Tornado, the 1st vortex spiral slide in South-East Asia. Another fun activity at i-City for kids is the Trick Art Museum. In the next door building is the recently opened Red Carpet Wax Museum (Malaysia's closest equivalent to Madame Tussauds).
If you are in Port Dickson your kids might enjoy the Alive 3D Art Gallery, one of those interactive trompe l'oeil art galleries that have become very popular in Malaysia in recent years. 
---
Malaysia With Kids - Nature & Animals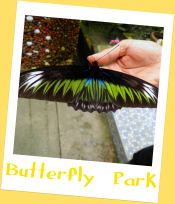 If you live in Malaysia with kids it certainly helps if your children enjoy the great outdoors. All the National Parks and Recreational Parks are fun places for children to explore and get some exercise.
The Kuala Gandah Elephant Sanctuary and Deerland was a hit with my children. Kenyir Elephant Conservation Village is an alternative place to ride, feed and bathe elephants.
Zoos are always a favourite and Zoo Negara is probably the best one in the country but there are also good zoos in Melaka and Taiping.
At Farm In The City on the outskirts of KL, children can pet cuddly animals and see exotic species in a Malaysian village themed setting. There is a mini zoo at Kuan Wellness Eco Park and you can combine a visit with a trip to nearby Cunang Beach.
Pet cafés have become popular in recent years and if your kids are into huskies they are sure to want to go to Huskiss to play with their adorable dogs.
Over in Sabah, the Sepilok Orang Utan Sanctuary is a good place for children to see orang utans in a more natural setting. My favourite primate is the proboscis monkey and the Sandakan Proboscis Monkey Sanctuary is one of the few places where you can see some outside of a zoo.
Aquaria in KLCC is an impressive state-of-the-art aquarium which my kids enjoyed even though they have already been to very similar ones in Hong Kong, Singapore, Manila, Dubai and Osaka. While you are there you must see the Petronas Twin Towers located just a short walk away.
Another aquarium attraction is The Shore Oceanarium in Melaka where kids can enjoy a fun and educational outing getting to know sea and river creatures.
Pusat Ikan Hiasan is a marine conservation centre in Port Dickson where kids can see baby turtles up close and a great selection of sea creatures in spotlessly clean tanks. What's more admission is free! 
Speaking of Port Dickson, the family is sure to enjoy to PD Ostrich Show Farm where there are plenty of animals and activities to keep the kids amused.
The KL Bird Park is one of my favourite attractions. It claims to have the world's largest free-flight walk-in aviary. Melaka Bird Park has another impressive aviary.  A stone's throw away from KL Bird Park  is the Kuala Lumpur Butterfly Park where you can wander through a steamy rain forest environment and watch thousands of spectacular butterflies fluttering freely under cavernous netting. If you go to Cameron Highlands, Penang or Melaka you will find similar butterfly parks.
The mangrove swamps around Kuala Selangor are home to a number of firefly colonies whose glowing, twinkling abdomens put on a nightly show for visitors.
It is only on for 11 days, once every two years but MAHA Agricultural Show is a good place for kids to learn about agriculture and there are fun activities for children too.
Batu Caves is an easily accessible place for kids to experience a massive limestone cave which also houses several Hindu shrines.
---
Malaysia With Kids - Museums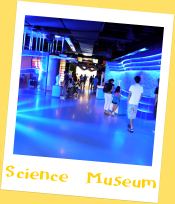 The Science Museum, Planetarium, Petrosains and Air Force Museum are among my children's favourite museums in Kuala Lumpur.
You can't go wrong taking the kids to the Chocolate Museum @ Kota Damansara. It's free too, at least until you get to the chocolate shop!
If you are in Malaysia with kids (including Dads!) who like cars you should make a bee-line to Sepang International Circuit where they have Go Kart racing (for age 13 plus) and the National Automobile Museum. For something different try visiting the bread museum in Shah Alam called High 5 Bread Town.
There are stacks more museums in Malaysia and you can find my comprehensive list here.
---
Malaysia With Kids - Activities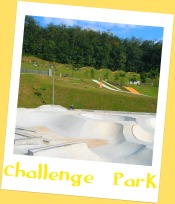 In March each year your kids could enjoy the MyBalloon Fiesta now held at Desa Park City. This event has a whole host of fun attractions in addition to a spectacular display of colourful and unusual hot air balloons.
In Putrajaya, you can take a cruise trip round Putrajaya's scenic lakes and admire the city's striking architecture. Putrajaya also has Challenge Park with one of the best indoor climbing walls you are likely to see as well as a skateboard park and mountain biking course.
For more leisurely cycling, Titiwangsa Lake Gardens is a good place to go where kids can also rent roller blades or ride horses. Talking of horses, one of the best places for riding lessons is the Selangor Turf Club Riding School where various packages are available.
A short distance away, the Mines Cruise next to The Mines shopping mall is a pleasant way of killing a few hours. Kids will enjoy feeding the giant catfish and seeing the storks and monitor lizards. And the mall has a kiddies playground and a good selection of electronic goods shops.
If your kids need to burn up some energy how about taking them for some trampolining at Flip Out Trampoline Arena? It's good exercise for Mums and Dads too! Another great place for trampoline fun, wall climbing, thrilling obstacle courses and getting fit is EnerZ Indoor Extreme Park in Subang Jaya.
Older kids or young adults looking to let off some steam in the great outdoors might enjoy Semenyih Eco Venture Resort & Recreation where they can ride quad bikes, hone their Ninja skills, practice archery, mountain bike and a lot more.
For children who want to practice their creativity skills, Batik painting is available at the Kuala Lumpur Handicraft Complex or they could try their hand at making a pewter bowl at the Royal Selangor Pewter Factory.
KL Tower is the best place to take kids for a fine view of the city. At the foot of the tower lies KL Forest Eco Park, an area of rainforest right in the heart of KL where children can explore the nature trails or try out the outdoor exercise area.
---
Malaysia With Kids - Beaches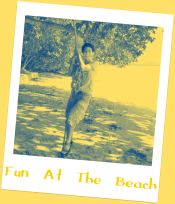 If you are in Malaysia with kids you must not miss the beach. Are there any children who do not enjoy the beach? See my beaches section for some great places where kids can play sandcastles, swim, snorkel and more.
---
Malaysia With Kids - Malls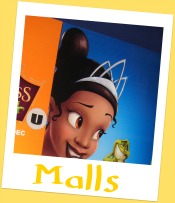 Sometimes it is hard these days to get kids interested in nature and the great outdoors. Even if they are interested, the weather in Malaysia is not always suitable for outdoor activities. A violent thunderstorm or a particularly scorching day can force all of us indoors. In that case the kids might prefer to go to a shopping mall. There are some excellent malls in Malaysia with kids in mind. In addition to shopping and the kids favourite eating places, malls often have entertainment such as cinemas, ten pin bowling,  ice skating and even theme parks.
Top malls with entertainment include:
. IOI City Mall (home to District21, an apocalypse themed indoor adventure park).
. Suria KLCC
. Mid Valley
. Berjaya Times Square (includes Berjaya Times Square Theme Park, formerly Cosmo's World)
. The Curve
. Alamanda
. Sunway Pyramid (ice skating)
. Empire Subang (they have just installed Asia's longest slide).
---
Malaysia With Kids - Reading Books
Even in this digital age kids still enjoy reading books, at least until they get their first laptop!
There are a few lending libraries around. Two of the biggest, with dedicated children's sections, are the National Library in KL and Raja Tun Uda Public Library in Shah Alam.

If you prefer to buy, there are plenty of good bookshops in Malaysia. My favourite is Kinokuniya in Surai KLCC.
And be sure to take them along to the Big Bad Wolf book sale which is held annually in early December at MIECC@The Mines to stock up on books at huge discounts.
Day Trips Outside of Kuala Lumpur
Want to take the kids out of the city? Here is my Top 10 Day Trips Outside of KL for Kids.
As you can see there is plenty to do in Malaysia with kids so if you are planning a business trip to Malaysia, bring the whole family along! They will thank you for it.
---
Malaysia With Kids Who Like Orangutans

---
---
Share this page: