Malaysia's Hill Resorts
Malaysia's hill resorts were set up during colonial times when British administrators and planters liked to escape to hill resorts periodically to get away from the oppressive heat of the lowlands. There was no air conditioning in the early days and the tropical climate took a heavy toll on the health of Europeans who dropped like flies from malaria and other diseases.
Following the precedent set in India, where the Raj had long enjoyed hill stations like Simla and Darjeeling, the British in Malaya established a number of hill stations starting with Penang (late 1700s), Maxwell Hill (Taiping) (late 1800s) and laterFraser's Hill and Cameron Highlands to serve as health and recreation centres for expatriate Europeans.
Finding that the cooler climate in these places could support more temperate species of fruit and vegetables they tried to recreate little corners of Britain with quaint cottages, complete with fireplaces and chimneys, and pretty gardens. Fraser's Hill still retains some of that atmosphere while Cameron Highlands has gone on to develop a unique ambience of its own.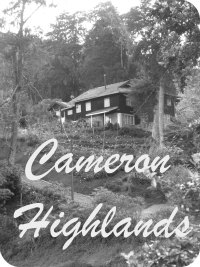 Since Independence, Malaysia has expanded, developed and improved access to these resorts and also created two entirely new ones, Genting Highlands and Bukit Tinggi.
All of these resorts are found in Peninsula Malaysia. Their locations are marked on my interactive map below (zoom in and pan as needed).
How do the Hill Resorts Compare?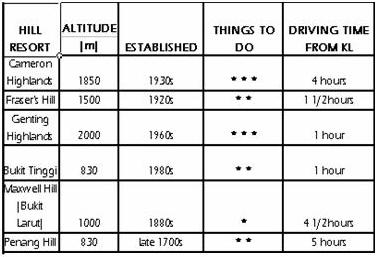 The 'Things to Do' column is my subjective view on the variety of attractions of each resort (3 stars being the highest score).
Click on the relevant links below to find out more about each resort.
---

The Cameron Highlands is the most popular and developed of Malaysia's hill resorts. From picking strawberries to hiking peaks there is something for everyone. 

---

Fraser's Hill still retains the sleepy charm of a colonial hill station where lovers of the outdoors can enjoy fresh air and comfortable temperatures.
---

The Genting Highlands has other attractions besides the casino and theme park. Don't miss the Chin Swee Temple, Cradle Rock, mushroom farm and more. 

---

Bukit Tinggi is a little corner of Alsace which has been created in the Malaysian hills. Find out here what the Berjaya Hills Resort has to offer. 
---

Zoom up Penang Hill (Bukit Bendera) on the newly reopened funicular train for splendid views and cooler temperatures. Or hike up if you prefer. 
---

Little has changed at Bukit Larut Resort Hill in the past 100 years. It is still a place for nature, peace and quiet and fresh mountain air.
---
Share this page: