Top Selangor Attractions
I have compiled this list of my favourite Top Selangor Attractions based on my travels and family outings over the past 10 years or so.
Selangor, or Selangor Darul Ehsan to give it its formal name, is the most developed and heavily populated of Malaysia's 13 states (estimated population as at January 2012 is over 5.5million). It is also the richest with a large share of the nation's industry and commerce concentrated here.
Selangor completely surrounds the Federal Territories of Kuala Lumpur and Putrajaya which were built on land which once belonged to Selangor.
Selangor bears the scars of more than 100 years of development. Tin mining has left its mark but many of the resulting excavations have been converted into lakes for recreational or other uses. In much of the state, there is little trace of the original primary rain forest which was cleared long ago, firstly for rubber plantations which have since been replaced by oil palms or for development.
However it is still a very green state with plenty of parks and forest reserves and, along its eastern fringe there are still huge swathes of jungle covered hills to explore and enjoy.
My list of Top Selangor Attractions is a mix of urban and nature activities and, if you live or are staying anywhere within the Klang valley, they are all easily reachable within an hour or two's driving so very suitable for a weekend outing or day trip.
Map of Top Selangor Attractions
(Enlarge the map to obtain the key to the blue markers showing the Top Selangor Attractions.)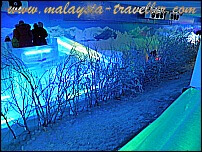 This has to be one of the most popular family attractions in Malaysia. You can cool off in Snowalk, an indoor snow park with ice houses, snowmen and a mini-bobsled run, while outdoors is a fantasy forest of digital lights which is really spectacular. Recent additions include a big wheel and other fairground rides.
---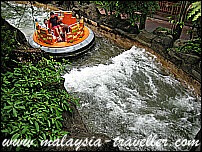 Sunway Lagoon is, I think, Malaysia's top theme park and one of the best in Asia with a water park, an amusement park, a wildlife park, extreme park and scream park.
---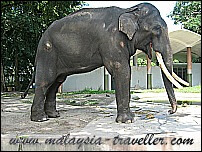 Located on the fringe of KL, this zoo is a popular Selangor tourist attraction. It is a large zoo set in lush tropical landscaping with all the usual zoo-ey attractions. New! the Giant Panda Conservation Centre is now open. Read details here.
---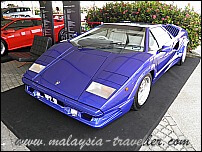 4. Sepang International Circuit
This race track is home to Malaysia's Formula 1 and other motor sport events. It is possible to do Go-Karting here. There is also a National Automobile Museum which is worth a quick look.
---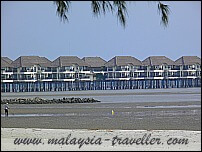 5. Selangor's Beaches
Selangor does not have the best beaches in Malaysia but here are some worth visiting:
Bagan Lalang, Batu Laut, Morib, Pantai Kelanang and Pantai Cunang.
---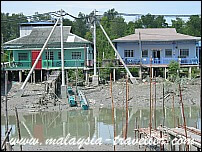 If you enjoy seafood, a trip to Crab Island is a must. The ferry journey itself is quite interesting and on the island you can see the lifestyle of a typical Chinese fishing community.
---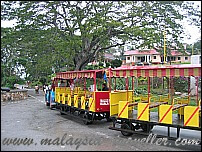 This quiet corner of Selangor has a number of attractions - Bukit Melawati with an old lighthouse and inquisitive monkeys, one of the world's largest colonies of fireflies and a nature park. The new LATAR expressway to Kuala Selangor was opened in 2011 to reduce journey times.
---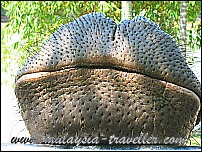 Talking of nature parks, Paya Indah near Putrajaya is a man-made wetlands area with crocodiles and hippos among its star attractions. Fishing, kayaking and bird watching are possible here and accommodation is available.
---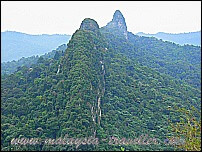 Two of my favourite mountain hikes are found in Selangor. The first one is Klang Gates Quartz Ridge which is an invigorating but not too difficult walk along the spine of a quartz dyke from where you can get great views of Kuala Lumpur. This hidden secret could be one of the top Selangor attractions if it were better known.
---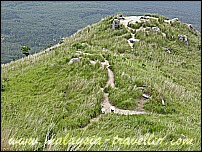 My other favourite hill climb is Bukit Broga, a 400 meter high peak which is one of the few in Malaysia not covered in dense jungle so you get lovely views. It's a steep climb but worth it.
---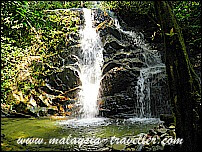 11. Kanching Rainforest Waterfall
This is a lovely park close to KL with a series of stunning waterfalls where you can swim and bathe (with caution), picnic, jungle trek and enjoy the clean fresh air.
---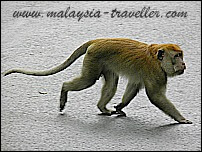 This is a huge nature park at Shah Alam with stacks of activities and exhibits. Although the park is in need of renovation in parts it is still a worthwhile visit for a day outdoors.
---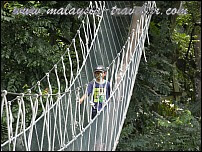 13. Forest Research Institute Malaysia (FRIM)
Another giant nature reserve whose main attraction is its canopy walkway, a slightly wobbly pedestrian suspension bridge which provides a bird's eye view of the rainforest. This has to one of the top Selangor attractions.
---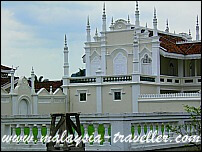 Jugra Hill gives splendid views over the Langat River and Carey Island. Paragliding enthusiasts like to launch themselves from here. Other nearby attractions are a beggars' chicken restaurant, Ala'eddin Palace and the Bandar Masjid.
---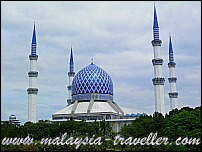 Selangor's capital city, Shah Alam has a lot to see including pretty lake gardens, Malaysia's largest mosque, Sultan Salahuddin Abdul Aziz Mosque, a museum, water theme park, i-City, street art and more. 
---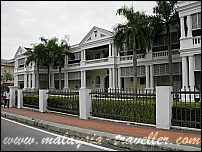 There is more to see in Klang's historic town centre than you might think. See my list of 26 attractions including The Royal Gallery, which is one of the best museums in Malaysia, a number of interesting Chinese and Hindu temples, places to eat and more. Detailed and accurate map included.
---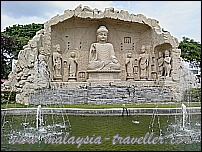 The Fo Guang Shan Dong Zen Buddhist Temple at Jenjarom is one of Selangor's lesser known attractions but well worth a visit, especially at Chinese New Year.
---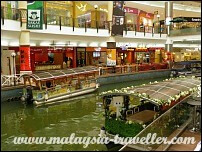 The Mines Cruise is an enjoyable boat ride on two large lakes next to The Mines shopping mall. There are plenty of large fish in these lakes and the boat driver will stop and let you you feed them.
---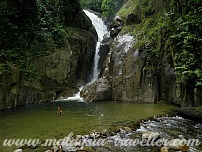 Chiling Waterfall is a great spot for an adventurous picnic if you don't mind getting wet. Read tips on how to get there and stay safe.
---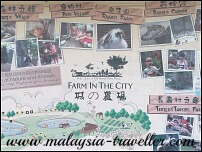 At Farm In The City on the outskirts of KL, children can pet cuddly animals and see exotic species in a Malaysian village themed setting.  One of the most popular Top Selangor Attractions.
---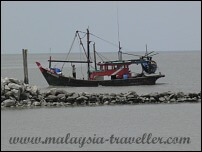 Sekinchan is an interesting little town 100km north of KL with rice paddy fields, a fishing village, a small beach and good seafood. Worth a visit.
---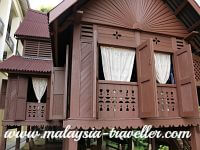 The Malay Heritage Museum is an interesting new museum located within the campus of UPM Serdang showcasing the unique culture of the Malay people and containing a valuable collection of items.
---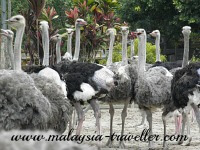 At Ostrich Wonderland near Semenyih children can see exotic ostriches, geese and turkeys and ride ponies in a rural setting.
---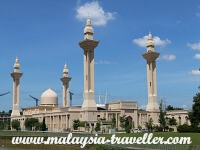 24. Masjid Tengku Ampuan Jemaah
Masjid Tengku Ampuan Jemaah is a relatively new mosque located in Section 8 of Bukit Jelutong, a growing township on the outskirts of Shah Alam. It is a royal mosque named after the Sultan of Selangor's late grandmother.
---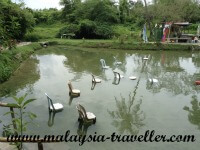 25. Hot Springs
There are a number of naturally occurring hot springs in Selangor, some of which are believed to have therapeutic benefits. Here are a selection:
---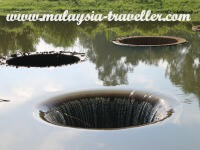 Also known as Perigi Tujuh or Seven Wells, this little known part of Malaysia's heritage is a small dam fed by seven sink holes or spillways.  Worth a visit.
---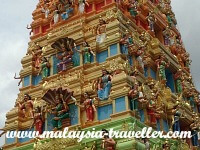 27. Om Sri Maha Athi Nageswary Amman
This recently completed Hindu Temple in Puchong is one of the most ornately decorated in Selangor.
---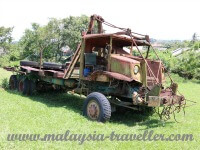 With this accurate Batu Arang Heritage Town map you can visit 22 historical sites in this former coal mining town in Selangor.
---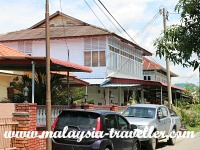 Tanjung Sepat is a pleasant, small seaside town with a few attractions and places to eat for a day-trip or weekend visit from KL.
---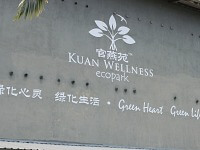 At Kuan Wellness Eco Park near Batu Laut kids can feed a variety of animals and learn about bird's nest farming amid pleasant surroundings.
---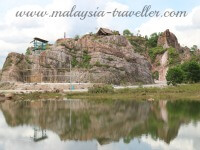 At Tadom Hill Resort you can drift on a bamboo raft, leap from a diving platform or fly a zipline over a scenic lake. Go for the day or stay overnight.
---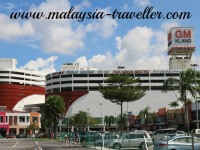 GM Klang is a good place to browse and shop for bargains whether you are in the retail trade or just a private shopper. 

---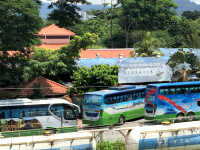 Organised tours to Batu Caves often stop-off at Selangor Culture Cove for a quick and touristy sampling of Malaysian culture and souvenir shopping.
---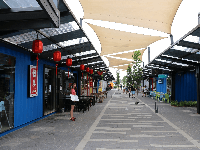 Ardence Labs in Setia Alam is a unique lakefront shopping and dining complex housed in repurposed shipping containers. 

---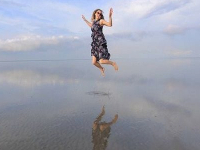 35. Sky Mirror
This place is still on my bucket list. A strip of sand that only emerges from under the sea twice a month and is so shallow and calm that it has become a must-visit for groups of selfie photographers. Boats are difficult to arrange so better to book through Tripcarte's secure website and enjoy an 11% discount. 
---
More Top Selangor Attractions Coming Soon
Here are some more places in Selangor which you might want to visit.  I have written articles about each of these Top Selangor Attractions on my Thrifty Traveller blog.
You can find some additional information about the following Selangor towns which appear on my Great Malaysian Railway Journeys website:
Hope you enjoy discovering these Top Selangor Attractions as much as I have.
---
Share this page: