Marina Island to Pangkor Ferry

Marina Island to Pangkor Ferry
Schedule, Ticket Price, Location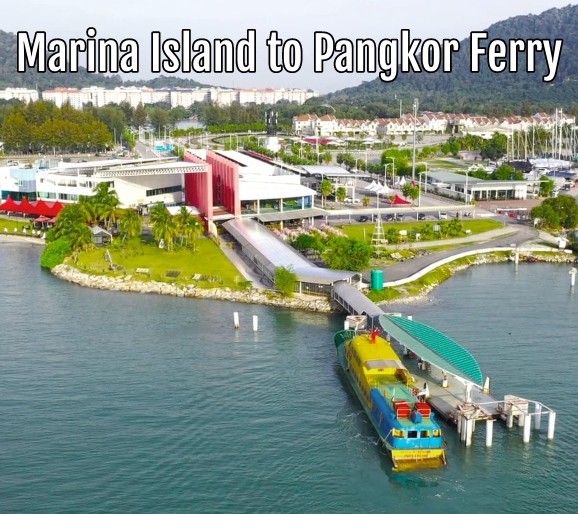 Taking the Marina Island to Pangkor Ferry is an alternative way to reach Pangkor and faster than the 'old' Lumut to Pangkor Ferry.
Marina Island is a private reclaimed island and home to the Marina Island Pangkor Resort and Hotel. The island is joined to the mainland by a bridge so travellers looking to reach Pangkor Island can drive to Marina Island, leave the car there and catch a ferry.
The ferry journey from Marina Island takes just 10 minutes, compared to the Lumut-Pangkor ferry which takes 30-45 minutes, depending on sea conditions.
Marina Island to Pangkor Ferry 2022 Schedule
From 2022 onwards there are now nine trips per day in each direction on weekdays and additional trips on weekends. The weekday schedule is as follows:
Outbound Trip from Marina to Pangkor
Departs Marina
7.15am
8.15am
10.15am
12.15pm
1.15pm
3.15pm
4.15pm
6.15pm
7.15pm
Return Trip from Pangkor to Marina
Departs Pangkor
6.45am
7.45am
9.45am
11.45am
12.45pm
2.45pm
3.45pm
5.45pm
6.45pm
Ticket Counter closes 15 minutes before departure time.
Fares (Updated November 2022)
The price for a return ticket is as follows:
Adult RM 14
Child (Ages 4 to 11) RM 5
Infants Ages 3 and below Free (no seat reserved)
These prices are currently the same as the Lumut-Pangkor ferry.
You can buy tickets online here.
Which ferry is better? Depends on your point of view. If you are in a hurry or don't enjoy long ferry journeys then the Marina Island option may be better. Personally I like ferry rides so I would probably go for the slower, more leisurely Lumut to Pangkor ferry. 
Parking
Ample parking is available at the jetty.
Non-covered parking costs RM1 per hour up to a maximum of RM18 per day.
Covered parking costs RM20 per day.
Location of Marina Island Ferry Terminal
 The location is marked on this map (blue markings are for the Marina Island Ferry, Red markings are for the 'old' Lumut-Pangkor Ferry:

Address:  KM 1, Teluk Muroh, 32200, 32200 Lumut, Perak, Malaysia
Tel: +60165240800
---
Marina Island to Pangkor Ferry
Share this page: