Melaka Bird Park

Ayer Keroh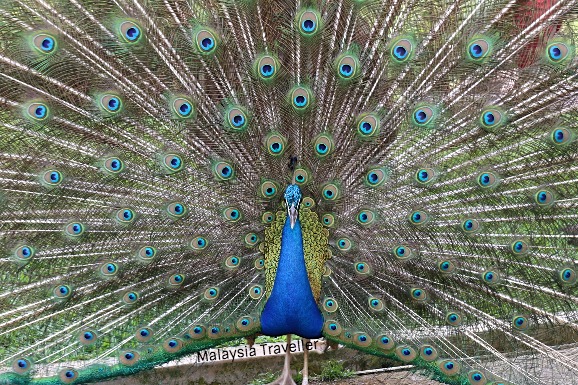 According to their Facebook page, Melaka Bird Park was closed 'temporarily for maintenance works from 3/9/2018'.  That was over 4 years ago! No information on if, and when, it will ever reopen.
I visited Melaka Bird Park in March 2018. Here is my review. 
Having opened in 2013, this is one of the newer additions to the many attractions in the Ayer Keroh district of Melaka.

According to their display graphic there are 24 different species of bird here including various types of parrot, lory, parakeet, duck, macaw, cockatoo, lorikeet, pigeon and dove. The star of the show is the Indian Peacock showing off his magnificent plumage.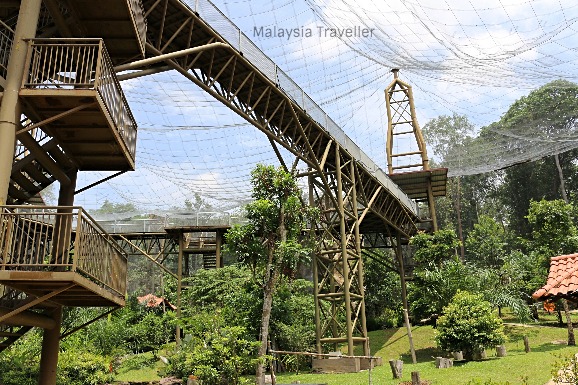 Basically the park is one large aviary under cover of a vast net held up by lofty metal towers. There is a high canopy walkway proving a bird's eye view of the park. There is a lift to the canopy if you are not able to climb the stairs or if you find the stairs blocked by screeching macaws.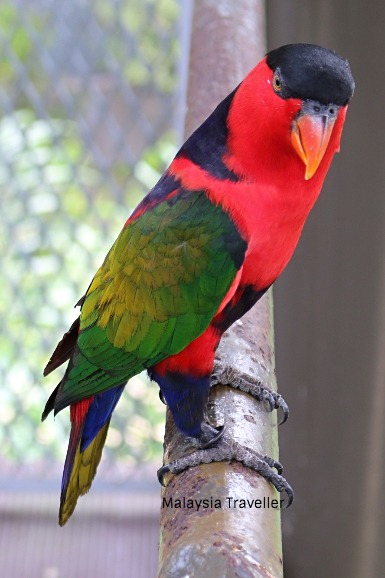 The birds here are really tame and accustomed to humans. If you buy some bird food the lory and parrots will literally eat from the palm of your hand as well as perch on your shoulders and head. Kids will certainly enjoy this place.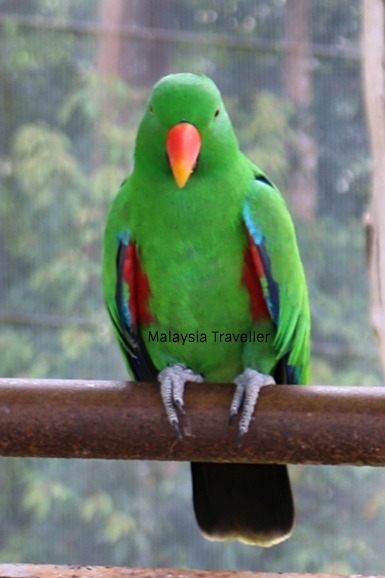 This bird park is not as big as KL Bird Park and the vegetation is not as lush but it does mean that the birds are easier to spot. It is also a lot cheaper than KL Bird Park.
Other facilities here include a restaurant, a souvenir kiosk, a herb garden, a man-made waterfall and, outside the park entrance, a boardwalk and a viewing tower (which was closed for repairs).

Opening Hours & Admission Charges
Open Daily 9 am to 6 pm.
Entrance Fee 

MyKad

Adult  RM 17.80
Child (ages 5-12) RM 11.85
Seniors (age 55 & above) RM 11.85
Foreigners without MyKad

Adult  RM 23.70
Child (ages 5-12) RM 17.80
Seniors (age 55 & above) RM 17.80
Combo Package for Bird Park & Melaka Wonderland

MyKad
Adult  RM 47.40 Weekday* RM 52.15 Weekend
Child (ages 5-12) RM 35.55 Weekday RM 41.50 Weekend
Seniors (age 55 & above) RM 28.45 (Any day)
Foreigners without MyKad (Any Day)

Adult  RM 65.20
Child (ages 5-12) RM 53.30
Seniors (age 55 & above) RM 37.90
* Weekday = Mon-Fri, Weekend = Sat, Sun, Public & School Holidays

These prices included 6% GST and 12.5% Entertainment Tax. Now that GST has been scrapped from 1 June 2018 the prices should be lower.

Free parking.

How to get to Melaka Bird Park
You can find the location on this map:

GPS: 
2°17'05.6"N 102°17'41.0"E
2.284880, 102.294716
Address:
Melaka Bird Park 
75450 Durian Tunggal, Malacca
Malaysia
Tel 06-233 0333  or 130022300

You can check their Facebook page for more details and news.

Nearby
There are many other attractions in Ayer Keroh in close proximity to the Bird Park:
Melaka Wonderland Theme Park
Accommodation
The Philea Resort & Spa is a conveniently located hotel if you wish to spend time visiting all the Ayer Keroh attraction.

---
Share this page: