Petrosains, The Discovery Centre
Petrosains, The Discovery Centre - a museum about the science of petroleum? Hmm... sounds rather boring doesn't it? But actually it is not at all boring. This is one of Malaysia's best science museums with plenty to do and see whatever your age.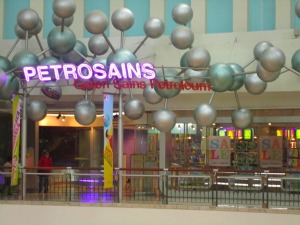 It is located in Kuala Lumpur's most famous landmark, the Petronas Towers, and the entrance is on the 4th Floor of the Suria KLCC shopping mall, opposite Kinokuniya bookshop.
Petrosains is owned by Petronas, Malaysia' national oil giant, who have spared no expense in creating a top-class fun and educational destination for kids and adults alike.
After purchasing your entrance ticket you queue up to take the Dark Ride. You sit in a carriage that is supposed to be shaped like a drop of oil and are transported through an audio-visual display showcasing Malaysia's natural resources and technological achievements.
On disembarking from the Dark Ride you are free to wander around countless exhibits which kids are encouraged to touch and play with for a hands-on learning experience.
One of the highlights is the Geotime Diorama featuring an animatronic singing T-Rex, an erupting volcano and plenty of displays explaining about geology and the formation of oil deposits.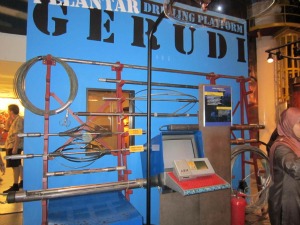 Next you can try out the Earthquake Bench and adjust the setting to low, medium or high depending on your appetite for being shaken up.
The Helicopter Simulator ride is fun in which you get to experience a bumpy flight out to sea through a tropical storm before landing on a floating oil platform.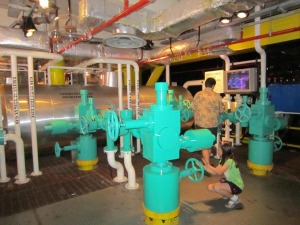 On 'arrival' you step out onto a scale model of an oil rig where you can appreciate the working and living conditions of the crew on board a real life oil production platform.
Petronas is a major sponsor of Formula 1 motor racing and in the Speed section of the museum there are some racing simulators and various machines to test your reactions, power-to-weight ratio, speed of karate chop, downhill skiing skills, jumping ability and lots more.
There is also a 3D Theatre to experience before climbing back on the Dark Ride to take you to the exit and Gift Shop.
It took us about 2 1/2 hours to get around the museum which is probably about the minimum time you should allow if you want to do justice to the exhibits.
This museum, together with the National Science Centre and the Planetarium, has helped to trigger my daughter's interest in science and for that reason alone it was well worth investing the time. If you only have sufficient time to visit one of these 3 museums, I would recommend Petrosains as the best of the bunch.
Opening Hours & 2023 Admission Charges
Opening Hours
Monday to Friday 9.30am to 5.30pm (last admission 4pm)
Closed on the first Monday of the month.
Sat/Sun/Public Holidays 9:30am - 6:30pm (last admission 5pm)
2023 Ticket Prices (MyKad Holders)

Adult: Weekdays RM 22, Weekends & Holidays RM 25  (non-Malaysian RM 35 and RM 40 respectively)
Child (ages 3-12):  Weekdays RM 10, Weekends & Holidays RM 12 (non-Malaysian RM 20 and RM 25 respectively)
Senior Citizens (age 61+):  Weekdays RM 10, Weekends & Holidays RM 12 (non-Malaysian RM 20 and RM 25 respectively)
How to Get to Petrosains
The Petronas Twin Towers are visible from anywhere in the city so you know where you are heading.
By train, the Putra LRT has a station underneath KLCC.
By monorail the closest station is Bukit Nanas (5 minutes walk from KLCC).
Being a major tourist trap, the taxi drivers who hang around outside KLCC are particularly roguish. Prepare to negotiate hard or walk up the street and find a cheaper taxi.
By car, KLCC is well sign-posted and there is plenty of basement parking.
The address and further details can be obtained on the museum's official website.
---
Share this page: