Malaysia Events Calendar 2023


Major Events & Festivals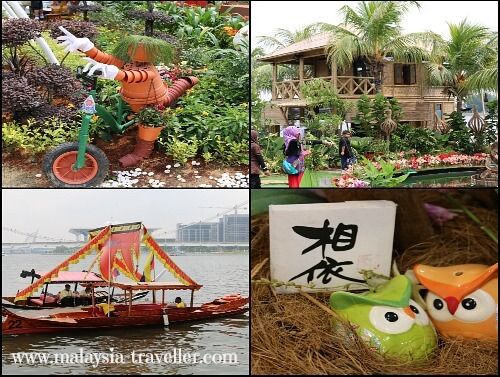 There's always something going on Malaysia whatever the month. With this Malaysia Events Calendar 2023 you can see month by month all the major festivals and activities planned for this year. 
Of course Malaysia, with its year-round tropical climate, does not have the seasonal variations that many countries experience. Most of the top attractions appearing on this website are available all year round such as climbing Mt. Kinabalu, exploring the national parks and caves, or just relaxing on the beach.
Some of the East Coast beaches and islands have a low season when the northeast monsoon makes the seas too choppy (November to February) but beaches elsewhere in the country are enjoyable throughout the year.

If you are planning a trip to Malaysia it is always sensible to check what events are scheduled for your proposed dates. Even if you don't want to participate in the events yourself they might affect hotel room and air ticket availability and prices.
School holidays also affect hotel prices and availability. These are the school holiday dates for Malaysia in 2023 as announced by the Ministry of Education:
SCHOOL HOLIDAYS CALENDAR FOR 2023
For schools in Perlis, Penang, Perak, Selangor, Negeri Sembilan, Melaka, Pahang, Sabah, Sarawak, Kuala Lumpur, Labuan and Putrajaya
Term Holidays
Term 1 Holidays: Mon 13 Mar  - Tue 21 Mar 23
Mid-year Holidays: Mon 22 May - Tue 6 Jun 23
Term 2 Holidays: Mon 24 Jul  - Tue 1 Aug 23
End-year Holidays: Mon 20 Nov - Sun 31 Dec 23

 
NB Schools in Johor, Kedah, Kelantan & Terengganu begin and end a day earlier.
Source: Education Ministry (www.moe.gov.my)
Other School & Public National Holidays

New Year's Day Sun 1 Jan 2023 (all states except Kedah, Johor, Kelantan, Perlis and Terengganu)
Chinese New Year:  22 Jan - 23 Jan 23
Labour Day 1 May 2023
Hari Raya Aidilfitri * 21 Apr - 22 Apr 2023
Vesak Day 5 May 2023
Yang di Pertuan Agong's Birthday 5 Jun 2023
Hari Raya Haji * 29 Jun 2023
Awal Muharram 19 Jul 2023 
National Day Mon 31 Aug 2023
Malaysia Day Wed 16 Sep 2023
Deepavali (all states except Sarawak)*: 15 - 16 Nov 2023
Prophet Muhammad's Birthday 26 Sep 2023
Christmas  25 Dec 2023
* Subject to change
In addition to the above there are a number of state holidays which apply in specific states only. 

---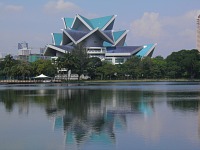 One venue which has different events going on all year is Istana Budaya, Malaysia's national performing arts theatre, home to cultural events such as classical music concerts, local and international theatre shows, traditional local music, opera, dance performances and so on.

---
Malaysia Events Calendar 2023 Month by Month
Some of the dates are tentative at this stage. I shall be updating the page throughout the year as and when timings are confirmed.

---
| | |
| --- | --- |
| Things to Do In January 2023 in Malaysia | january |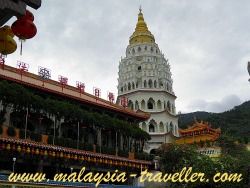 The 19th Royal Langkawi International Regatta makes a return this year and will be held from 9 - 14th January 2023 at the yacht club on Langkawi Island.
Sticking with  sea sports, the Tioman Surf Festival takes place on the idyllic island of Tioman from 20 - 23 January 2023 attracting surfing enthusiasts from around the world.
Ponggal is a four-day Hindu thanksgiving event with festivities running from 14-17 January 2023. Celebratory events will no doubt be held  at Sri Mahamariamman Temple, Penang and at various locales around the country.
Chinese New Year falls on 22 January this year.  You can see how Malaysians welcome in the Year of the Rabbit with joyful celebrations, lion dances, fireworks and lots of food. Some of the main temples have splendid light and lantern displays at this time of year, including Kek Lok Si Temple in Penang  and Thean Hou Temple in KL. In Jenjarom, Selangor, the FGS Dong Zen Temple usually holds its Chinese New Year Lantern & Flora Festival in the first fortnight after Chinese New Year.
---
| | |
| --- | --- |
| Exciting Festivals in Malaysia in February 2023 | february |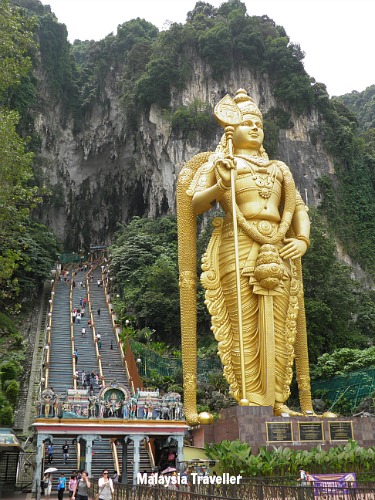 This year Thaipussam falls on 5 February 2023. Every year  huge crowds witness  a 15km chariot procession from Kuala Lumpur up to the amazing Batu Caves. Festivities will take place elsewhere in Malaysia including Little India in Penang. 
The 25th Pasir Gudang World Kite Festival will be held at Bukit Layang-Layang in Johor from 26 Feb - 1 Mar 23.
---
Malaysia Events Calendar 

March 2023

march

Berjaya Hotels & Resorts are offering great package deals with their Berjaya Online Travel Fair. Book between 10 - 26 March 2023 for stays between 17 March - 31 October 2023.
MATTA Fair, Malaysia's largest consumer travel fair is taking place at the Malaysia International Trade and Exhibition Centre (MITEC) in Kuala Lumpur from 17-18 March 2023 and always attracts a big crowd.
The fasting month of Ramadan is one of the highlights of the annual calendar and special food stalls and bazaars spring up all over Malaysia during this time. Ramadan this year will last approximately from 22 March - 21 April 2023.
March usually hosts  Raptor Watch, Malaysia's biggest and best eco-tourism event. Organized by the Malaysian Nature Society, it is normally held on the first weekend in March  at Tanjung Tuan Wildlife Reserve (Cape Rachado). 
---
Malaysia Events Calendar 

What's on in Malaysia in April 2023?

april
ANZAC Day, 25 Apr 2023, is to be marked as usual in a poignant ceremony at Sandakan Memorial Park, the starting point of the infamous Death Marches, restrictions permitting.

Hari Raya Aidilfitri is a nationwide celebration marking the end of the fasting month. This year it falls around 21 -23 May 2023.
---
Malaysia Events Calendar 

Things to do in Malaysia in May 2023

may
Wesak Day marks the birth, enlightenment and death of Buddha. This year, Wesak Day falls on 5 May 2023 and activities will be held in Buddhist temples all over the country such as at Maha Vihara Buddhist Temple in Brickfields.
Tadua Ka'Amatan or harvest festival will be marked in Sabah and Labuan on May 30th.
LIMA'23, the 16th Langkawi International Maritime and Aerospace Exhibition is returning this year and manufacturers from around the world will be showing off their hardware from 23-27 May 2023 at the Mahsuri International Exhibition Centre, Labuan.
---
Malaysia Events Calendar 

Exciting Festivals in Malaysia in June 2023

june
Gawai Dayak, 1st - 2nd Jun 2023, is a harvest festival celebrated all over Sarawak by the state's indigenous people in traditional costumes. 
The Rainforest World Music Festival, one of the largest musical events in Malaysia, will be held in the shadow of legendary Mt. Santubong near Kuching, Sarawak from 23 - 25 June 2023.
---
Malaysia Events Calendar 

Activities in Malaysia in July 2023

july
July 6th has been declared Agnes Keith Day (her birthday) and visitors are invited to visit the famous author's former residence in Sandakan which has been turned into a museum.

St. Anne's Church in Bukit Mertajam, Penang is the focal point for the annual 10-day St Anne's Novena and Feast Day celebrations which takes place at the end of July annually. 
A popular Japanese-themed event is the Bon Odori Festival held annually at the Panasonic Sports Complex, Shah Alam.  Dates for this year's event are still to be confirmed but expected to be 16 Jul 23.
The Borneo Jazz Festival is also making a comeback this year with events scheduled for 7 - 9 July 2023 in Miri, Sarawak.

---
Malaysia Events Calendar 

What's On in Malaysia in August 2023?

august
National Day, or Hari Merdeka, is on 31st August 2023 and parades and other activities will be held to celebrate the day on which the country achieved its independence from Britain.

Royal Floria 2023, Putrajaya's highly popular annual flower and garden festival, is set to return this year and should not be missed by garden lovers. Dates for this year's event are still to be announced. The venue is likely to be Anjung Floria, Putrajaya, Presint 4.
---
Malaysia Events Calendar 

Things to do in Malaysia in September 2023

september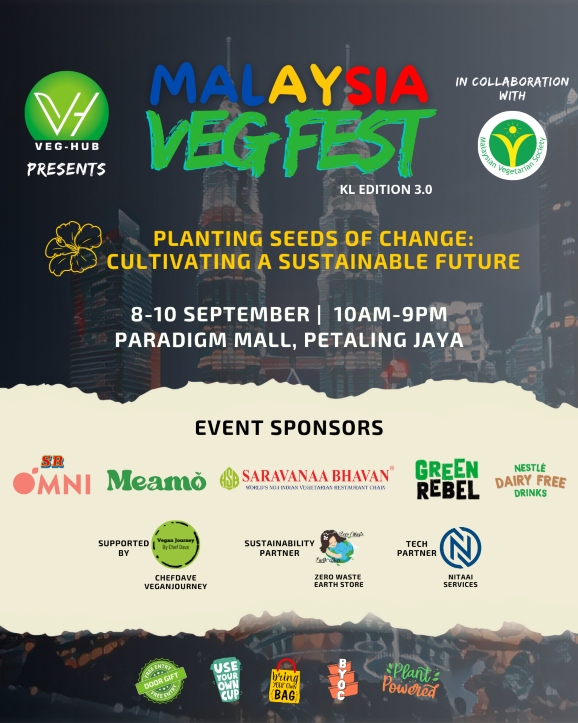 Vegetarians and Vegans will want to head along to the Malaysia VEG FEST 3.0 to be held at Paradigm Mall from 8-10 September 2023. Highlights include a wide array of exhibitors, including vegan, vegetarian, and plant-based food companies, lifestyle brands, eco-conscious fashion labels, cruelty-free beauty products, sustainable products, and more. Also, expert speakers and influencers, cooking demonstrations and of course, the chance to sample delicious veggie dishes from top restaurants and food vendors. Not to be missed. You can find more details on the organisers' social media:
Instagram: www.instagram.com/veghub.my
Facebook: www.facebook.com/veghub.my
TikTok: https://www.tiktok.com/@veghubmy
Le Tour de Langkawi is Malaysia's leading cycling event and is scheduled to take place this year from 23 - 30 September 2023.
Vinayagar Chaturthi is when thousands of Hindu worshippers gather at temples such as Kortumalai Pillayar Temple in Jalan Pudu Lama to make offerings to the deity Lord Ganesh. This festival will fall on 19 Sep 2023.

---
Malaysia Events Calendar 

Exciting Events in Malaysia in October 2023

october
The Borneo Trail Classic is one of 9 stops across the globe under the Spartan Trail World Championship  2023. There are 4 distances namely Kids Race, 10K, 21K, 50K (Trail Run Championship). It is scheduled for 7 October 2023 in Kuching, Sarawak.
The Tamu Besar traditional open-air market is usually held in October in Kota Belud, Sabah. Highlights include Bajau Horsemen (known as Cowboys of the East), a beauty pageant and water buffalo race. Watch out for the dates to be announced.

Over in Sarawak, the Siniawan Heritage Fiesta, usually held during October each year, is when this small town about 20km away from Kuching shows off its cultural heritage. Look out for dates.
---
Malaysia Events Calendar

Activities in Malaysia in November 2023

november
Deepavali (Diwali) or the 'Festival of Lights' falls on 12 November 2023 this year. Open houses are held where family and friends visit each other and enjoy delicious traditional food. 
Annual Remembrance Day ceremonies will be held at the Labuan Commonwealth War Graves on 11 Nov 2023 to remember those who fell in the defence and liberation of Borneo during WWII.
---
Malaysia Events Calendar 

What's on in Malaysia in December 2023?

december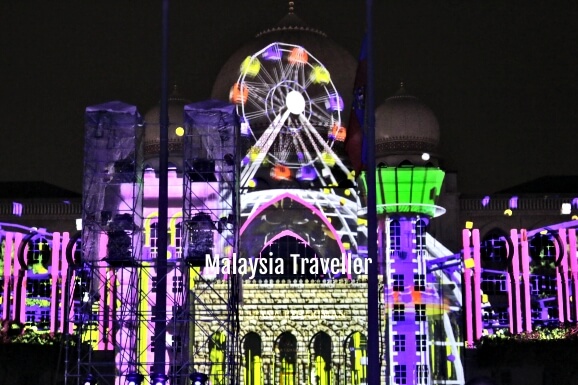 In the run up to Christmas, i-City in Shah Alam, with its forest of digital lights and Snowalk attractions, is especially popular at this time of year. Homeowners in the Portuguese Settlement in Melaka take pride in decorating their houses inside and out at Christmas. Elsewhere, some of the best Xmas decoration displays can be found in KL's top shopping malls such as Pavilion Kuala Lumpur.

Malaysians like to see in the New Year with enthusiastic celebrations and plenty of cheer. Lavish firework displays are held in major towns all over the country. Light and Motion Putrajaya LAMPU illuminates Putrajaya with a spectacular sound and light display projected on some of the city's major landmarks and this year is set to return  from 30 December 2023 - 1 January 2024.

That's it! I'll add more items to this Malaysia Events Calendar as the year progresses.
If you are organising any events in Malaysia this year which you would like to publicise, feel free to provide details on my Contact page and I will include them on this calendar free of charge.
---
Share this page: