A Famosa Water World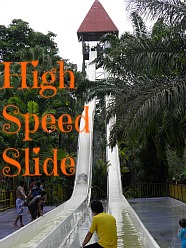 A Famosa Water World is part of a 520 hectare 'integrated resort' called A'Famosa Resort which comprises a golf course, a property project, a hotel, and 3 theme parks (A'Famosa Safari Wonderland, A'Famosa Old West and A Famosa Water World).
Here is our review.
---
Review of A Famosa Water World
We did not have high expectations for this place. The water theme park was built in 1996 and is starting to show its age but overall we were pleasantly surprised, particularly by the park's thrilling slides. 
The park describes itself as the 'Largest Water Theme Park in Malaysia' and indeed it covers quite a large area of lush mature tropical gardens.
The main highlights are the 4 slides:
This is an exciting ride on a giant inflatable ring capable of holding 3 adults or 2 adults + 2 kids with a maximum combined weight of 220kg. I would not want to exceed that maximum for fear of spinning off the slide on one of its steeply banked turns.
There was a queue lasting 10 minutes or more for this slide which was the longest time spent queuing for any of the rides.
This attraction has a choice of 4 slides side-by-side, two of which are enclosed and dark inside while the others are open top. Here you can scream your head off as your single or double seater inner tube descends through the darkened spirals.
This is a similar jumble of coiled slides but this time you slide down without an inner tube.
This is the most thrilling of all, a pair of super fast slides which descend sharply from a seven-story high tower. Much too exciting for a middle-aged guy like me!
Apart from these 4 slides, the other attractions include the Lazy River (long and slow moving), a Wave Pool (too crowded during our visit), Hula Hula Slide, Wa Ha Ha (a tsunami effect ride) and a Kid's Adventure Pool.  A popular addition since our last visit is the Big Ice Cream, similar to Sunway Lagoon's Vuvuzela.
Verdict
We enjoyed our visit. My daughter rates this as the 3rd best water theme park in Malaysia. The slides at A'Famosa Water World are probably the best in Malaysia however the overall standard of the facilities and appearance of the park are not as good as Sunway Lagoon or Lost World of Tambun but better than Desa Water Park (KL) and Wet World Water Park (Shah Alam). 
For more information on other theme parks and kid's attractions in Malaysia, click here.
Facilities (2023 Prices)
Locker Rental
Small RM25 (+ Refundable Deposit RM20)
Big RM60 (+ Refundable Deposit RM40)
Tube Rental
Double RM25 (+ Refundable Deposit RM25)
Single RM17 (+ Refundable Deposit RM17)
Cabana Rental
Weekdays RM90 (+ Refundable Deposit RM50)
Weekends, Public & School Holidays RM160 (+ Refundable Deposit RM50)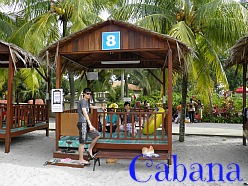 Dress Code
The park is relaxed about allowing visitors to wear T-shirts and shorts in the pool. The only rule is no jeans and no zippers. 
Opening Hours
Open Daily (except Tuesdays) 10am - 6pm 
NB. The Park is closed every Tuesday except during Public and School Holidays.
2023 Ticket Prices
The admission fee shown on A Famosa Water World's official website for Malaysian MyKad holders only are as follows:
Adult RM45 Online. (Normal price RM50)

Child (ages 3-12) RM38 Online (Normal Price RM42)
BUY NOW ONLINE AND RECEIVE A DISCOUNT
You can obtain a 8% discount  on entrance plus meal package by buying online through Tripcarte's secure website with instant ticketing, fully refundable and hassle free E-tickets.

How to Get to A Famosa Water World
Address:
Jalan Kemus, Simpang Empat
78000 Alor Gajah, Melaka
Tel: 06-552 0888
Using the North South Expressway take Exit 227 (Simpang Ampat/Alor Gajah interchange). After the toll booth follow the road signs to A'Famosa Resort.
Parking next to the Water Park costs RM3.
Nearby
The entrance to A'Famosa Safari Wonderland (formerly A'Famosa Animal World) is located right next door to the water park. You can buy tickets covering both attractions if you have time. Safari Wonderland is open from 9am -5pm daily.
Accommodation
There is a range of accommodation available within the A'Famosa Resort itself. You can take a look at their website for details.
---
Share this page: