KL Bird Park


2023 Ticket Prices
KL Bird Park or Taman Burung Kuala Lumpur is one of Malaysia's most popular tourist attractions. Located in the scenic KL Lake Gardens, only minutes from Kuala Lumpur's city centre, the 20 acre Bird Park is claimed to be the World's largest free-flight walk-in aviary.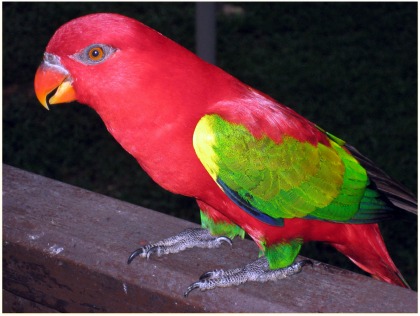 I have visited the KL Bird Park a number of times and with so many birds moving around freely amid natural-looking landscaped gardens it is easy to forget that the place is covered with a giant net canopy.
There are around 3,000 birds and 200 different species found in the park which is divided into 4 zones: Zone 1 & 2 are free-flight zones, Zone 3 is the Hornbill Park (also free flight concept) and Zone 4 contains birds separated in cages, enclosures and mini-aviaries.
By allowing the birds to move around freely and by simulating their natural habitats and diet, birds have been able to breed naturally thus helping to ensure the survival and sustainability of their species. The park has been successful with their captive breeding programme and many species have been successfully bred including emus, African grey parrots, yellow billed stork, silver pheasant, sun conure, milky stork, red lory, Indian blue peafowl, red junglefowl, straw headed bulbul, Malay peacock pheasant and eclectus parrot.
Many of the birds are accustomed to humans and some (like peacocks) will come and eat from your hand. However you should only feed them the proper food which is on sale, not your ice-creams!
Other popular attractions in the park include the lovebirds, the brahminy kites (a Malaysian species), the flamingo pond, the World of Parrots, the hornbills (especially the rhinoceros hornbill), the oriental birds aviary and the pelicans.
The Bird Park is popular with photographers who are keen to try out their bird watching lenses but the birds are so close you can take good photos with just a regular camera or your phone.
Highlights

Be sure to watch one of the Bird Shows which are staged in the Amphitheatre (Zone 4) at 12.30 and 3.30pm daily with an extra show at 10.30am on Public Holidays.
Eagle Feeding at 2.30pm daily at Brahminy Land (Zone 1) is also a must-see.
My young daughter loves the Bird Nursery (Zone 4) where kids can learn about egg incubation and, if they are lucky, watch chicks and ducklings as they hatch from their eggs. They are even allowed to touch and hold some of the chicks.
2023 Entrance Fee & Opening Hours

2023 Ticket Prices
Adults RM 75 

Children (ages 3 - 11) RM 50
Malaysians with MyKad 
Adults RM 35
Children RM 15
Tip #1 If you are a foreigner living in Malaysia, show your Malaysian driving license and you may be able to get into the park at the discounted MyKad price.
Open Daily from 9am - 5.30pm including Public Holidays ad School Holidays.
Tip #2 If you are a tourist on a budget and not keen to spend the RM75 ticket price (expensive by Malaysian standards), take lunch at the Hornbill Restaurant instead. This restaurant is perched above the edge of the Bird Park, underneath the aviary netting so if you sit outside on the balcony you will be visited by some of the park's braver birds such as hornbills. Indeed if the waiter is slow in clearing your plate, a hornbill might jump on the table to snatch any leftovers. I can recommend the curry dishes together with an ice cold Tiger beer or perhaps a fresh kalamansi juice with sour plums. Delicious! After lunch, if you are still not tempted to part with the RM 75 park entrance fee, you can pop across the street and see the Orchid and Hibiscus Gardens which are free on weekdays.
Having said that, you should really go inside the Bird Park - it is not expensive compared to similar places in other countries.
The Hornbill Restaurant is open daily from 9am - 7pm.
How to Get to KL Bird Park
You can find the location of KL Bird Park on my map of KL Lake Gardens. 
GPS Co-ordinates:
3.143096, 101.688736
If you prefer to navigate the old-fashioned way:

From Jalan Bangsar, head straight towards KTM Railway Station round-a-bout, turn left towards Masjid Negara.
From Jalan Mahameru, turn left into Jalan Parlimen. At traffic light, turn right towards the Kuala Lumpur Lake Gardens.
A free car park is available outside the Bird Park but it can get full up at peak times and public holidays. Better arrive early.
By public transport
Rapid KL Bus No. B115 from Kotaraya to Jalan Parlimen.
KL Hop-On-Hop-Off Double Decker Tour Bus Service, disembark at Station No. 15 in front of KL Bird Park Main Entrance. Buses available at every 30 to 45 minutes interval.
By KTM Commuter Train, disembark at the Old Railway Kuala Lumpur Station located near the National Mosque.
Public taxis – A taxi ticket counter is available at the Bird Park for your return journey.
---
Share this page: