Genting Highlands
As you approach Genting Highlands by road you might not be too impressed by its appearance. Architecturally it's not beautiful. It looks like a small high-rise township that has been dropped on top of a mountain. Being nearly 6,000 feet above sea level the temperature is quite cool and every time I have been there the place has been swirling in grey clouds with intermittent rain. I am told however that it is sunny sometimes and when the clouds are gone you get a great view of the rainforest-cloaked hills and, at night, the twinkling lights of Kuala Lumpur in the distance.
Despite its external appearance however the resort's owners, Resorts World, have created one of the top tourist attractions in Malaysia.
How? I imagine the main reasons are:
. Gambling. It is the only place in Malaysia where casino gambling is legally permitted. This draws in visitors from both within Malaysia (predominantly ethnic Chinese) and from the region. With traveling restrictions it might make it more difficult for visitors to come and bet, therefore bettors seek online solutions. Bettors who are used to betting in land based casinos can be deterred from online casinos due to safety and trust reasons, so we found a great source of the most trusted online casino Malaysia which provides a complete guide to online gambling websites, the promotions they offer and how you can get the most out of your responsible gambling.  It would be interesting to know if the recent opening of Resorts World Sentosa in Singapore has affected Genting's visitor numbers. Presumably Resorts World did their sums before opening up in Singapore.
. Location. Genting Highlands resort is only 50km from KL and can be reached by car in 45 minutes or so. The cool mountain air makes a nice change from steamy Kuala Lumpur, assuming that you don't spend your whole visit in the casino!
. Good quality amusement parks and other attractions.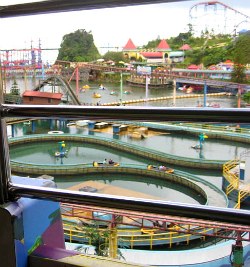 Theme Park
The Theme Park has three sections - an outdoor theme park, an indoor theme park and a water park.
Outdoor Theme Park
There is some fun stuff here for kids of all ages (including 50 year old kids!).
Thrill Rides
. Pirate Ship
. Cyclone
. Rolling Thunder Minetrain
. Grand Prix Fun Kart
. Spinner
. Bumper Boat
. Flume Ride
. Space Shot (vertical 185 feet rapid ascent & descent)
. Flying Dragon
. Corkscrew
Family Rides
. Monorail (TIP:This takes you around both the outdoor and indoor theme parks. It is a good idea to do this first to get an overview of the whole theme park.)
. Big Wheel.
. Carousel
. More kiddies' rides.
TIP: They close the outdoor rides when it rains and they do not give a refund so if you intend to cover both the indoor and outdoor theme parks, do the outdoor one first while the weather is still good.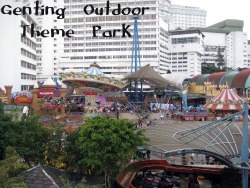 First World Indoor Theme Park
. Roller Coaster
. Adult and Junior Bumper Cars
. 4D Movie Theatre
. Venice Gondola (recommended)
. Ferris Wheel. Pieces of metal were falling off this ride during our last visit - hopefully they have since repaired it.
. Ride de Paris for kiddies.
. Rio Float. A hanging ride giving an aerial view of the indoor theme park in attractively illuminated carriages.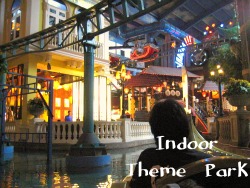 Rainforest Splash Pool (water park)
I have to confess that we have never tried the water park. Although the water is heated the cool weather was not conducive to getting changed into swimming costumes.
Theme Park Ticket Prices
A one day unlimited ride pass covering the outdoor, indoor and water park will set you back RM82 for adults (age 13 and above) and RM55 for children (90cm and above and below age 13)/seniors (age 60+). A family package for 2 adults and 2 children will save you 10%. Malaysians with MyKad enjoy around 25% discount on the ticket prices.
If you live in KL the best value buy is undoubtedly to get an annual pass entitling you to 365 days of unlimited rides for RM228 per adult and RM 150 per child. I have been tempted to buy the annual pass but if I do I expect the children will announce that they do not want to go to Genting anymore. So we will stick with the one-day passes. Two day passes are also available and offer better value if you are staying overnight at the resort.
Casino
I have not been to the casino. For a start I am never wearing the required dress code (long sleeve batik shirt or shirt and tie for men - though I understand you can rent a batik shirt), and anyway under 21s are not allowed entry and we always have our young-uns with us. I have tried casinos elsewhere in Asia such as Macau which I imagine would be very similar.
Genting Highlands' Casino has roulette, baccarat, blackjack, Caribbean stud poker and slots. In the unlikely event that you come away from the tables with a profit there are the usual lounges, VIP clubs and so on where the casino will do their best to relieve you of your winnings.
Entertainment
The resort's Arena of Stars and other venues play host to a number of live shows by international artistes throughout the year. As well as famous Chinese and Asian stars there have been appearances from celebrities like Cliff Richard, Air Supply, Kenny G and Richard Clayderman in recent years.
The Genting Highlands resort has a cineplex, Karaoke, Ripley's-Believe-It-or-Not, bowling, snow world and a virtual gun simulator. There is also a shopping mall in the indoor theme park area.
Nearby
The majority of visitors to Genting Highlands go straight to Resorts World for the casino, amusement parks or hotels but there are a number of other attractions in the vicinity including the Chin Swee Caves Temple, mushroom and vegetable farms, an orchid nursery, horse riding, golf and more.
How to Get to Genting Highlands
Driving yourself is the best way so that you can stop off where you like along the way. From Kuala Lumpur take the Kuala Lumpur - Karak Expressway (E8) towards Kuantan. Exit at junction 803. It is clearly signposted to Genting Highlands and you cannot miss it.
If you take public transport (bus or taxi) you could ask to be dropped off at the Skyway station and take the final part of the journey to Genting Highlands by cable car. The last time we went we tried to get the cable car but it was the weekend and there was such a long, slow-moving queue that we gave up and continued by car. Better to go on a weekday if you would like to try the cable car.
There are express buses from KL Sentral and other spots in KL which will take you directly to the resort.
Accommodation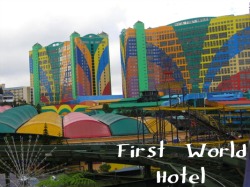 There are plenty of choices for hotels at Genting Highlands ranging from the luxury Crockfords down to the huge First World Hotel.
First World Hotel. My Guinness Book of Records 2009 edition lists this hotel as the world's largest with 6118 rooms. It could also have listed it as the world's ugliest. When the owners realised that they had built something that looks like a Kowloon-style multi-storey factory they decided to give it a multi-coloured paint makeover. It looks a bit more cheerful now. And who cares about the appearance when it offers such good value with low season rates as low as RM50 per night. That's cheaper than staying at home! I'm thinking of moving in permanently. I gather the rooms are tiny and noisy and it gets cold at night. Apparently the new block's rooms are better than the old one.
Shop around for the best deals. Low season is usually Sunday - Thursday nights outside of local school holidays. For details of all hotels at Genting at discounted rates check out Agoda's website here.
---
Share this page: