Port Dickson Resorts
Port Dickson Resorts are a mixed bunch. I suppose they reflect the type of place that Port Dickson is, where the vast majority of visitors are ordinary Malaysians, many of them youths or families, looking for a good value or cheap place to spend a night.
Most of the resorts are not intended for the well-heeled international traveller and instead cater for the budget conscious weekend or school holiday local visitor.
There is nothing wrong with that provided you come with low expectations.
On Malaysia-Traveller.com I usually try to identify hotels with character and charm but these are a bit thin on the ground in Port Dickson. Instead I shall give you a sample of the Port Dickson resorts which I encountered on my visits there.
They fall into various categories:
Top Notch. The handful of resorts which are the best in Port Dickson.
Not Quite There. Includes those that think they are top notch but aren't really.
Disappointments. Those that have the potential to be great resorts but let themselves down due to bad service and poor maintenance.
Bad Taste. Hideous eyesores which are a blot on the landscape but presumably must offer great value for money.
I don't want to offend any hotel managers so I shall leave you to decide which category these resorts fall into.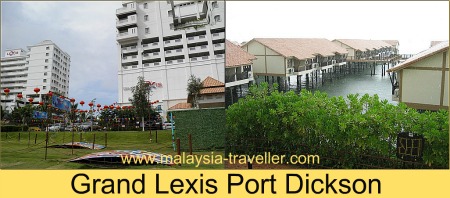 The Grand Lexis Port Dickson (formerly known as Legend Water Homes) combines water chalets built on stilts over the sea with a more conventional hotel tower block. Some of the water chalets look very smart with private pools, glass panels for viewing the sea beneath and some of them have a huge floor area.
This is definitely one of the smarter Port Dickson resorts but I feel it is a shame it is not located on a better stretch of coastline.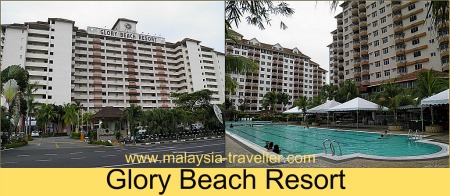 Glory Beach Resort, located close to the Grand Lexis, is aimed at the budget conscious guest with rather ordinary looking tower blocks offering service apartment accommodation. The pool is quite a good size and looks clean. There is a beach in front of the hotel when the tide is out. Click here for my review of Port Dickson Beaches.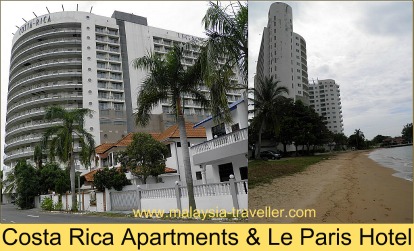 Le Paris Hotel and Costa Rica Apartments occupy a modern tower block just north of the town centre of Port Dickson. The ravages of Malaysia's humid climate and the salty sea breezes have taken their toll on the exterior of the building which is in need of refurbishment.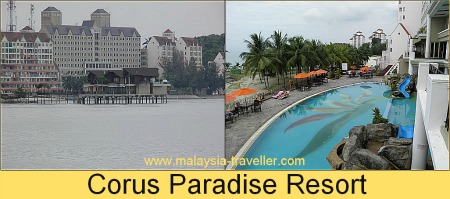 The main block of Corus Paradise Resort looks quite neat but the wings on either side appear to be scruffy and poorly maintained. I saw some 'For Sale' signs so perhaps some of the units are privately owned. This would not be my first choice of Port Dickson resorts but it seems to be popular so presumably it is good value.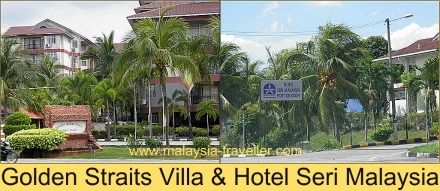 I spotted Golden Straits Villas Beach Resort when I was checking out Bagan Pinang beach. It has a great location just across the road from the beach. It offers fairly basic apartment unit accommodation aimed at budget travellers, families, large groups and backpackers.
Similarly, Hotel Seri Malaysia is at the budget end of the market but is in a prime location opposite Saujana Beach (the second best beach in Port Dickson according to my review.)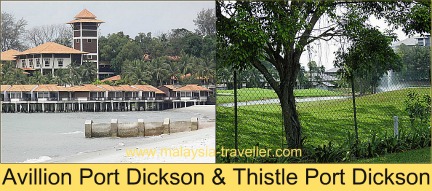 These two are probably the best rated resorts in Port Dickson. Avillion Port Dickson is another hotel with water chalets, perhaps not quite as luxurious as those at the Grand Lexis, but in a better location as this resort has fine beaches on other side. It also offers garden chalets, nice pools, landscaped tropical grounds and has peacocks roaming around.
Thistle Port Dickson is generally highly rated with a private beach, huge swimming pool, a 9 hole golf course, international standard management and not over expensive.
I would probably stay in one of these two hotels if I needed accommodation in Port Dickson.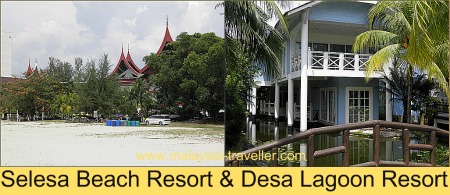 These two hotels are located on Cahaya Negeri beach, my top rated beach in Port Dickson. The Selesa Beach Resort has striking architecture with the curvy roof line typical of Negeri Sembilan state. It gets reasonable reviews.
The Residence Desa Lagoon Resort has blue coloured wooden villas which look like they should be in Bermuda or Florida, although the hotel describes itself as Mediterranean style. This place, situated as it is on a lovely beach, should have great potential but, from the website, its rooms appear cheaply furnished and the resort does not receive great reviews which is a shame.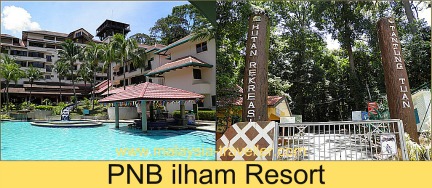 The best thing about the PNB Ilham Resort is its location, right on the edge of Cape Rachado wildlife reserve and on the shore of Blue Lagoon. The hotel has a nice looking pool and I imagine the rooms would be fairly standard for a resort of this age and category.
Latest Port Dickson Resorts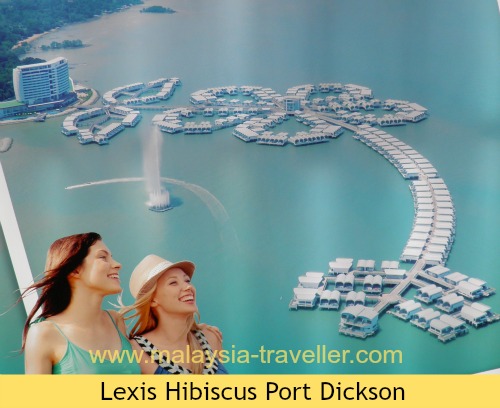 UPDATE: A recent addition to the Port Dickson coastline is the Lexis Hibiscus Port Dickson, a stunning new resort comprising a tower with 117 rooms and 522 over-water villas arranged in a layout intended to resemble the hibiscus flower. Currently having a soft launch promotion until the end of 2015.
I hope this sample has given you a feel for the types of accommodation available in Port Dickson resorts.
---
Share this page: