Top Labuan Attractions
On this page I am providing my suggested top Labuan attractions. For a map showing their locations you can scroll to the bottom of this page.
The small island of Labuan may not be one of Malaysia's tourist hotspots but there are enough tourist attractions here to keep the visitor busy for a short visit.  
Labuan is a 90 sq. km island located off the northern shore of Borneo close to Brunei and Sabah. The name Labuan is thought to stem from the Malay word labohan, meaning anchorage.
The Sultan of Brunei ceded the island to the British in 1846 who wanted to use this good harbour as a base to control piracy along the coast of Borneo.
The British hoped that this base might grow into a city to rival Singapore or Hong Kong. This never happened but today the island has a population of over 90,000 and plays an important role in Malaysia's offshore oilfield services industry. The island enjoys Federal Territory status and is a duty free port, meaning cheap beers for tourists and residents!
Labuan is known as the Pearl of Borneo and many who live here appreciate its quiet, peaceful and stress-free lifestyle.
Here is a list of top Labuan attractions, what to see and things to do.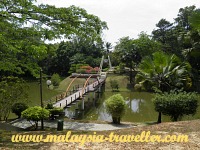 This attractive park, located close to Labuan's airport, was once the splendid garden of the official residence of Labuan's British Governors and Residents, originally built in 1852. The house itself was destroyed in 1945 during WWII and only a tiny fragment remains. The grounds were landscaped and converted into a public park in 2001.
---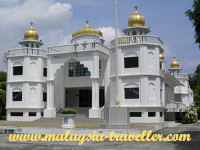 Gurdwara Sahib Labuan
Next door to the Botanical Garden is the main Sikh temple on Labuan. Sikhs have been living in Labuan since the 1860s. Many were originally employed with the coal mines and the police but later generations have been successful in various fields and the extravagant appearance of the Gurdwara evidences the prosperity of the Sikh community in Labuan. 
---
Labuan War Cemetery & The Labuan Memorial
Into this cemetery were concentrated as many as could be traced of the graves of those Allies who died in Borneo, either in battle or in captivity. It contains 3,908 burials of which more than half are unidentified. Of the 1,752 identified burials there are 814 British, 858 Australian, 1 New Zealander, 43 Indian and 36 Malayan sailors, soldiers, airmen and civilians. One of the top Labuan attractions.
---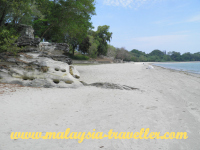 Pantai Tanjung Batu
Located close to the cemetery and a short distance from town is a pleasant beach called Tanjung Batu. Rocks on the beach contain holes made by water erosion. Dozens of oilfield supply vessels can be seen anchored offshore. There are toilets, changing rooms, kiddies' playground and snack stalls here.
---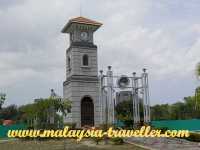 Labuan Clock Tower
This clock tower at Taman Antarabangsa Borneo is an exact replica of the original Labuan Clock Tower which was built in the town centre in 1906, funded by a Chinese businessman from Malacca called Chee Swee Cheng. It was the only structure in Victoria Town (Labuan Town) that survived the Allied bombardment of 1945. Sadly it was demolished in 1948 but this replica was built in 2002.
---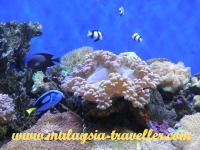 Marine Museum
The Marine Museum is basically an aquarium with a few tanks of live fish together with some other sea-related exhibits. It is located in the Labuan International Sea Sport Complex which was built in 2002 to be the venue for aquatic sport events such as the annual Labuan National Water Festival which includes the Labuan International Deep Sea Fishing Tournament.
---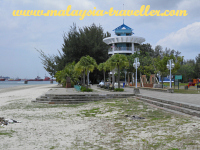 Ramsey Point
This stretch of beach bordering Labuan Town was where, in 1846, the Sultan of Brunei handed over control of Labuan to the British, represented by Captain RN Mundy commanding HMS Iris. Nearly a century later, on 10 June 1945, this same beach was used to land Allied forces liberating Labuan from the Japanese occupation.
---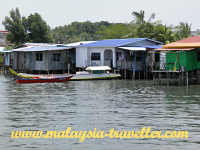 Patau-Patau Water Village (Kampung Air)
There are two main water villages on Labuan namely Kampung Bebuloh and Kampung Patau-Patau. Wooden houses, many of them substantial, and some concrete structures are built on stilts above the shallow bay and connected by wooden walkways. The villages have mosques, shops, schools and other facilities. Homestay accommodation is available at Patau-Patau.
---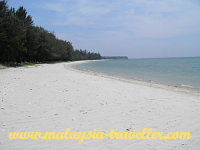 West Coast Beaches
Almost the entire west coast of Labuan, stretching around 20 km, is basically one long beach. From south to north, the names of the beaches are Sungai Miri Beach, Sungai Pagar Beach, Sungai Labu Beach, Layang-Layangan Beach, Pancur Hiram Beach, Pohon Batu Beach and Batu Manikar Beach. The beaches are fairly clean and sand quality is pretty good but jellyfish can sometimes be a problem.
---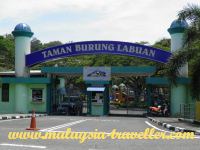 Labuan Bird Park
This bird park covers a 6 hectare site at the north of the island and includes a number of geodesic domes in which the birds have some space to fly around. Since it looked a little tired and I did not have much time I did not go inside. It has mixed reviews but if you like bird parks, this is one of the cheapest in Malaysia. Adult RM3 (foreigners RM5).
---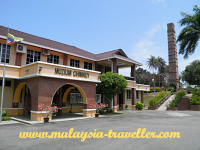 The Chimney & Chimney Museum
Close to the bird park is one of the top Labuan attractions, a century old red brick chimney with a height of 32 metres. Its original purpose is something of a mystery but is likely to have been connected to the coal mining activity which took place in this area at the time. There is a small museum on the site to provide some background information.
---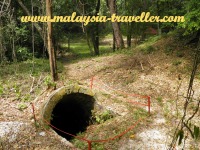 Former Coal Mine Tunnels
Just off Jalan Lubok Temiang, not far from the Chimney, is a path leading to a clearing in the jungle where there is some evidence of nineteenth century coal mining activity. There is a water filled tunnel shaft 42 metres deep, a piece of old pipe and some other excavations.
---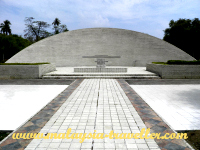 Peace Park
This nicely landscaped beachside park at Layang-Layangan was built by the Government of Japan in cooperation with the Government of Sabah in 1982 "in memory of all those who sacrificed their lives on land and at sea around Borneo during World War II and in dedication of world peace". The House of Culture & Art Gallery is located here too but appears not to be operating at present.
---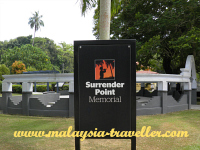 Surrender Point Memorial
Right next door to Peace Park, Surrender Point marks the spot where 9th Division, Australian Forces received the formal surrender of the 37th Japanese Army in North Borneo on 10 September 1945. Historical information and old photos on Labuan in the Second World War are on display here. 
---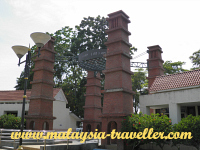 Labuan Square
In the heart of Labuan Town, this square beside the padang flies the flags of all the Malaysian states and includes an artwork incorporating four replicas of the famous Labuan Chimney. Football matches and national day parades are held on the padang.
---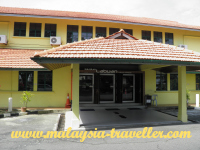 This is quite a good museum with exhibits relating particularly to the history of Labuan. In front of the museum is a small square with flame-of-the-forest trees in each corner planted in 1953 to commemorate the coronation of Queen Elizabeth II. Here too are various stones and plaques of historical significance.
---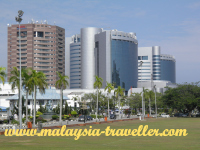 Financial Park Complex
This development of shining glass and concrete towers houses the Labuan Financial Services Authority (formerly Labuan Offshore Financial Services Authority) and some of the Labuan IBFC companies that it regulates. Labuan aims to offer simplified and attractive taxes in a well regulated jurisdiction. For most tourists it is not really one of the top Labuan attractions  but the complex does contain, shops, a supermarket and a food court.
---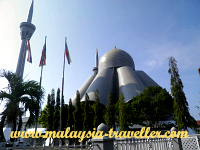 An'Nur Jamek State Mosque
This futuristic mosque was opened in 1988 and is said to incorporate Malay and Turkish influences in its design.
---
Other Top Labuan Attractions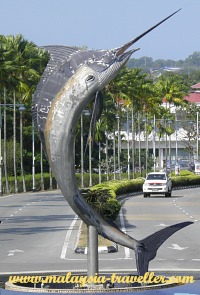 Deep Sea Fishing
Labuan has marlin statues everywhere and the Labuan International Deep Sea Fishing Tournament is held here in April annually.
Golf  
There are two golf courses in Labuan - the Labuan Golf Club and the Labuan International Golf Club.
Kinta Benua Mangrove Forest Eco Tourism
The south of the island alongside Jalan Kina Benuwa is home to a mangrove forest conservation area.
Ban San Miao Chinese Temple
This colourful Taoist temple is also known as the Heaven and Earth temple with the upper floor being the Heaven Hall while the lower level portrays the tortuous happenings of Hell.
Scuba Diving
There are four main wrecks known to divers located within easy range of Labuan: the Blue Water Wreck, the American Wreck (USS Salute), the Cement Wreck and the Australian Wreck
Map of Top Labuan Attractions
Here is a map showing the locations of my suggested top Labuan attractions. (Click on the rectangle in the top right corner to expand the map).
I have tried to be exactly accurate in placing the markers on this map but as it was a cloudy day when Google Maps' satellite recorded the image, some of the attractions in the north-west of Labuan, which was shrouded in cloud, have had to be estimated.
How to Get to Labuan
Air Asia and Malaysian Airways has flights to Labuan from Kuala Lumpur, Kota Kinabalu and Miri.
Alternatively, ferry services run between Labuan and Kota Kinabalu (Sabah), Menumbok (Sabah), Lawas (Sarawak), Sipitang (Sabah), Limbang (Sarawak) and Bandar Seri Begawan (Brunei).  You can find details here.
Getting Around 
Labuan is a small island so taxi fares will not break the bank. However if you want to visit several of the places listed on this page you could consider renting a car. It is easy to drive in Labuan. Traffic is light and parking is easy. I rented an automatic for RM70 per day. Be aware though of the high excess charged by hire car companies in Malaysia in the event of an accident.
Accommodation for the Top Labuan Attractions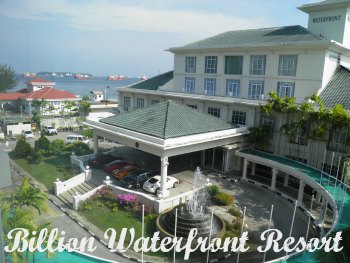 I stayed at the Billion Waterfront Resort which was fine with a convenient location, a big swimming pool and a marina-front bar from where you can admire the sunset. 
Hope you enjoy discovering these Top Labuan Attractions.
---
Share this page: