Putrajaya Challenge Park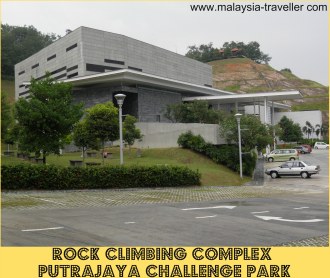 Putrajaya Challenge Park or Taman Cabaran is a 30 hectare park in Putrajaya's Precinct 5 containing some of the best extreme park facilities in Asia.
This well designed park was opened to the public in 2009 and has three main attractions:
- Indoor Rock Wall Climbing Complex
- Skate Park and Thrill Park
- Mountain Bike Trails
The facilities, which are well managed by Perbadanan Putrajaya (Putrajaya Municipality), have a range of options to cater for visitors of all ages and levels of ability.
Rock Climbing Wall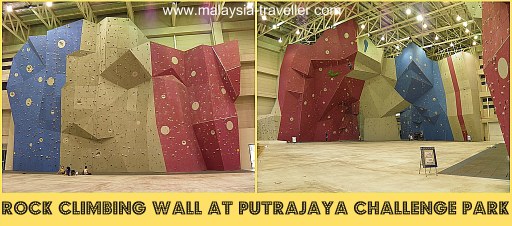 The indoor rock climbing complex is housed in a purpose built 2,100 sq.ft. gym with a number of trapezoidal climbing walls reaching 20 meters in height or the equivalent of a 5-storey building.
There are 6 zones:
Zone A Expert Bouldering Wall
Zone B Beginners Bouldering Wall
Zone C Expert Lead Wall
Zone D Top Roping Wall
Zone E Speed Climbing Wall
Zone F Intermediate Lead Wall
Children below the age of 10 are not allowed to climb these walls. There is a separate room with kids climbing walls and thick spongy flooring for children below 10.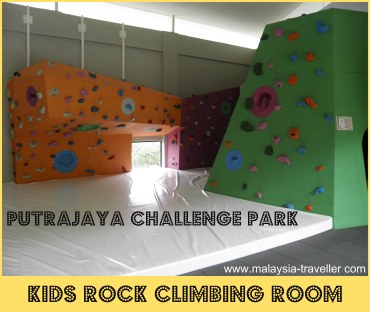 Fees are very reasonable. Entrance fee is RM6 (Adults) and RM 3 (Students). Equipment rental charges for a session (3 hours) are as follows:
Climbing Rope RM15
Harness RM 5
Climbing Shoes RM 7
Chalk Bag RM 3
Belay Device RM 4
People going in a group will often share the equipment to reduce costs.
Instructors are available and beginners may not attempt to climb without guidance from an instructor.
 Open daily:
10am - 8 pm (Monday, Tuesday, Thursday & Sunday)
10am - 10pm (Wednesday, Friday & Saturday)
Friday closed from 12.30pm - 3pm.
Note: Challenge Park is closed on the 1st and 3rd Mondays of every month.
Training to Improve Climbing Skills
Training for improving climbing skills and techniques is provided by Cross Move Technical Climbing Coaching Service at beginner, intermediate and expert levels.
Contact them for package details: crossmoveadventure@yahoo.com . Tel 017 3197836 or 013 4664363.
Skate Park & Thrill Park

This smooth contoured concrete surface has been specially designed to provide fun and thrills for skateboarders, inline skaters / roller blading and BMX bikers and stunt riders.
It appears to be popular with both adults and children.
Bike hire is available.
On the grassy hillside behind the skate park is the thrill park which features bike riding activities called pump track, dirt jump, north shore element and slope style jump.
I have no idea what any of these mean and it looks way too dangerous for me but I am sure younger people will know what I am talking about.
Open daily:
10am - 7pm (Monday - Thursday)
10am - 11pm (Friday - Sunday)
Entrance is FREE.
Mountain Bike Trail
The remainder of the 30 hectare park is given over to customised terrain mountain bike trails. There are 9.1km of challenging MTB trail, tracking along ridges, up switchbacks and down steep hills through this former rubber and palm oil forest. Enthusiasts have rated the trail 'very technical and considered the best in Asia'.
The trails are graded easy, moderate and difficult and include:
core trail loop
XC loop
downhill
downhill fun ride
free cross
slope style line
Mountain Bike Rental (2017 prices):
Mountain Bike (hardtail) RM 20
BMX RM 10
Helmet RM 3
Knee Pads / Elbow Pads RM 3
Open daily, 10am - 7pm.
Entrance is FREE.
The paths through Putrajaya Challenge Park are also suitable for walking and jogging.
Contact for Putrajaya Challenge Park
You can find more details on their Facebook page. 
Their phone number is +60 3-8887 7000.
Location of Putrajaya Challenge Park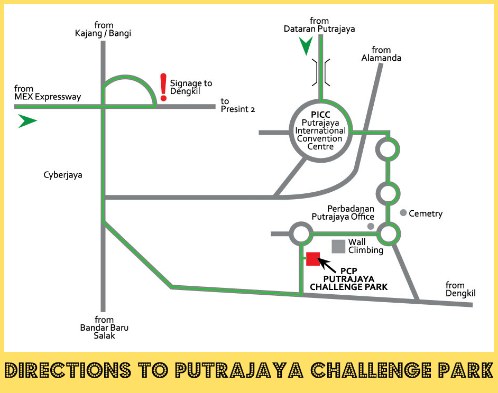 ---
Share this page: