Hotels In Melaka With Charm and Character
Looking for special hotels in Melaka? Something out of the ordinary?
Character Hotels in Melaka
If you are planning to visit Melaka (Malacca) you are obviously someone with refined tastes, the sort of person who is interested in heritage, history, quaint buildings, exotic cultures and adventurous food.
If so, you need to stay in a hotel which matches the city. This means not a boring tower block managed by an international hotel chain but a distinctive local hotel with charm and character, possibly quirky, definitely with a bit of history.
Fortunately Malacca is crammed full of fantastic old buildings and, now that the city is a UNESCO World Heritage site, more and more of them are being converted into hotels and guesthouses.
The quality varies enormously. Many of them cater for the backpacker end of the market and offer hostel type or shared bathroom accommodation for as low as RM10 per night. At the other extreme there are some upmarket boutique hotels which charge hundreds of US Dollars per night.
There are plenty of excellent websites which can list out all the hotels in Melaka for you, provide reviews, photos and room rates and make bookings. Trip Advisor and Agoda are websites which I have always found useful in the past.
There is no point in me trying to replicate their service. Instead I will give you a few of my personal recommendations based on my experience.
Location
As a tourist you don't want to be stuck in the middle of nowhere, reliant on taxis to do sightseeing or go to a restaurant.
Melaka is a big, spread-out city.
You want to be right in the heart of the UNESCO World Heritage Core Conservation zone which means Jonker Street (Jalan Hang Jebat), Heeren Street (Jalan Tun Tan Cheng Lock) or in one of the surrounding streets next to the Melaka River.
My recommendations therefore are restricted to heritage buildings in the core conservation area.
Here are my 10 suggestions for hotels in Melaka: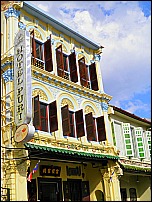 I stayed here recently. It was clean, comfortable, in a great location, inexpensive and in a lovely heritage building. Read my full review here.
The Baba House
This hotel is right across the street from the Puri and in a similar building. I have not stayed there but it has reasonable reviews. 
This is easily one of the most luxurious hotels in Melaka and the most expensive on my list if you are in the mood to splurge. Read my review here.
Casa del Rio
This hotel is the second most expensive on my list. It does not really meet my criteria because it is a brand new building (opened May 2011) but it is in a superb location next to the river and the designers have made an effort to make it fit in with its surroundings. I have not stepped foot in the hotel but its reviews seem to be favourable. 
Jonker Boutique Hotel
This is a slightly newer building, dating from the art-deco period. The owners have tried hard to upgrade the interiors to live up to their 'boutique' title. Another excellent location.
Courtyard@Heeren Boutique Hotel
I have seen this hotel from the outside. It is in a top location and it is a fantastic looking heritage building. Its reviews are good so it must be worth considering.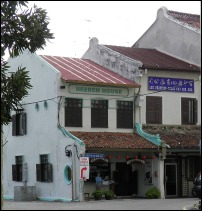 Heeren House
A top location at the Melaka river end of Heeren Street and a very distinctive heritage building. It has received somewhat mixed reviews but worth considering.
Cafe 1511 Guesthouse
Another hotel on the same street. It only has 5 rooms and is managed as part of the Baba Nyonya Heritage Museum next door. Stay here and you could say that you have spent a 'Night at the Museum'! 

Galileo Guest House
A small centrally located hotel. Cheaper than many hotels in Melaka, its decor may not be everyone's cup of tea but certainly quirky.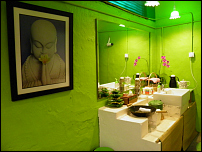 I stayed here on my most recent visit to Melaka.It is located in a narrow alley in Kampung Jawa next to the Melaka River. It is more of a holiday apartment than a hotel as it consists of only one huge bedroom capable of accommodating a family or group of 4-5 (close!) friends. It is homely and cosy. See my review here.
If you prefer to be away from the hectic city centre, you could consider this affordable, spacious and tastefully furnished apartment near the Portuguese Settlement. Discounted long-stay rates are offered for people planning an extended stay in Melaka.
Well that's it. I hope my suggestions have been helpful.

If none of these hotels appeal and you really want to stay with a reliable hotel brand in a clean modern tower block then I suggest the Holiday Inn. I took a look inside and it looks pretty smart. It is not far from the old town centre and you might get a room with a sea view. 

---
Share this page: