KL Hop-On Hop-Off  
Double Decker Tour of Kuala Lumpur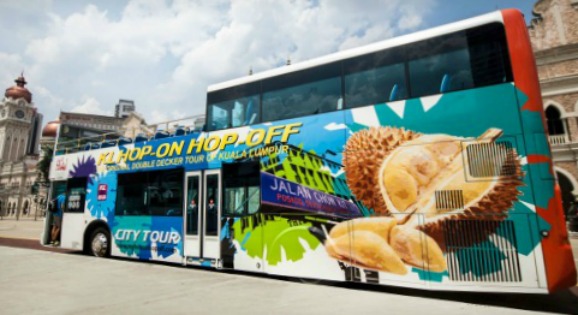 KL Hop-On Hop-Off (HoHo) open top buses are a convenient way to see the famous landmarks of Kuala Lumpur.
Once upon a time it was only London that had this type of double decker bus sightseeing tour but now they can be found in dozens of cities around the world.
For tourists, particularly first time visitors to Kuala Lumpur, these buses provide an easy way of seeing many of the city's top attractions all on one ticket. If you sit upstairs you may well get a great view of the landmark for those all-important selfies. You don't need to hop-off if you don't want to and you could just complete the whole tour in one go. However bear in mind it would probably take over 3 hours to complete the whole circuit of 23 stops.
Do not confuse the KL Hop-On Hop-Off with the Go-KL City Bus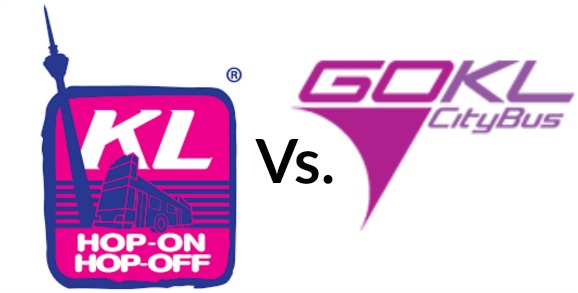 What's the Difference?
HoHo costs money, quite a lot in my opinion, although cheaper than getting taxis to see all these sights. Go-KL is free.
Being a free bus, Go-KL can get very busy. With HoHo you are sure to get a seat.
HoHo has one route with 23 stops. Go-KL has 4 routes with 74 stops. You could see nearly all of the tourist sights by Go-KL but you would need to change buses.
HoHo buses run at intervals of around 20 30 minutes subject to traffic conditions. Go-KL buses run at 5 minute intervals at peak periods and every 10 minutes at other times.
HoHo waits for up to 10 minutes at some stops to enable passengers to take photos. Go-KL does not.
HoHo has a commentary (pre-recorded), Go-KL does not. 
HoHo buses have either a full open top or a partial open top. The enclosed deck is air conditioned. Go-KL buses are single deck (air-conditioned).
If you are a rich tourist you should probably ride on HoHo and leave space on Go-KL for migrant workers and KL-ites to get to work. However if you are a traveller on a tight budget then Go-KL is the one for you.
You can read more about Go-KL City Bus here.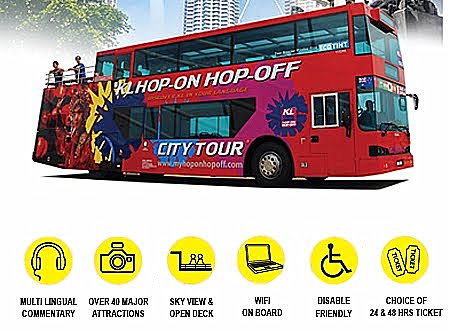 Where Does the KL Hop-On Hop-Off Bus Stop?
I have marked each stop location as accurately as possible on this map:

Here is a list of the bus stops and points of interest nearby:
MATIC (Malaysian Tourist Centre) 
KL Tower (KL Tower, KL Forest Eco-Park)
Jalan P. Ramlee 
Aquaria (Aquaria, KL Convention Centre)
Karyaneka (KL Craft Complex, Craft Museum, Rumah Penghulu Abu Seman)
Bukit Bintang (Bintang Walk, shopping) (stop temporarily shifted to outside HSBC on Jalan Sultan Ismail)
Tengkat Tong Shin (Stop temporarily out of use)
Chinatown (Chinatown walking tour)
Central Market (Art House Gallery, shopping)
Little India (Brickfields Heritage Walk)
KL Sentral (Main transport hub)
National Museum (Muzium Negara, Orang Asli Museum, Malay-World Ethnology Museum)
National Palace (Istana Negara)
Lake Gardens (Botanical Garden, Malaysia Cartoon & Comic House, Deer Park, Butterfly Park)
KL Bird Park (Bird Park, Orchid & Hibiscus Gardens, National Planetarium, Tun Abdul Razak Memorial)
National Mosque (Islamic Art Museum, Masjid Negara, Old KL Railway Station, Majestic Hotel)
Dataran Merdeka (Royal Selangor Club, Abdul Samad Building, KL City Gallery, National Textile Museum, Music Museum)
Medan MARA (Jalan Tuanku Abdul Rahman, Sogo, shopping)
PWTC (Chow Kit Market, Biomedical Museum)
Titiwangsa (Monorail Station)
Palace of Culture (Titiwangsa Lake Garden, Istana Budaya, National Visual Arts Gallery, National Library)
Citibank (Kun Tam Thong Temple)
KLCC (Petronas Towers, Petrosains Museum, Malaysian Philharmonic Orchestra, shopping)
You can keep up-to-date of any changes to KL Hop-On Hop-Off route map by taking a look at their official website.

Ticket Prices
Age 5 Years and Below are Free
Students & Disabled Pay Child Rate.
KL Hop-On Hop-Off ticket validity starts from the time and date you board the bus. So if you hop-on at 11 am the ticket will expire at 11 am the next day (24 Hour Ticket) or day after next (48 Hour Ticket).
TIP: You can get an 8% discount on these prices by buying online through Tripcarte's secure website with instant ticketing, refundable and hassle free e-tickets.

Operating Hours
Operates daily 9 am - 8 pm (last pick-up 7 pm).
Where to Buy Tickets
In the bus.
Online.
Any agents displaying their logo.
For further information you can contact their Customer Service number, 03 9282 2713 or toll-free info line at 1800-88-5546.

---
Share this page: