Kenyir Elephant Conservation Village

Kenyir Elephant Conservation Village

Lake Kenyir, Terengganu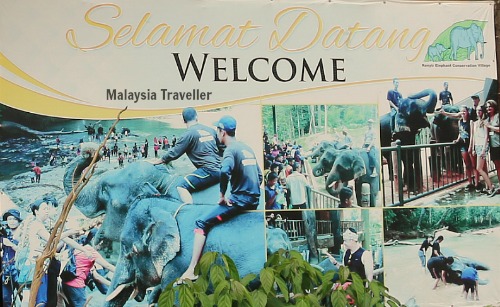 Kenyir Elephant Conservation Village (KECV) is a new attraction in the Lake Kenyir area of Terengganu. It was built in 2012 on a 256 hectare site of which 90% has been left in its natural forest state in order to provide a home for the elephant orphans who live here.

The main aim of KECV is to provide a sanctuary for rescued elephants whose life in the wild in Malaysia is threatened by habitat loss and ivory poaching. Creating a tourist attraction and increasing employment for local people are secondary goals.

 What to Expect
There are currently 13 elephants at KECV. The youngest two, both females, are just 2 years old while the Grandma of the herd, named Teh, is 32.
Activities include:

Elephant Rides
Elephant Bathing (they can take baths up to 7 times a day)
Take your photo with elephants
Feed the elephants
Elephants Education Show
 Enjoy the canopy walk amid the tree tops and across the river
Treehouse
Do not forget that elephants can be dangerous. Even with the most professionally run parks and the best trained mahouts, accidents have been known to happen in similar elephant shows around the world. 

Entrance Fee
Ticket prices are not cheap, especially for foreign guests!                                      
RM
Adult (age 13 and above)
Child (age 7 - 12)
Child (age 1 - 6)
Below 1 year
Non-Malaysians
100
50
10
Free
Price does not include elephant rides or elephant feeding.
For elephant feeding you can buy a bucket of sugar cane for RM5. No outside food is allowed, for you nor for the elephants.

You can get 10% off by booking online on KECV's website and discounts are available for large groups.

Special events can be organised by prior arrangement.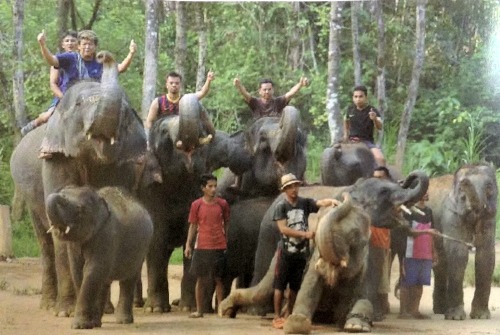 Operating Hours
Open daily from 9am to 6pm.
Last admissions 5:30pm.
Closed between 12:30 - 14:30 on Fridays (prayer time).
Elephant Educational Presentations take place at 11:30am and 3:30pm daily (4pm on Fridays).

Allow up to 3 hours to complete your visit.

 What to Bring?
Sunscreen / Hat
Insect repellent
Change of clothing if you are planning to get wet helping out at elephant bath time. No bikinis or skimpy swimsuits.
There is a café where you can refuel and rehydrate.
Verdict
In terms of attractions, this place is very similar to Kuala Gandah Elephant Sanctuary which is a lot closer to the main population centre of Kuala Lumpur. But KECV's location is in a beautiful part of Malaysia and you can combine a trip with a visit to scenic Lake Kenyir and the charming city of Kuala Terengganu.
The ticket price is expensive by Malaysian standards but it costs a lot to maintain an elephant (up to 250 kg of food per day!) so think of your expense as a contribution to the welfare of the elephants. The elephants appear to be healthy and well looked after.
Having said that, I wonder whether Kenyir Elephant Conservation Village will be able to attract enough visitors to continue as a private enterprise without support from the government's wildlife department.
How to Get to Kenyir Elephant Conservation Village 
I have marked the exact location on this map.

As you can see, Kenyir Elephant Conservation Village is a long way away from Kuala Lumpur (7 hours drive) and even further from Johor Bharu, Penang or Singapore, but only about an hour's drive from Kuala Terengganu.
You can find details of bus services on KEVC's official website.
There is plenty of free parking.
Contact:

Tel: +609 858 5588

Mob: +6016 345 5605 (En. Azman)
         +6012 278 2677 (Carol Ang)
Fax: +609 858 4848
Email: enquiry@kecv.com.my

Nearby
---
Kenyir Elephant Conservation Village
Share this page: