Royal Selangor Visitor Centre
Introduction to Royal Selangor Visitor Centre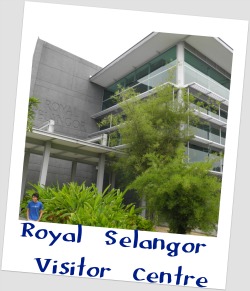 Royal Selangor is Malaysia's, if not the world's, leading name in pewter products.
I would strongly recommend a tour of their award winning Visitor Centre located in Setapak Jaya, a suburb only 20 minutes from Kuala Lumpur city centre.
It attracts over 200,000 visitors a year and for good reason. For a start it is FREE. On arrival you are assigned a personal guide to take you through the exhibits explaining the history and development of pewterware.
You will see the world's largest tankard, which can hold 2796 litres of beer, and a model of the Petronas Twin Towers building made up of 7000 pewter tankards.
Next you will see a demonstration of some of the skilled craftsmanship employed in their clean and modern factory.
If you want to have a go at making a pewter bowl you can join the School of Hard Knocks (see below) before browsing their full range of products in the HQ's retail store or enjoying a snack in the cafe.
What is Pewter?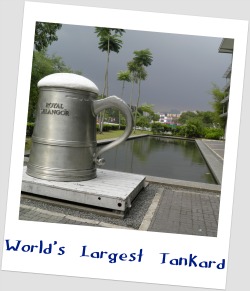 Pewter is an alloy made up of tin, copper and antimony. Tin is well known for its resistance to corrosion. Copper is a malleable metal which makes it easy to work while antimony is added to provide strength.
Malaysia was once a leading producer of tin but nowadays the company's raw materials are imported. The exhibits include a scale model and photo of one of the huge tin dredges which used to be commonplace in Malaysia.
Modern pewter is entirely food-safe, unlike the earlier version which used to contain lead.
History of Royal Selangor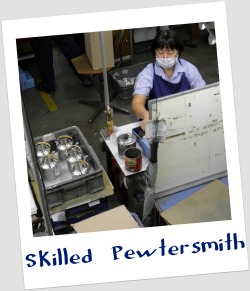 The business was set up in 1885 by a pewtersmith named Yong Koon who, as a young man, migrated from China to Malaya along with thousands of his compatriots to join Malaya's tin rush.
The company has grown enormously since then but the family connection is still there and our guide pointed out the founder's grand-daughter to us during our tour.
Today the factory employs 250 people, mostly women, some of whom have been there for 40 years and carry out the most skilled processes which are still performed manually, requiring a steady hand, good co-ordination and a keen eye for detail.
The business also has a 40 strong design team and it is the quality of their designs which, in my opinion, sets this company apart from its competitor pewter makers.
These days Royal Selangor deals not only in pewter but, through its subsidiaries, sells Comyns brand hallmarked sterling silver and Selberan brand 18k gold jewellery.
School of Hard Knocks & The Foundry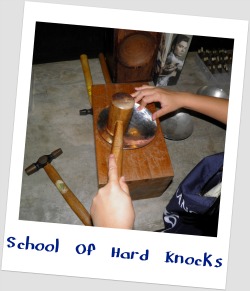 Fancy trying your hand at pewtersmithing? On one side of the factory is a glass fronted workshop called the School of Hard Knocks where, for a charge of MYR65 per person, you can spend 30 minutes or so shaping a simple pewter bowl from a flat disk of metal. First you engrave your name or initials into the underside of the disk. Then, armed only with a wooden mallet and a wooden block with a bowl-shaped depression in it, you pound away on the disk until it acquires the shape of a bowl. The good thing is, because pewter is so malleable, if you make a mistake it is easy to correct it.
At the end of the session you pack your bowl into a smart box and carrier bag and it is yours to keep. You also receive a certificate with your name on it and you get to keep the apron that you used. So RM 65 is pretty good value.
Another workshop experience is called The Foundry where, if you are aged 15 or above, you can cast, polish and decorate your own pewter masterpiece to take home. The price for this workshop is RM 180 and lasts 60 minutes.
If you want to have a go it is best to book in advance to avoid disappointment although when we went we had the workshop to ourselves.
Retail Store
Like all good tours, you have to pass through the gift shop to exit. The smart Visitor Centre store stocks the full range of Royal Selangor products as well as Comyns and Selberan branded items.
The pewter range includes bag hooks, candlesticks, photo frames, decanters, kids' gifts, wine accessories, tea sets, cufflinks and much more. My favourites are the tea caddies which, with their exquisite Asian motifs, are not only highly decorative but functional too as their precision air-tight stoppers keep the tea fresh.
Limited editions and special collections help to make their products highly sought after and collectable.
Also pewter is easier to look after and maintain in pristine condition than many other metal products.
Royal Selangor showrooms can be found in many leading shopping centres in Malaysia and around the world. 
How to Get to the Visitor Centre
Many tour operators in Kuala Lumpur offer trips which include the Visitor Centre but it is quite easy to make your own way there.
If you are driving yourself the easiest way to get there is to exit the Middle Ring Road 2 at the Wangsa Maju exit (close to Zoo Negara). You cannot miss the factory and there is plenty of free parking.
A free Shuttle Service is available from some leading hotels in KL. Enquire with your hotel concierge or call 03 4145 6122 to check availability.
If not, it is probably easiest and not expensive just to take a taxi from downtown Kuala Lumpur.
By the way, there are smaller Visitor Centres in Penang and Singapore if you cannot make it to Kuala Lumpur.
Opening Hours
Daily 9am to 5pm. No appointment is necessary unless you want to book a session at the School of Hard Knocks or the Foundry.
The tour is Wheelchair Accessible.
Contact Details
Royal Selangor Visitor Centre
4 Jalan Usahawan 6
Setapak Jaya
53300 Kuala Lumpur, Malaysia
Tel: +60 3 4145 6122 Fax: +60 3 4022 3000
You can learn more on their official website.
---
Share this page: