Petronas Twin Towers & KLCC Park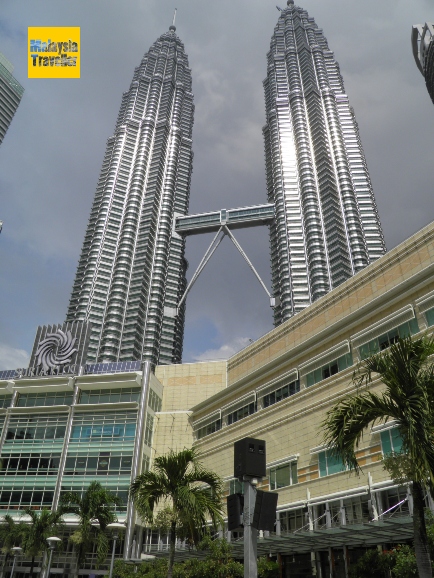 The Twin Towers
No trip to Kuala Lumpur is complete without visiting the famous Petronas Twin Towers. Wherever you are in central KL it is difficult to miss these iconic twin towers which were, for a few years, the tallest buildings in the world.
When I first visited KL in 1980 the area where the Twin Towers now stand was a horse racing track. It has since been completely redeveloped and the KLCC district, as it is known, has sprouted numerous office towers and apartment blocks. Those apartments with a view of the Twin Towers command premium prices.
Petronas Twin Towers is 452m high and was ranked the tallest building in the world from 1998 until 2004 when it was overtaken by the Taipei 101 (which in turn has since been superseded by Burj Khalifa in Dubai).
It is only 88 floors high, less than Willis Tower's 110 stories, but its decorative spires are considered an integral part of the structure allowing it to exceed Willis Tower in total height.
It is certainly a beautiful structure and was designed by Argentine architect César Pilar who used an Islamic 8 pointed star geometric motif as inspiration for the main floor plan.
Made from concrete, steel and glass, it took seven years to build.
The Skybridge Tour & Observation Deck
The first stop on your tour will be the Skybridge linking the two towers at levels 41 and 42. It is suspended 170m above the ground. The lower level of this Skybridge is open to the public.
Access is limited to a maximum of 1000 visitors a day and tickets are issued early in the morning on a first come, first served basis for a slot which could be anytime during the day (so potentially a lot of time hanging around to wait for the slot). Better to purchase online via online ticketing.
The Observation Deck near the top (86th floor) of Tower 2 gives a much better view and you can visit both with the package as shown below. 
 2023 Admission Prices and Opening Times for Skybridge & Observation Deck Tours

Open: Tuesday to Sunday from 10am - 6pm (closed on Monday)
Issuance of Tickets: From 9:00 am daily except Monday. The ticket counter is on the Concourse level (Lower Ground). There is a Gift Shop opposite the Skybridge entry point.
Skybridge and Observation Deck
Non-Citizen Adults: RM98  Malaysians with MyKad: RM35
Non-Citizen Children (ages 3-12): RM50  Malaysians with MyKad: RM17
Non-Citizen Seniors (age 61 and above) RM50 Malaysians with MyKad: RM17
 I suggest you visit the Official Petronas Twin Tower website to buy tickets online and stay updated.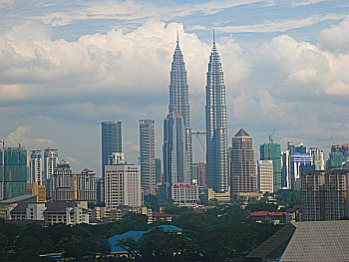 Malaysian Philharmonic Orchestra
At street level of the Twin Towers building you can find the Dewan Filharmonik Petronas, a world-class concert hall and home to the Malaysian Philharmonic Orchestra.
Click on their website to find out about their upcoming performances.
Suria KLCC
Petronas Twin Towers sit on top of a smart six floor shopping podium called Suria KLCC, containing 270 up-market stores, cafés, restaurants and two food courts. My favourite shop there is Kinokuniya an excellent bookstore with one of the best selections of books in Malaysia.
Petrosains
Also inside the mall is Petrosains, The Discovery Centre, an interesting museum where kids and adults can experience the worlds of science and petroleum.
Galeri Petronas
There is an art gallery inside the mall too called Galeri Petronas which is intended to showcase works by Malaysian artists. Their website does not seem to be working at present so it is probably best just to go along and see what is on display.
KLCC Park
Stepping outside, the nicely landscaped KLCC Park offers a pleasant break from shopping. Covering 20 acres it is said to contain 1900 trees of 74 species including some handsome giant banyans. There are jogging paths, wading pools, a large children's playground, various sculptures and an elegant mosque, Masjid Asy-Syakirin, which is adorned with decorations hand-made by Uzbek craftsmen.
Kuala Lumpur Convention Centre
The sprawling Convention Centre lines one side of the park and adjoins the Twin Towers. They often have interesting exhibitions and trade shows going on, some of which are open to the general public.
See their website for a schedule of forthcoming events.
Aquaria
Last but not least, next to the Convention Centre is Aquaria, an international standard aquarium attraction of the sort where you ride on a travelator through a glass tunnel while sharks, rays and other marine creatures glide by. Well worth a visit although not cheap. Find details here.
How to Get to Petronas Twin Towers
Driving
See my map on the Top KL Attractions page. There is a huge underground car park.
By Train
There is a Light Rail station in the basement of the Petronas Twin Towers complex (KLCC Station on the Putra LRT line).
By Taxi
According to the official website, a taxi from KL Sentral should not cost more than RM15 - 18. The return journey however is likely to cost considerably more as the drivers who tout for fares at KLCC seldom use the meter and try to gouge the maximum fare, particularly from foreigners. Best to negotiate a discount and then grin and bear it. The fares are still cheap by world standards so it is not worth spoiling your day over it. Or use Grab.
Nearby Hotels
The swanky Mandarin Oriental Kuala Lumpur is right next door to the Petronas Twin Towers. Even if you cannot afford to stay there it is a nice place for a drink.
---
Share this page: