National Planetarium
The National Planetarium (Planetarium Negara) is conveniently located in Kuala Lumpur's Lake Gardens, the green lung in the heart of the city.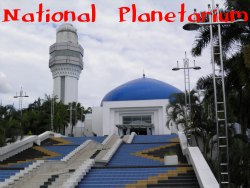 The building, which was opened to the public in 1993 and has been cleverly designed to resemble a blue-domed mosque, sits on a small hill between the Bird Park and the National Museum.
To be honest the exhibits inside are not that impressive but there are a few highlights. There is a mock-up of the interior of the International Space Station showing the sleeping and toilet arrangements. Quite interesting!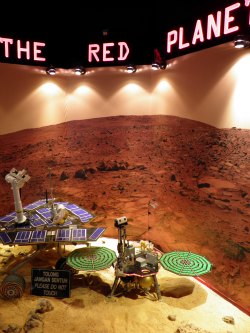 The space suit of the first Malaysian astronaut is on display together with examples of the ready meal packs he took into space containing Malaysian delights such as Nasi Lemak!
There is supposed to be an observatory and telescope in the tower which looks like a minaret but it is was either closed down during our visit or we failed to notice it.
In the grounds of the National Planetarium there are some replicas of ancient Chinese and Indian observatories (the latter being a scaled down version of the Jai Singh Observatory in Delhi) and also a replica of Stonehenge or, in this case, Fibre-Glass Henge!
The main highlight of the visit for us was undoubtedly the Omnimax-style film projected on the interior roof of the dome. Seated on comfortable reclining cinema chairs the huge screen gives a panoramic viewing effect that enhances the content of the film.
We saw 'Dawn of the Space Age' an interesting history of space exploration and the rivalry between the USA and USSR. There are currently four different films screened every day. The latest screening schedule is below.
Opening Hours & Admission Charges
Entrance Charges
Entrance to the Exhibition Gallery is FREE.
The film show costs are:
Adult (age 13 and above): RM 12 (MyKad RM 6)
Children (ages 2-12): RM 8 (MyKad RM 4).
Opening Hours
9:30am to 4:30pm daily. Closed on Mondays
The film shows screen on the hour, every hour. Currently the schedule is as follows:
10AM Perfect Little Planet
11AM Cosmic Collisions
12PM Astronaut
1PM We are Astronomers
2PM Perfect Little Planet
3PM Cosmic Collisions
4PM Astronaut
No shows at 1pm and 2pm on Fridays (Friday Prayers).
You can check for updates of this information on their official website.
How to get to National Planetarium
Address: 53 Jalan Perdana 50480 Kuala Lumpur
Telephone: 03 22735484
Being located in Lake Gardens, you could include a visit to the National Planetarium as part of my Lake Gardens walking tour.
Taxi or self-driving is probably the best way to reach the Lake Gardens.
If you want to travel by train the closest station (KTM Komuter) is the historic old Kuala Lumpur station and from there you can walk.
You can find lots more Malaysian Museums here.
---
Share this page: