Where are the best places to spot Malaysian Wildlife in the wild?
There are a lot of good websites about Malaysian Wildlife on the internet. They will tell you that Malaysia is one of the most bio-diverse places on Earth with vast swathes of virgin and secondary forests giving home to more than 306 species of wild mammals, more than 742 species of birds, 567 species of reptiles and 242 species of amphibians*. Malaysia is also rich in marine fish, freshwater fish and invertebrates.
*source: FAO Global Forest Resources Assessment (FRA) 2020 Malaysia - Report
Other websites will tell you that rapid deforestation due to legal and illegal logging, planting of oil palm plantations and urban development is threatening the habitat of these creatures. In Borneo for example (shared by Malaysia, Indonesia and Brunei) only half of its forest cover remains, down from 75% in the mid-1980s according to the UN Environment Programme.

Enemy of Malaysian Wildlife
Having spent the past decade driving and walking round every corner of Malaysia my perception is that forests are shrinking at an alarming rate, which must be having a detrimental impact on Malaysian wildlife. Hunting and the pet trade have also taken their toll.
No doubt there is still a lot of Malaysian wildlife out there but for the normal person  it is exceedingly difficult to spot. Most wild creatures are naturally wary of us humans so it is not surprising that we don't bump into many wild animals during jungle hikes.
Even when I was making an attempt to follow in the footsteps of the great Alfred Russel Wallace around the Malay Archipelago I had very little success in seeing much wildlife (you can read about my trips here).

Listed below are some of the wildlife species which are endemic to Malaysia together with those that I have encountered during my years in Malaysia and the locations where I spotted them (I am excluding zoos from this list and non-native species like ostriches and hippos).

Malaysian Wildlife - Mammals
Malayan Tiger
According to WWF the Malayan tiger is critically endangered with less than 200 left in the wild and facing extinction. The only place you will see one is in captivity like this one in Melaka Zoo. 

Orangutan
Orangutans are also critically endangered with the population across the whole of Borneo having fallen rapidly to perhaps 100,000. In Sabah the Tabin Wildlife Reserve and Kinabatangan Wildlife Sanctuary have small populations but for most people the only chance to see orangutans in semi-free conditions is in places like Sepilok Orangutan Rehabilitation Centre (SORC) or in the Danum Valley Conservation Area. However it should be noted that SORC is not without its critics as you can read from this article by Malaysian non-profit organization Friends of the Orangutans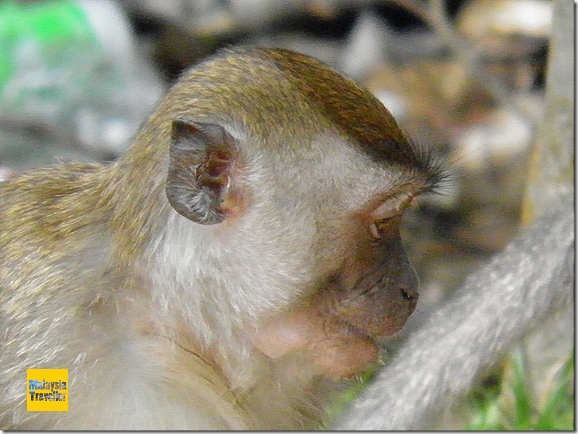 Macaque at Kanching Waterfall
Macaque
You don't have to travel far to see macaques. These cheeky creatures have adapted well to being around humans and have learnt to scavenge and snatch human food. You will be sure to find some at Batu Caves, Kanching Waterfall, Bukit Gasing, Taman Botani Negara Shah Alam, Tanjung Piai and countless other places. They are a regular visitor to my garden.

Siamang Gibbons
These gibbons are more shy around people but I have heard them crashing around high in the trees and making their distinctive whooping calls. Bukit Putih is a good place to spot them.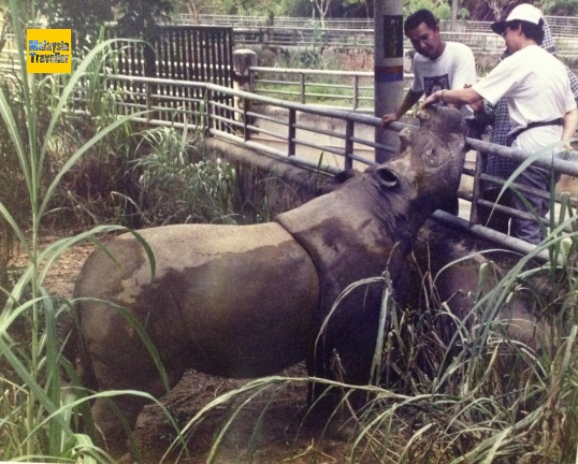 Sumatran Rhinoceros
You won't find these. The last seven in Peninsular Malaysia died in 2003 and they may be extinct in Sabah too. Try a zoo.

Malayan Tapir
Once found throughout southeast Asia, these gentle short-sighted creatures are close to extinction in the wild. Now found only in zoos and at the Malaysian Tapir Conservation Centre (Sungai Dusun Wildlife Conservation Centre). This photo was taken at Johor Zoo.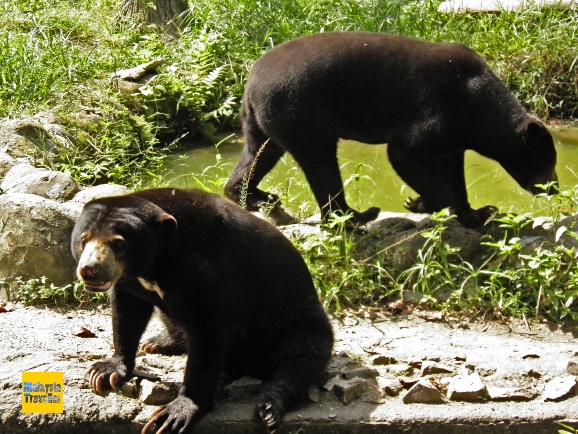 Sun Bears
Malayan sun bears are the smallest bears in the world. They are classified as vulnerable. The Bornean Sun Bear Conservation Centre provides a rare chance to see them in natural forest surroundings. 
Wild Pigs
Wild pigs and boars are known to wander freely in Malaysia's jungles. I have spotted some in Putrajaya Present 15 (the abandoned Diplomatic Precinct area), Bukit Ketumbar (photo) and Gemas. I saw a family of Bornean bearded pigs at Bako National Park.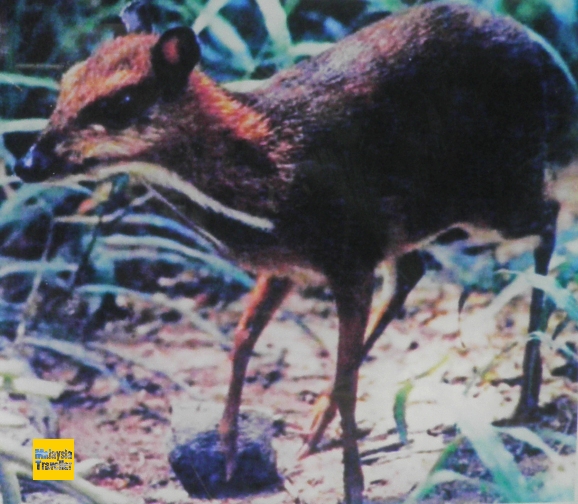 Mouse Deer (kancil)
I have never seen one of this tiny timid deers in the wild. Taman Rusa & Kancil in KL Lake Gardens is a good place to see them.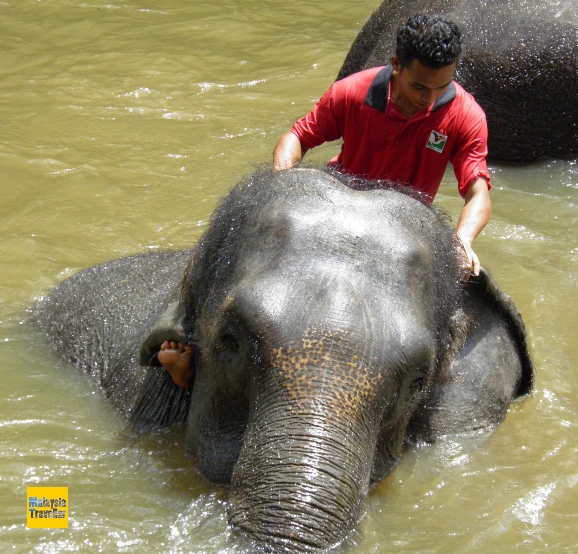 Elephants
Probably only a thousand or two left in the wild. Sometimes they hit the newspapers when they emerge from the jungle and wreck farmers' crops. Some have been relocated to Kuala Gandah Elephant Sanctuary and the Kenyir Elephant Conservation Village for their own protection and these are the only places in Malaysia where you are likely to see elephants outside of a zoo.
Otters
Otters like places where there is an abundant supply of their favourite foods such as fish, eggs and chicks. A family of otters used to live in the lake at Present 16 in Putrajaya. I don't know if they are still there.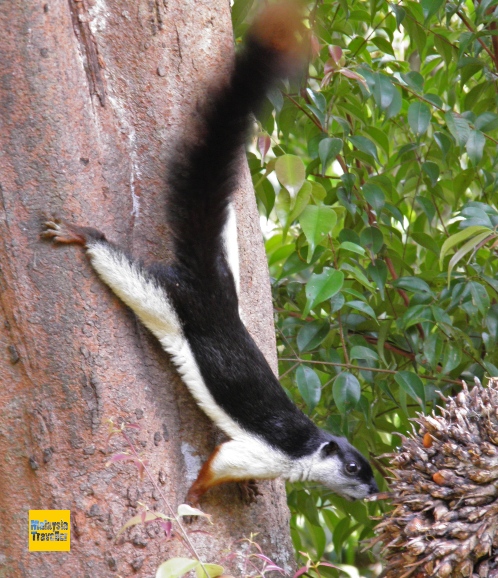 Squirrels
Squirrels are a common sight but I have only seen one family of these black, white and tan creatures (possibly Prevost's Squirrel), spotted at Lake Chini, Pahang. 

Proboscis Monkeys
My favourite of all the Malaysian mammals is the proboscis monkey. These are confined to the island of Borneo only and they are endangered. I took this photo at the Labuk Bay Proboscis Monkey Sanctuary near Sandakan where they emerge from their patch of mangrove forest at feeding time. I also saw wild proboscis monkeys at Bako National Park, Sarawak.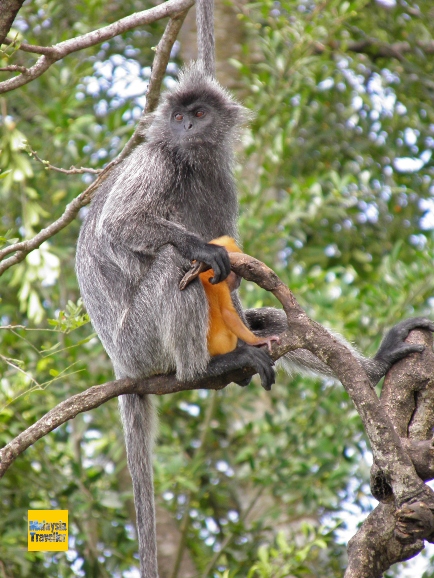 Silver Leaf Monkeys (silvered langurs)
The only place where I have seen these monkeys with their cute orange infants is Bukit Melawati at Kuala Selangor where they have become accustomed to begging food from humans.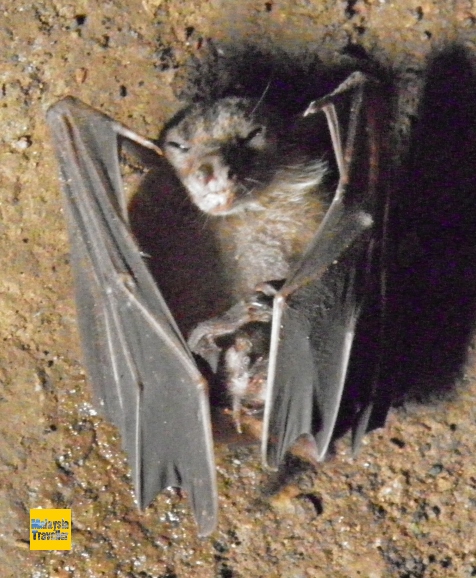 Bats
Bats are one species of mammals that are abundant in Malaysia with 110 sub-species of bat but that does not mean that they too are not under threat from deforestation, hunting and destruction of their caves by quarrying. This little chap was photographed in Fairy Cave, Sarawak. Other places where I encountered bats included Gunung Reng, Batu Caves, Niah Caves and Wind Cave. Deer Cave at Mulu is said to be home to more than a million bats. Rawa Island is a good place to see fruit bats.

Malaysian Wildlife - Birds
Around 700 species of birds have been recorded in Malaysia. Some of the most famous include hornbills (10 species), woodpeckers, blue banded kingfishers, rufous chested flycatcher, black magpie, swiftlets (farmed commercially for their birds nests), storks, mountain serpent-eagles, raptors and herons.

I have seen hornbills in Pangkor Island and Kinabalu National Park. They can also be found in Taman Negara, Belum Temenggor and elsewhere. This photo was in KL Bird Park.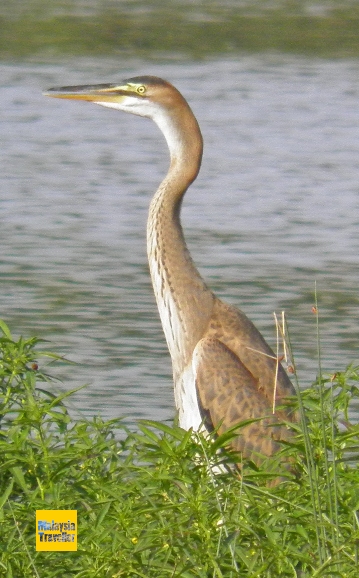 Heron at Putrajaya Presint 16.
This stork eating a catfish was snapped at The Mines, Seri Kembangan.
Malaysian Wildlife - Reptiles & Amphibians
250 reptile species have been recorded, with about 150 species of snakes and 80 species of lizard.

Crocodiles
Thankfully I have not encountered any crocodiles in the wild although I have been to some of the estuaries on Sarawak's coastline which are known to be frequented by crocs. There are over four crocodile attacks per year in Sarawak. Batang Lupar River Basin accounts for half of them. This one was photographed in Johor Zoo.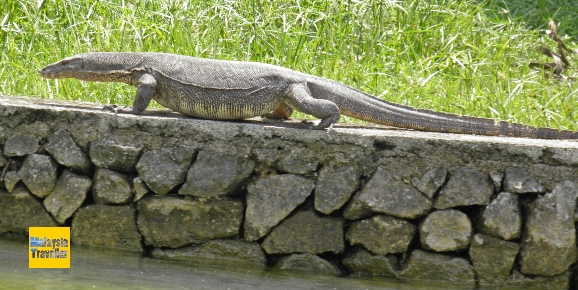 Monitor Lizards
These prehistoric-looking creatures are a common sight and can be encountered anywhere there is something to eat. This one was snapped at The Mines in Seri Kembangan but I have also had them in my garden. Manukan Island off Kota Kinabalu has giant sized monitors.

Other Lizards
Skinks are a common sight in Malaysian forests, living amid leaf litter and undergrowth.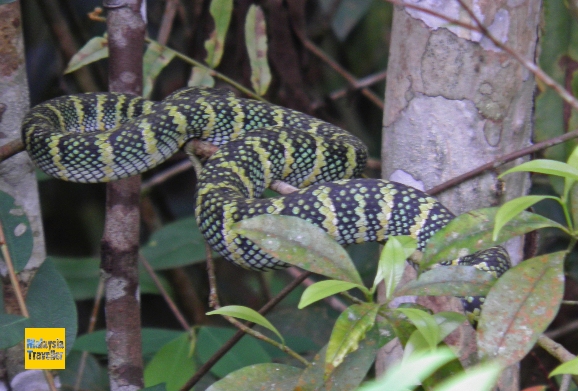 Snakes
Snakes are common but not so easy to spot. I have seldom encountered a snake on any of my hikes but have seen plenty of dead ones on the road. This one was sleeping on a tree at Gunung Jerai. Possibly a pit viper?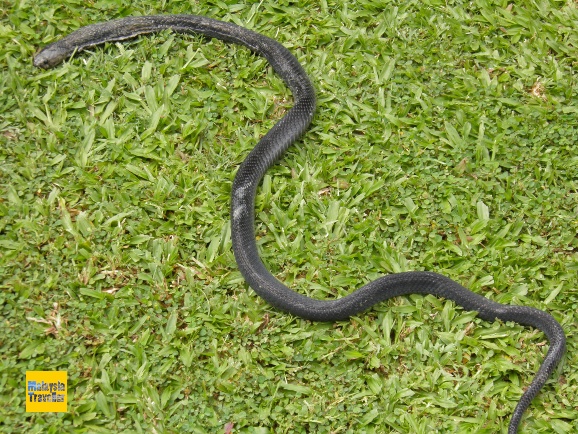 This Malayan spitting cobra was killed by my gardener after it sprayed venom into the eyes of my pet dogs. Unfortunately snakes come into contact with humans often in Malaysia and the outcome is seldom good for the snake.

Malaysian Wildlife - Insects
There is no shortage of bugs in Malaysia which has thousands of insect species. The most interesting and attractive in my view are butterflies and moths, stick insects and beetles. Here are a few that I have photographed: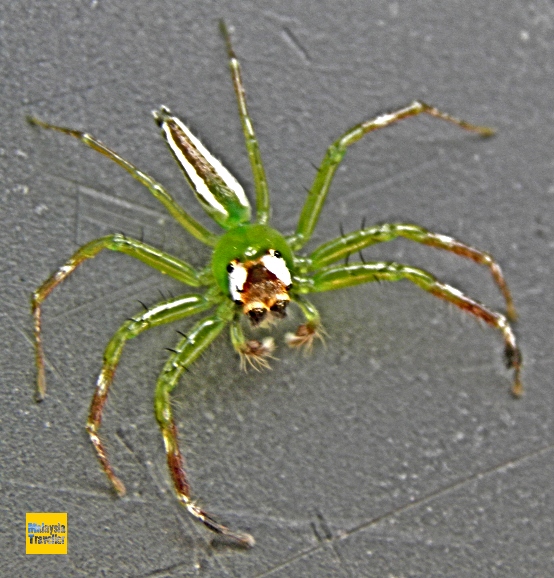 Spiders come in all shapes, sizes and colours. Not sure what this one is, maybe a Kidney Garden Spider.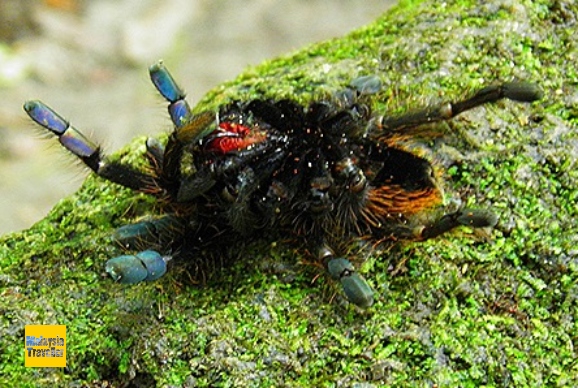 This large, colourful,  hairy spider was seen while climbing Gunung Angsi.

This Rajah Brooke's Birdwing was one of a group of dozens nectaring at Chiling Waterfall Selangor.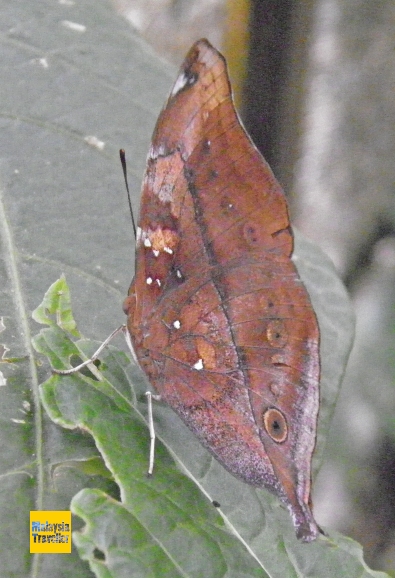 You'll be lucky to spot this well camouflaged leaf butterfly (kallima inachus). I cheated, this one was in the Cameron Highlands Butterfly Park.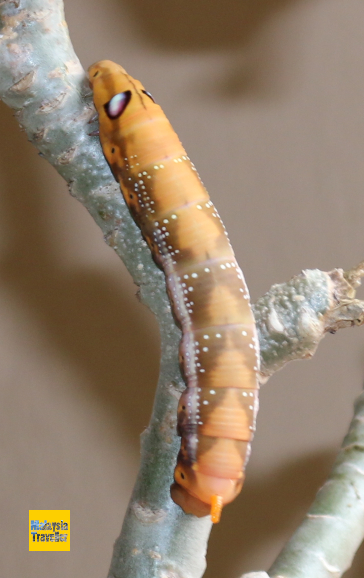 These hawkmoth caterpillars with their fake eyes love eating the adenium plants in my garden.

---
If you interested in a career in conservation or just want the opportunity to get closer to Malaysian wildlife you could try an internship or volunteering through an organisation like Malaysian Wildlife.org.

---
Share this page: