Aquaria KLCC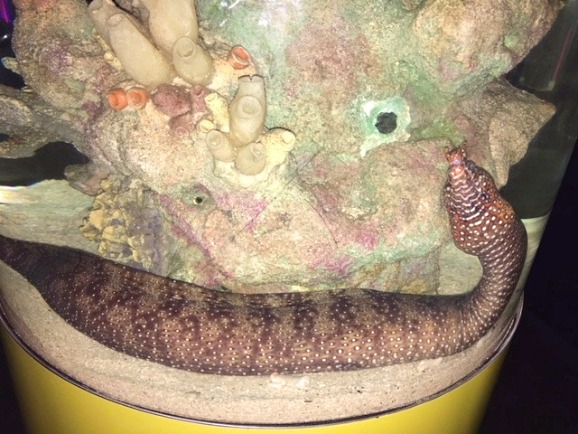 Aquaria KLCC is an international standard aquarium attraction of the sort where you ride on a travelator through a glass tunnel while sharks, rays and other marine creatures glide by.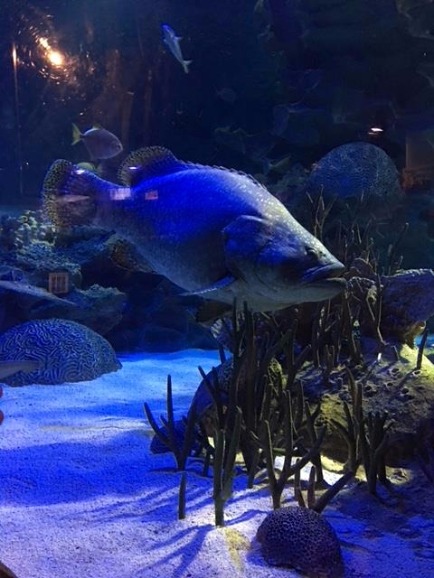 The route through the aquarium takes you past different zones such as the Evolution Zone with piranhas, the Riverbank Jungle and Otter Den, the shipwreck, deep forest, mangrove creatures and the Living Ocean.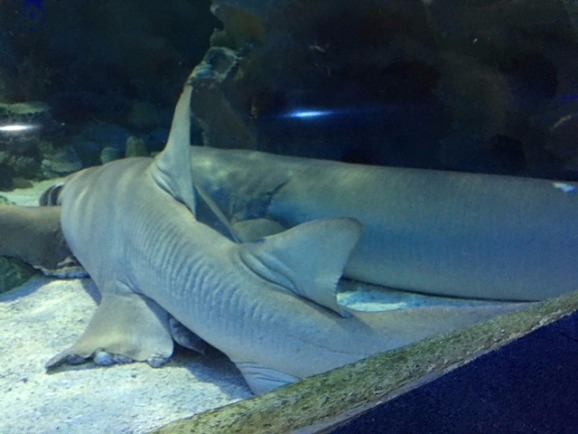 Opening Hours
Open daily from 10 am to 7 pm (last admission 6 pm).
Daily Feeding Schedule:
10.45am Touch Pool - Variety of Species
11.15am and 4.30pm The Stream - Asian Small Clawed Otter
12pm, 3pm and 6.30pm Aquatheatre - Variety of Marine Species
12.15pm and 3.15pm Station Aquarius - Jellyfish and Seahorses
12.30pm and 3.30pm Living Ocean - Variety of Marine Species
1pm Weird & Wonderful - Variety of Species
4pm Evolution Zone - Red Bellied Piranha
5.30pm Flood Forest - Freshwater Species
5.45pm The Coastal - Variety of Species
Special Feeding
11am - Mon, Wed & Sat The Stream - Electric Eel
2.30pm - Mon, Wed & Sat Flooded Forest - Arapaima
3pm -Mon, Wed & Sat Aquatheatre - Sand Tiger Shark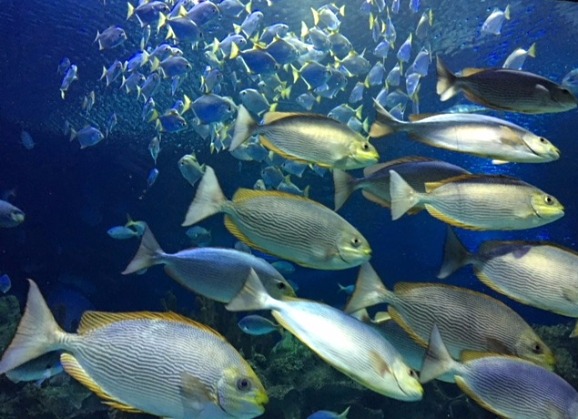 2023 Admission Fees
Ticket Price RM      
Adult
Child
Senior

Child price is for ages 3 to 12. Below age 3 is free.
Senior Citizen rate is for age 60 and above.

TIP: You can get up to 23% discount on these prices by buying online through Tripcarte's secure website with instant ticketing, fully refundable and hassle free e-tickets.

Special Activities (Extra Charges Apply)
Certified divers can dive with sharks in the massive 2.5 million litre oceanarium and, unlike the open ocean, here you are guaranteed to see a shark!  Cost RM 424 per person. Time slot 1 pm on Tuesdays, Thursdays, Fridays and Sundays only.
Non-divers can descend into the deep in an underwater cage to experience sharks and other creatures at close range. RM 235 per person. Time slot 11 am on Tuesdays,Thursdays, Fridays and Sundays only.
Sleep With Sharks is Aquaria's programme for kids to spend a night next to the oceanarium and learn about the nocturnal activities of marine creatures. Available by prior arrangement on weekends only for children aged between 6 and 13.
Other special events can be arranged such as corporate parties, birthday parties and even underwater marriage proposals.
Learn more on the official website.

Review Verdict
This is the best aquarium in Malaysia and is priced accordingly. Well worth a visit.
If you love aquariums but cannot afford these prices you could take the family to Pusat Ikan Hiasan in Port Dickson instead. It is much smaller and does not have sharks but it's free!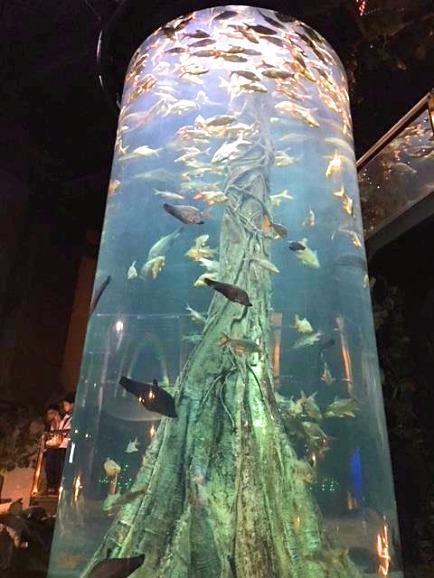 How to Get to Aquaria KLCC
It is located in the basement of Kuala Lumpur Convention Centre, close to Mandarin Oriental Hotel, Grand Hyatt Kuala Lumpur and Traders Hotel and just a short walk from Suria KLCC shopping mall.
The exact location is marked on this map:

GPS:
3°09'12.4"N 101°42'47.1"E

3.153453, 101.713095
Address:

Kuala Lumpur Convention Centre Complex, 

Kuala Lumpur City Centre, 
50088 Kuala Lumpur, Malaysia.
Tel: +603 2333 1888

 Nearby
Nearby attractions include:
---
Share this page: