EnerZ Indoor Extreme Park

EnerZ Indoor Extreme Park
Subang Jaya, Selangor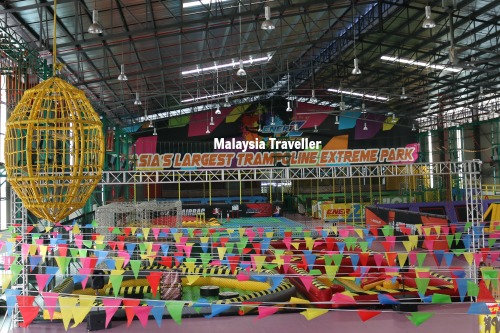 EnerZ Indoor Extreme Park in Subang Jaya claims to be Asia's largest trampoline extreme park with over 80,000 square feet of space. It certainly looks big, filling a vast industrial warehouse building with a Nasi Kandar Penang restaurant at the front (not part of Enerz), the Extreme trampoline park in the middle and 12 badminton courts at the rear, plus event rooms and meeting rooms for parties and team building programs.

Activities
Trampolines
Trampolines are the main event and are popular not just with kids and young people but with anyone looking to maintain fitness and to enjoy a fun workout. Tramrobics classes are held to incorporate a full body workout that can burn up to 1,000 calories per hour.
Here's how the experts do it:
The trampoline areas are equipped with air bags, foam pit, bouncy walls, basketball nets, a gladiator fighting pit and a Wipeout-style section.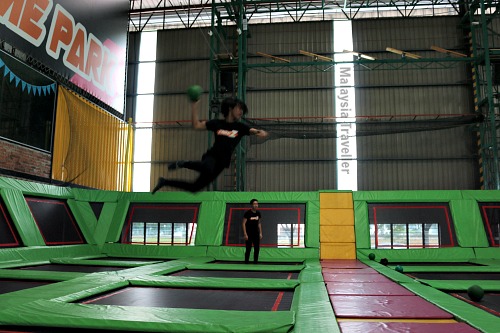 Dodge Ball
Dodge ball is another popular team activity.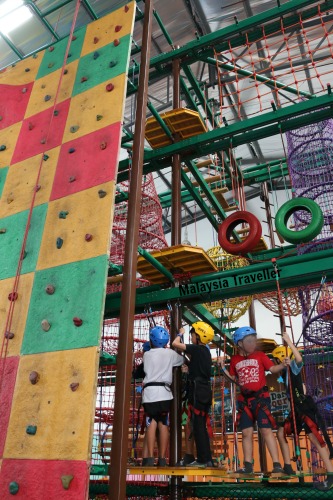 Gut Builder.
Gut Builder
This is a 3 story obstacle course with 58 games, enough to entertain and challenge even the most energetic of children.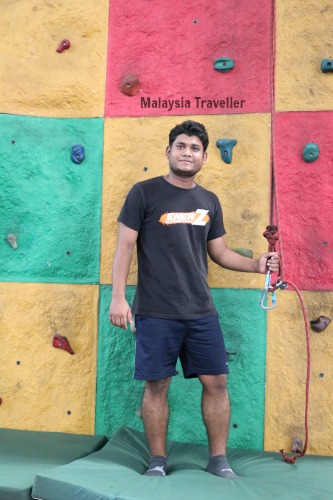 One of the friendly staff.
Wall Climbing
A rock climbing wall is a good place to practice under the supervision of trained staff.

Sky Rope
All around the walls of the Extreme Park, suspended 7 metres above the ground, is an obstacle course with swinging ropes, ladders and so on for more adventurous visitors. It looks scary but with safety harnesses and the supervision of trained staff, you have a safe environment.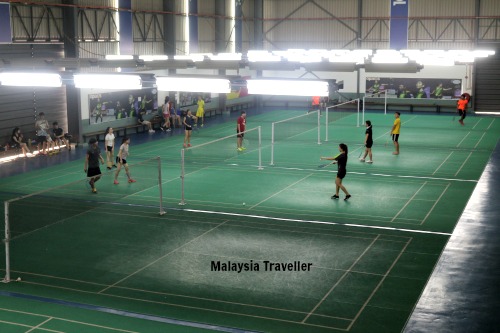 Badminton
Twelve rubberised badminton courts are available at the rear of the Extreme Park. Separate charges apply.
Prices
Different pricing applies for Peak periods (weekends, public holidays, school holidays) and Off-Peak (weekdays):

All Games
Off-Peak  3 Hours  RM 39 (Family Pass 2 Adults + 2 Children RM 117)

Peak 2 Hours         RM 46 (Family Pass 2 Adults + 2 Children RM 138)
Return Ticket Special Promotion (ticket for next visit)
Just add RM 10 for return ticket (Off Peak) or RM 13 (Peak).

Multi Group Passes (can be used all at once or used over different days, max 90 days)
Off Peak 3 Hours:  RM 240 for 8 passes or RM 560 for 20 passes

Peak 2 Hours:        RM 288 for 8 passes or RM 680 for 20 passes
Dodge Ball 1 Hour (max 24 players) Off Peak RM 120, Peak RM 150.
Additional 1 Hour RM 14 (Off peak) RM 19 (Peak)
Grip Socks RM 5 (must be worn in the play area)
Guardian Pass RM 5
Check their official website to keep up to date with changes to pricing and programs and to book online.
Height & Weight Restrictions
General
The park is not suitable for children below 90cm.

Anyone below 140cm must be accompanied by an adult.
Gut Builder
Height: 90-160cm
Max weight: 70kg
Ninja Warrior
Min height: 140cm
Max weight: 110kg
Airbag & Skydive
Max weight: 110kg
Meltdown & Gladiator
Max weight: 110kg
Min height:120cm
Operating Hours
Monday - Friday 2 pm to 10 pm.
Saturdays, Public & School Holidays 10 am - 10 pm
Sundays 10am - 7 pm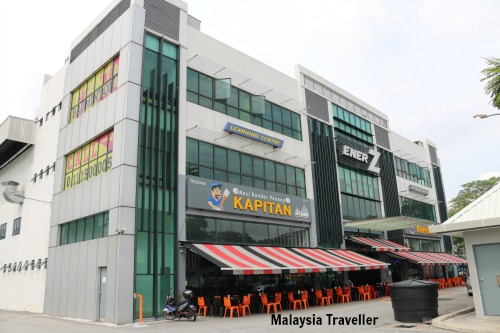 View of EnerZ Indoor Extreme Park from the front.
How to Get to EnerZ Indoor Extreme Park
I have marked the exact location on this map:

GPS Co-ordinates:
3°02'34.0"N 101°35'40.6"E
3.042770, 101.594610
Address:
EnerZ Indoor Extreme Park, Lot 791 Persiaran Subang Indah, Subang Jaya, 47500 Selangor
Tel: 011-1500 0066 (for Extreme Park)

Tel: 011-1500 0055 (for Badminton bookings)
Email: info@enerz.my
Nearby
---
EnerZ Indoor Extreme Park
Share this page: