Legoland Malaysia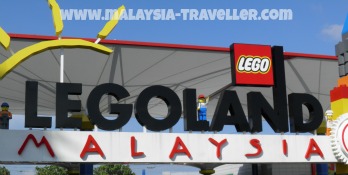 Legoland Malaysia is a world-class family theme park in Johor. It opened in September 2012 and is Legoland's first theme park in Asia.
It covers 76 acres and has over 70 interactive rides and activities.
The park is designed for kids aged 2 - 12 but adults and older kids find it fun too (I certainly enjoyed it!).
Here is a video of Legoland Malaysia made by my daughter:
Comparison with Other Legolands
We had already visited Legoland Windsor (in UK) so we knew what to expect as most of the attractions are similar or identical.
The differences between Legoland Malaysia and Legoland Windsor are:
  Miniland here portrays Malaysian and Asian landmarks whereas Windsor's version has models from UK and Europe.
  Malaysia's Dragon roller-coaster is better than the UK version (according to my daughter).
  Malaysia is much hotter but rain can be a problem.
Overall, my daughter prefers Legoland Malaysia.
Attractions
The rides and activities are spread over 8 themed zones (Rankings are based on my daughter's opinion):
(L) Project X                                                    (R) Aquazone Wave Racers
1. Lego Technic
Here you can find Lego Academy and Lego Mindstorms. These are rooms with plenty of Lego bricks and Technic pieces for kids to get their hands on and build stuff. No Ranking - Not my daughter's cup of tea so we didn't spend time here.
Project X is an 18m high roller coaster with steep inclines and sharp bends. Ranked 2nd best attraction in the park.
Aquazone Wave Racers is a fast spin round in a skimming above water. Moderate splashing expected. Ranking - Fun!
Technic Twister is a fairly standard spinning fairground attraction. Ranking - OK.
(L) Entrance to the Dragon                                 (R) The Dragon's Apprentice
2. Lego Kingdom
The highlights in this zone are the two roller coasters, The Dragon and, a milder version, the Dragon's Apprentice, ranked 1st and 3rd respectively. 
Other attractions include Merlin's Challenge (an up and down carousel - ranked Good), Royal Joust (a tame simulated horse ride for younger kids) and Forestman's Hideout (a kid's playground with slides, bridges and so on).
             (L)Observation Tower                             (R) One of the many Lego characters dotted around the park
3. Imagination
Here we watched a 4D Movie called Spell Breaker which is one of 3 films that are shown in rotation. It was enjoyable and a chance to rest in air-conditioned comfort for a while. Also in this zone is the Observatory Tower which provides a revolving 360 degree view of the entire theme park from a height of 50 metres.
Other attractions here include the Kids' Power Tower, Duplo Playtown and Duplo Express (a mini train ride) which are aimed at toddlers and younger kids.
4. Land of Adventures
Fun activities here include the Lost Kingdom, which is an indoor ride on which you get to test your shooting skills using laser blasters, and Dino Island (photo left), a log flume ride which you should only go on if you don't mind getting soaked.
(L)Dataran Merdeka made from Lego                             (R) Beijing and Great Wall of China in Lego
5. Miniland
This is probably my favourite part of the park. It is a number of beautifully made scale models of famous Asian landmarks, all built from Lego bricks. The buildings replicated in Lego include Petronas Towers and KL Tower, Sultan Ibrahim Building (Johor Bahru), Fullerton Hotel and Clarke Quay (Singapore), Taj Mahal, Great Wall of China, Angkor Wat and many more.
(L)Legoland Express Train                                           (R) Driving School
6. Lego City
This popular zone includes Rescue Academy where families race each other to put out 'fires' in a burning building, Boating School (battery powered boats), Legoland Express (train ride around the park) and the Driving School where children can acquire and road safety skills while driving battery powered cars around a road layout complete with traffic lights, road markings and traffic signs. On completion of the driving lesson children can obtain a driving license with photo for an additional charge of RM25.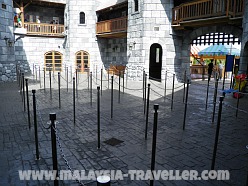 7. Lego NINJAGO World
This is the newest of the themed lands where you get to test your Ninja-like skills.
8. The Beginning
This zone includes the ticket counters,  eateries, and shops.
Tips
Tip # 1. I recommend arriving early (by 10am) to beat the rush and start with most popular rides first (the roller coasters) when queues are short. That way you can spend less time in queues and more time on rides.
Tip # 2. Bring a foldable umbrella. The chances of short but heavy showers are high, especially in the afternoon.
Legoland Water Park
This section can be enjoyed separately or together in a combo ticket with the main park. It has more than 14 waterslides and attractions including the Joker Soaker, Build-A-Boat and the Lego Wave Pool.
The SEA Life
This latest addition to Legoland Malaysia takes kids through a fun and educational journey designed to foster an interest in caring for and preserving our oceans.
Shops
There are plenty of shops scattered around the park selling Lego sets, gift items, snacks and drinks.
Places to Eat
Dining outlets include Pizza Mania, Market Restaurant and Jungle Café.
Opening Hours 2023
Legoland Malaysia is open every day. The usual operating hours are from 10am to 6pm with last entry at 5pm.
The theme park often closes on Wednesdays and from time to time certain rides are closed for routine maintenance. To avoid disappointment it is better to check on Legoland's official website to ensure that the park is open and all rides are working on your proposed date.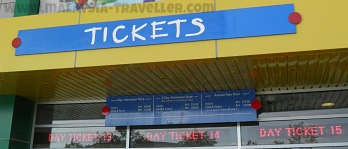 2023 Ticket Prices
TIP:  You can get up to 20% discount on Legoland Malaysia prices by buying online through Tripcarte's secure website with instant ticketing, fully refundable and hassle free e-tickets. The strikethrough prices below are the official walk-in prices and the prices in bold are Tripcarte's prices.
Theme park | Adult RM249 RM200

Theme park | Child (3 – 11 years old) RM199 RM160
Water Park | Adult RM179 RM144
Water Park | Child (3 – 11 years old) RM149 RM120
SEA Life | Adult RM99 RM80
SEA Life | Child (3 – 11 years old) RM79 RM64
The above deals are for international guests. Malaysians with MyKad can find cheaper tickets on Legoland's official website.
Double Park (Theme Park + Aquarium) and Triple Park (Theme Park + Water Park + Aquarium tickets are also available on the Legoland website for better value.
How to Get To Legoland Malaysia
Legoland Malaysia is located in Nusajaya, part of the fast developing Iskandar region of Johor, just across the Straits from Singapore. The area is well served by expressways, being close to the Second Link crossing to Singapore and connected, via the E3 Expressway to the North South Expressway.
If you are driving from the Kuala Lumpur direction, exit the North-South Expressway at interchange 253 and take the E3 Expressway. Exit the E3 at the Gelang Patah Interchange 312 and follow the signs to Legoland. There is plenty of parking (free at present).
There are a number of bus services connecting Legoland to JB and Singapore. You can find the details here.
Nearby
To see other nearby attractions in Johor state click here.
---
Share this page: