Top Shah Alam Attractions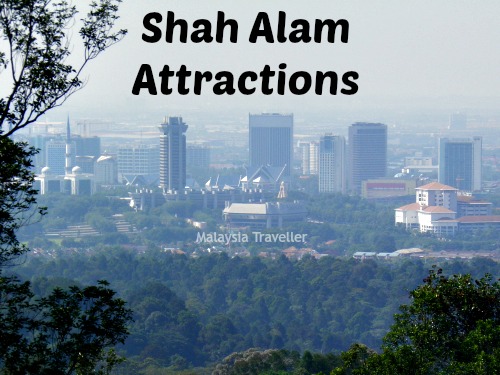 Welcome to my Top Shah Alam Attractions page. 
Shah Alam became the state capital of Selangor in 1978 when Kuala Lumpur was detached from the state to become a Federal Territory. Shah Alam is a modern planned city, the first of its kind in Malaysia. Construction began in the 1960's and many of its main landmarks date from that period although the city has been growing steadily ever since. Here is my suggested list of top Shah Alam attractions (at the foot of this page is a map showing exactly where all these places are located):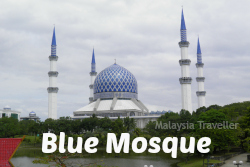 1. Sultan Salahuddin Abdul Aziz Mosque
Known more simply as the Blue Mosque, this is the city's most famous landmark and can be seen from almost anywhere in the city thanks to its massive minarets and dome. Its minarets are 142 metres tall and were among the world's tallest when the mosque was first constructed. As at February 2016, there is a major renovation project going on to restore the blue tiles and calligraphy to their original splendour.
---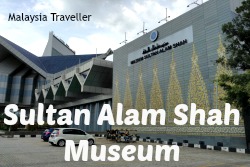 2. Sultan Alam Shah Museum
This museum was opened in 1989 and acts as the state museum for Selangor. It provides useful background information on the geography, history, culture and natural history of Selangor. Parts of the museum are undergoing refurbishment at present (Feb 2016) but it remains open to the public.

---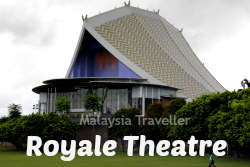 3. Shah Alam Royal Theatre
The Royal, or Royale, Theatre is located close to the museum. This strikingly designed building appears to have become something of a white elephant. It was completed in 2008 at a cost of RM 43 million. It seems it has hardly been used since completion, if at all.

---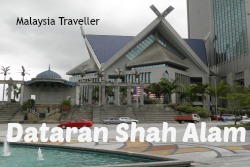 4. Dataran Shah Alam
This open paved area with amphitheatre seating is where National Day celebrations are sometimes held. It is landscaped with fountains, pillars and clock tower and contains a tourist information office. It is located next to a number of attractively designed state government buildings.

---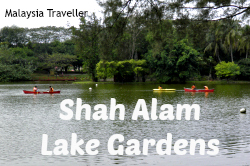 The 43 hectare Lake Gardens are nicely landscaped and there are footpaths, cycle tracks, boardwalks and jogging around the lakes.  Families can enjoy picnics and children's playgrounds and kayaks are available for rent for boating on the lake. There is also a seafood restaurant with a deck extending over the water.

---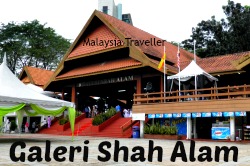 6.Shah Alam Gallery
This gallery is located alongside the lake and contains a modest exhibition of paintings and artworks from local and foreign artists. The gallery is also often used as a wedding venue. Next door is a facility called Shah Alam Cultural Park where traditional and modern dance and music performances are held periodically alongside handicraft stalls.

---
7.Wet World Shah Alam
Also in the Lake Gardens is this water theme park. It was a fairly tame and inexpensive park when I went some years ago and best suited to young children but they have since added new slides and rides such as the Super Hurricane and Monsoon Buster Adventure, claimed to be the longest water coaster in southeast Asia. Of course the prices have gone up too: RM 24 adult RM 19 child (myKad). For foreigners it is RM 34 and RM 29. Open 10 am - 6 pm. Closed Wednesdays.

---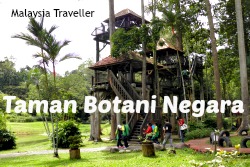 8.Taman Botani Negara Shah Alam
Shah Alam National Botanical Garden (formerly known as Malaysia Agricultural Park) is a massive 817 hectares and contains over 422 different species of plants and trees. One of the best places in Malaysia to enjoy a rainforest experience without straying too far from the city. Lots to do here too including Skytrex Adventure Park, paintball, animal park, four seasons temperature house, spice garden, arboretum, fishing, hiking and cycling. Read full details here.

---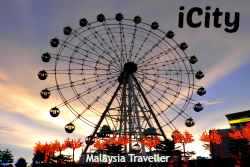 On the outskirts of Shah Alam is i-City, another fun theme park experience featuring the City of Digital Lights, a forest of man-made trees brightly illuminated with thousands of colourful LED lights. Here too is another water park, Waterworld@i-City, the Trick Art Museum, Red Carpet Wax Museum, Snowalk (indoor snow park) and lots of fairground style rides and attractions. 

---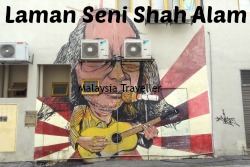 10.Laman Seni Shah Alam
Not far from i-City is this outdoor street art exhibition where the walls of a couple of dreary back alleyways have become a gallery for talented artists to show off their trendy 3D art installations and  designer graffiti. Certainly brightens up the area.

---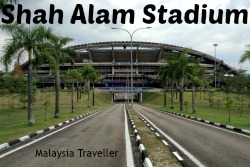 11.Stadium Shah Alam
This is one of the largest stadiums in southeast Asia with a capacity of 80,000 spectators. It is the home ground of Selangor Football Club. In the carpark outside the stadium is a kart track with equipment for hire.
---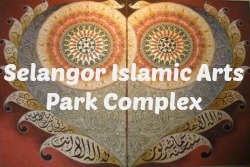 12.Selangor Islamic Arts Park Complex 
This exhibits here include a valuable original manuscript of the Quran, Islamic calligraphy, sculptures, painting and architecture. Open Tuesday-Sunday: 9.30am - 5.30pm.

---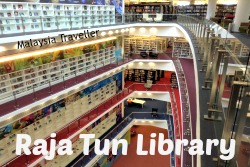 13. Raja Tun Uda Public Library
This wonderful public library operated by Perbadanan Perpustakaan Awam Selangor (PPAS) is located on a hilltop next to the Sultan Abdul Aziz Shah Golf & Country Club. The library extends over six spacious floors enjoying fine views over the city. As well as a vast collection of physical books, every floor has numerous state-of-the-art Mac desktops  and plenty of desk space and comfortable seating for serious students and casual readers alike.

---
This completes my list of Top Shah Alam Attractions but if you feel there any that I have overlooked please let me know.
You can also take a look at my Shah Alam Walking Tour page to see how to cover some of these Top Shah Alam Attractions on foot.
How to Get to the Top Shah Alam Attractions
I have marked the exact locations of all the Top Shah Alam Attractions on this map (click on the View Larger Map symbol in the top right corner to expand):
---
Share this page: