Cruise Tasik Putrajaya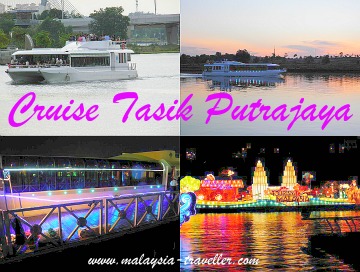 Cruise Tasik Putrajaya offers a comfortable sightseeing and dining lake cruise experience and is one of the best ways to see the city's sights by day or night.
Located on Putrajaya Lake in the heart of Putrajaya next to Putra Mosque andDataran Putra, it is one of the city's top tourist attractions.
The cruise operator has two types of sightseeing boat:
- Air-conditioned, glass covered catamarans similar to Paris's 'Bateaux Mouches' and river excursion boats in other cities. These can hold up to 76 people for sightseeing or dining cruises.
- Traditional hand-crafted Terangganu wooden perahu, the Malaysian equivalent of gondolas. These can hold up to 7 passengers.
Both types of boat can be hired out for private charters.
The catamaran Sightseeing Tours run hourly and last 45 minutes. The route takes passengers past Putra Mosque, Istana Darul Ehsan, the Millennium Monument, imposing ministry buildings, Putra Bridge and other spectacular Putrajaya bridges.
The cost is RM 50 per adult (foreigner) and RM 30 per adult (Malaysian). Discounted fares are available for children, seniors and families.
Dining Cruises last 1 - 2 hours and start at RM 78 per adult (lunch buffet with Malaysian menu and orange juice) up to RM 158 per adult for a romantic dinner cruise (western/international menu with soft drinks).
The Perahu or dondang sayang (love boat) sightseeing tours last 20 - 25 minutes and usually take passengers from Putra Mosque, past Istana Darul Ehsan and round towards Taman Botani before turning around.
The cost for the perahu ride is RM 40 per adult (foreigner) and RM 20 per adult (Malaysian) with cheaper child, senior and family packages available.
When I went on Cruise Tasik Putrajaya it was for a Night Sightseeing Cruise during the annual Floria Putrajaya event which is usually held in July each year. It was a good time to go as we were surrounded by brightly illuminated and decorated boats organised by Tourism Malaysia promoting the various tourism destinations in Malaysia.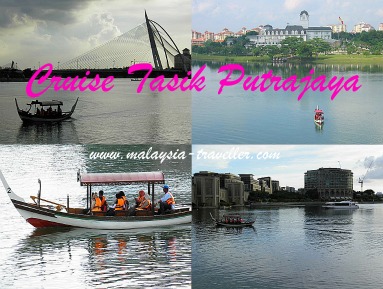 Opening Hours
Mon - Thu 10am - 6pm
Fri - Sat 10am - 8pm
Sun 10am - 7pm
Night Sightseeing Tours are usually on Friday and Saturdays only after 7pm.
Location
The jetty for buying tickets and boarding the boats is located underneath Putra Bridge, next to the Souq area (souvenir shops and restaurants) alongside Putra Mosque and Dataran Putra.
A map showing the location is on the Top Putrajaya Attractions page. 

For more details on the cruises available, dining menus, fares, chartering and contact details, please refer to the official Cruise Tasik website.
Accommodation Near Cruise Tasik Putrajaya
See my Putrajaya Hotels page for a selection of nearby hotels.
---
Return from Cruise Tasik Putrajaya to Top Putrajaya Attractions 

Return to Home 

---