Kuala Lumpur Craft Museum

Kuala Lumpur Craft Museum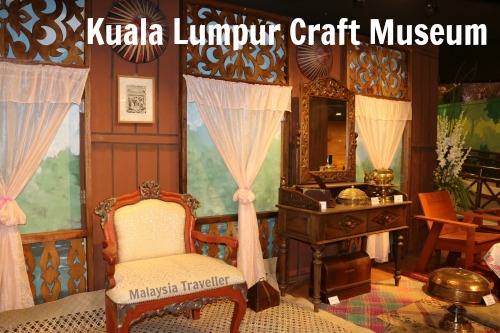 Kuala Lumpur Craft Museum, or simply Craft Museum (Muzium Kraf) forms part of the Kuala Lumpur Craft Complex on Jalan Conlay in the heart of Kuala Lumpur.
It is located to the rear of the main building behind the retail galleries.

The subject matter of the museum varies from time to time. The first time I went there it was traditional musical instruments but currently the theme is native ceramics and weaving.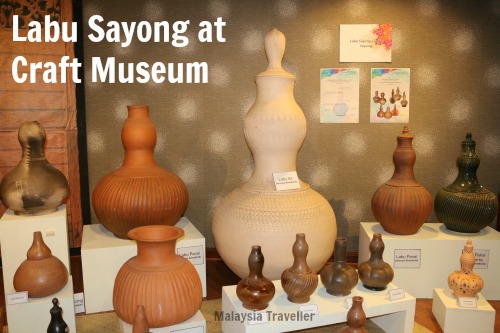 Ceramics
Various types of pottery are on display from different parts of Malaysia such as:

Pulau Tiga Ceramics from Perak. These are red clay (terra cotta) pots, vases, cooking utensils etc with embossed decorations.

Labu Sayong made in Kampung Kepala Bendang, Sayong, Kuala Kangsar. These clay vessels are shaped like gourds and their clever design and material helps to keep water cold without refrigeration. There are various methods of decoration using different motifs. Black colour Labu Sayong pots are made by burying them in paddy husks before firing.

Iban Pots from Sarawak. The special prohibitions to be observed in the production of Iban pots are interesting, for example one may not pass wind while collecting clay as this will cause the pot to break during firing!

Various examples of Tembiling Pottery from Kampung Pasir Durian, Kuala Tembiling, Jerantut, Pahang and Tembikar Mambong Pottery from Kuala Krai, Kelantan are also on display such as water containers, pots, incense burners and vases.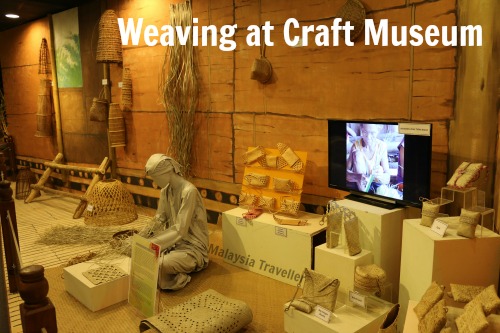 Weaving
Different weaving methods and products are shown using screw pine, pandanus, and bamboo as raw materials to make beautiful designs.

Mock-ups of traditional Malay house interiors show how these items would be used or arranged in a typical Malaysian home.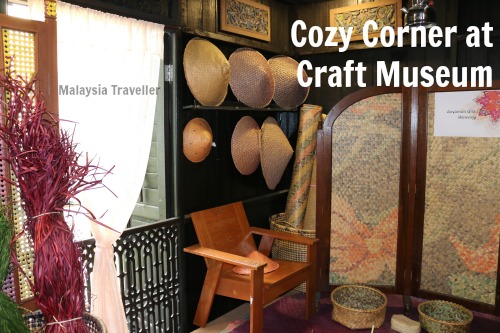 Review Verdict
Any visitor to the Kuala Lumpur Craft Complex should not miss the Craft Museum. It will give you a greater appreciation of the products on sale in the retail galleries outside. It's free too!
Opening Hours and Admission Fee
The museum is open daily from 9am to 5pm.
Admission is Free.

How to Get to Kuala Lumpur Craft Museum
The museum is located in the rear of the Kuala Lumpur Craft Complex.
Address: 5, Jalan Conlay, 50450 Kuala Lumpur, Wilayah Persekutuan Kuala Lumpur, Malaysia

Phone:+60 3-2162 7459
I have marked the exact location on the map on my Top KL Attractions page.

Nearby
Hotels
The luxurious Royale Chulan Hotel is located next door to the Craft Complex but there are plenty of other hotels nearby. 
---
Kuala Lumpur Craft Museum
Share this page: