MAHA 2020
Malaysia's Leading Agricultural Show

MAHA 2020 is a 4-day biennial event  to be held from 26th November to 29th November 2020 in Serdang, on the northern edge of Putrajaya.
MAHA stands for Malaysia Agriculture, Horticulture & Agrotourism and it is the leading agricultural show of its kind in Malaysia and indeed in the region.
I attended the last four shows in 2012, 2014, 2016 and 2018 and they were hugely popular expos with thousands of booths and millions of people attending. This year's event has been shortened from the usual 11 days to just 4 and is a little different due to Covid-19 restrictions.  Pre-registration is required and no walk-ins will be permitted. See the organisers's Facebook page for details and updates.
This year's theme is Agriculture The Driver of Malaysian Economy.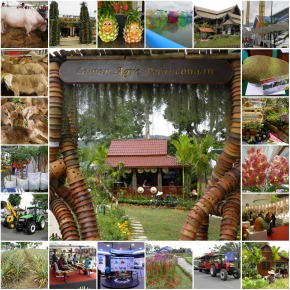 What is Included in MAHA 2020?
Details of the 2020 event are being finalised but the 2018 edition of the biennial event was a serious occasion on the agro-business sector's calendar and its primary objective is to generate business for the agricultural sector. Having said that there was much to interest the general public and here were some of the highlights of that  year.
For the General Public:
Each country and state participating will showcase their own products in purpose built pavilions.
The agro bazaar is a chance for families to purchase fresh produce and unusual agro-products, handicrafts and other items which are not widely found elsewhere.
Agro-tourism locations such as farm visits, organic farm shops, homestays and so on will be promoting themselves.
Cultural Performances.
Livestock, animal and fish displays.
Plenty of traditional Malaysian food.
Well-being section.
For children there will be:
Horse carriage rides.
Fishing.
Pet Shows.
Paddle boats.
Live animals.
Other kid's activities and attractions.
For Business Professionals in the Agro Sectors:
Farmers, Livestock Producers and Fishermen's Day programmes.
Agro-Bio Products.
Aquaculture.
Forestry Products.
Halal Products.
Organic Products.
Seaweed Products.
Seeds and Fertilisers,
and more.
Location
MAHA 2020 is held at MAEPS (Malaysia Agro Exposition Park Serdang), Selangor which is located just to the north of Putrajaya and is accessed via the E26 Expressway. 
On previous events  the car park will become very congested. If you want to beat the crowds I would suggest arriving early (before noon).
MAEPS covers a 100 hectare site and is the largest and most comprehensive showground in Asia. Put on your comfortable shoes as a lot of walking is required to cover the full show. Transport is available to ferry visitors around the site but you might have to queue up.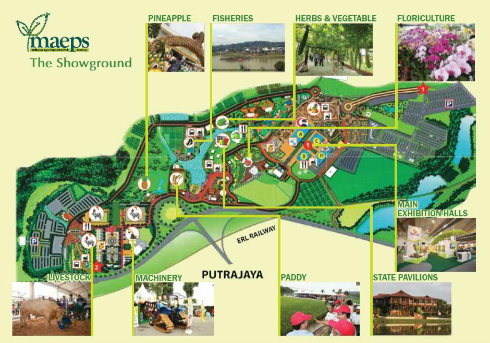 Timings
The show runs from Thursday 26th November until Sunday 29th November 2020.
The first two days are usually for trade participants only. The show for the general public therefore starts on the third day.
The opening hours are from 10am to 10pm.
---
---
---