Top Sabah Attractions
What are the top Sabah attractions? What to see?
Sabah is the easternmost and second largest state in Malaysia, located on the legendary island of Borneo. It has much to offer the visitor, ranging from the lofty Gunung Kinabalu (the highest mountain in the country), pristine national parks, exotic wildlife including orangutans and proboscis monkeys, the best scuba diving in Malaysia and some of the nation's top beaches. Added to that are some historic sites and museums, heritage trails, caves, river cruises, the colourful customs of the indigenous peoples and much more.
Here Is My List Of Top Sabah Attractions

View Top Sabah Attractions in a larger map
Click on the photo or link for further information on each attraction.
Top Sabah Attractions -

Mountains
Malaysia's three highest mountains are all found in Sabah.
Mount Kinabalu would probably be at the top of most people's top Sabah attractions because it is easily the tallest peak in Malaysia (4,101m) and one of Asia's most popular climbing destinations. Most climbers take two days, breaking the journey overnight at Laban Rata. It is hard work but a worthwhile experience.
The second highest is Gunung Trus Madi at 2642m. Experts rate it as a fairly easy climb and from the top, weather conditions permitting, climbers can enjoy a fine view of Gunung Kinabalu.
The third highest peak is Gunung Tambuyukon (2,579m). Although it is a lower altitude, it is the hardest of the three climbs and the view from the top is not that spectacular and for those reasons it is less frequently climbed.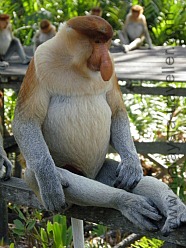 Top Sabah Attractions -

National Parks, Wildlife and Nature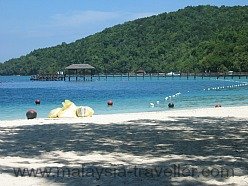 Top Sabah Attractions -

Islands and Beaches
Sabah has some of the world's best diving locations:
Sipadan Island is rated as one of the top ten best dive destinations in the world. Its coral formations attract green and hawksbill turtles, barracuda, big-eye trevally, manta rays, hammerhead sharks, whale sharks and countless colourful smaller fish.
There is also good diving at the nearby Mabul and Kapalai Islands.
Tun Sakaran Marine Park (also known as the Semporna Islands Park) is the largest marine park in Sabah and comprises eight islands, some of which are formed from the remains of extinct volcanoes. Tourism facilities are not yet developed but visitors may scuba dive or snorkel in the park's dive sites.
Mataking Island is another favourite dive resort island in the Celebes Sea.
The Turtle Islands Park, 40km north of Sandakan, comprises three small islands, Selingan, Gulisan and Bakungan Kecil. Limited numbers of visitors can overnight on Selingan to observe green or hawksbill turtles come ashore to lay their eggs.
Lankayan Island is another nesting site for turtles and also one of the east coast's popular dive sites.
Over on the western coast of Sabah, the Mantanani Islands are an idyllic spot for diving, snorkelling and beach activities.
Layang Layang is an atoll reef far out in the South China Sea, around 300km from the Malaysian coastline. It has its own airstrip and a dive resort, rated again as one of the top ten dive locations in the world.
There are a number of other beaches and islands which are not necessarily dive locations:
Berhala Island in Sandakan Bay has served as a leper colony and a prison camp but today is popular with day trippers for the beach and rock climbing on its sheer pink cliffs.
Kelambu Beach in Kudat is one of the best beaches in Sabah with clear blue water and fine white sand. Things to do here include water skiing, swimming, and snorkelling.
The Tunku Abdul Rahman Marine Park comprises five beautiful islands close to Kota Kinabalu. The five islands, Pulau Gaya, Pulau Sapi, Pulau Manukan, Pulau Mamutik and Pulau Sulug, have white sandy beaches, water sports, jungle walks and some are inhabited by giant lizards.
Tanjung Aru Beach is located on the outskirts of Kota Kinabalu. It is fringed with casuarina trees and food stalls and is a popular place for locals to watch the sunset.
Mengalum Island is the location for the annual Sabah International Game Fishing Tournament.
Top Sabah Attractions -

Caves
Gomantong Caves are famous for the bravery of the edible bird's nest harvesters who climb high into the upper recesses of the cave to collect this valuable delicacy made by swiftlet birds. Tourists can use the boardwalks to explore the two main caves.
Birds' nest soup fans might also be interested in Madai Caves not far from Lahud Datu. Madai is the most visited of a complex of 25 bat-infested caves and is actively harvested for birds' nests by the local villagers.
The nearby Baturong Caves is a burial cave and a number of ancient coffins have been found there. Baturong is not as easily accessible as Madai and it might be necessary to hire a guide.
Batu Puteh Caves contain more than a hundred wooden coffins thought to be over 200 years old and of Chinese origin.
Top Sabah Attractions -

Heritage, History, Museums and Buildings



What to see:
North Borneo Steam Railway. Not quite the Orient Express but a pleasant little novelty train trip to conjure up the feel of yesteryear. Complete with tiffin lunch.
Sandakan Heritage Trail. This trail covers all the historical attractions this town has to offer.
Sandakan Memorial Park. This park is built on the site of a former WWII POW camp and was the starting point of the infamous Death March.
Signal Hill, Kota Kinabalu is a viewpoint overlooking modern Kota Kinabalu. Nearby is the Atkinson Clock Tower, the oldest building in KK and one of only three structures to survive the bombing raids during the war.
Sabah Foundation Building is one of KK's modern landmarks, a steel and glass cylindrical tower block.
Sabah State Museum & Heritage Village. Sabah's leading museum.
Mat Salleh Memorial. Marking the story of Mat Salleh who led a rebellion against British rule of Sabah.
Kundasang War Memorial. A memorial garden commemorating the British and Australian victims of the notorious Death March and all those Malaysians who died helping them. Read more on my blog.
State Mosque. Ornate, golden-domed mosque in the state capital, Kota Kinabalu.
Floating Mosque, Kota Kinabalu. Officially known as the City Mosque, this white mosque appears to float above a man-made lagoon.
Rumah Terbalik di Sabah. This unusual attraction is an upside down house, complete with furniture stuck to the ceiling.
Top Sabah Attractions -

Local Cultur

e
Long Pa Sia. This remote village is located close to the border with Sarawak and Kalimantan. Visitors can experience village activities such as fishing, farming, hunting and making handicrafts. A hike to nearby Mt. Muruk Miau (2084m) is also possible for fit adventurers.
Mari Mari Cultural Village. This village showcases the traditional homes, customs and culture of some of Sabah's ethnic communities including the Bajau, Lundayeh, Murut, Rungus and Dusun.
Monsopiad Cultural Village. Monsopiad was a legendary Kadazan warrior and head-hunter and this village helps his descendants to keep alive their culture and traditions.
Kota Belud (Sunday Market). Browse the local produce and food on sale at this weekly market.
Tamu Tamparuli (Wednesday Market). Another colourful market.
Mengkabong Water Village. This is a kampung air, a village built on stilts above the water inhabited by the Bajau community.
If you have suggestions for more places that should be included on the list of Top Sabah Attractions please let me know.
---
Return from Top Sabah Attractions to Home
---