KL Forest Eco Park
(formerly Bukit Nanas Forest Reserve)
Although KL Forest Eco Park is one of the oldest permanent forest reserves in Malaysia it now boasts one of Kuala Lumpur's latest attractions, an impressive 200m canopy walk, providing visitors with a wonderful aerial view of the treetops and the city beyond.
Sturdy New Canopy Walk at KL Forest Eco-Park
Previously known as Bukit Nanas Forest Reserve, this park is the only remaining stretch of tropical rainforest within the city limits of KL. 
It was gazetted as a permanent forest reserve in 1906 and at that time it had an area of 17.5 hectares. Urban development, including construction of the KL Tower in the 1990's, has nibbled away at the reserve over the years and now only 9 hectares remains. 
Following a minor landslide in May 2014, slope stabilisation repairs have been carried out along the Jalan Ampang edge of the park which has unfortunately necessitated the chopping down of some mature trees.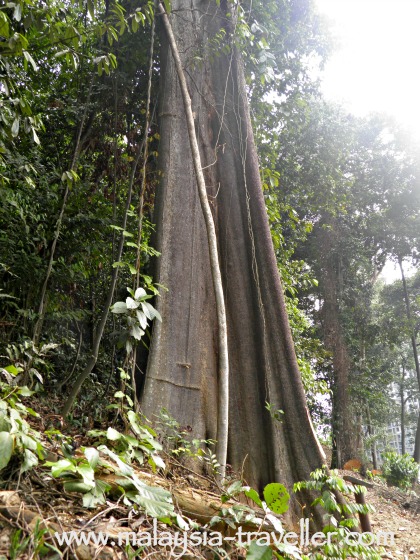 Nine hectares is still a good size and the park contains some fine specimens of lowland dipterocarp and non-dipterocarp trees including some endangered and threatened species such as Kapur (camphor) and Karas (source of agar wood). As well as bringing some fresh air to the city centre, the park is a refuge for birdlife and wildlife, mostly monkeys and small mammals.
| | |
| --- | --- |
| | |
| | Both paved footpaths and more natural trails are available to hikers and joggers. |
Attractions & Facilities
Canopy Walk (construction almost complete but not yet formally opened to the public at the time of writing, December 2014)
Nature Trails, Jogging and Trekking Routes (Jelutong Trail, Penarahan Trail, Arboretum Trail)
Timber Product Gallery
Activities Area
Herbal Garden
Information Centre
Picnicking
Camping (with prior permission)
On-On. Hash House Harriers use this park. No-No litter please.
How To Get To KL Forest Eco Park
This Google satellite image (above) shows the location of the park relative to KL Tower. Basically KL Tower sits in the centre of the park.
There are 3 main entrances to the park:
From Jalan Ampang, close to Bukit Nanas monorail station. Steps into the park start behind the Malaysian Timber Product Gallery. Dang Wangi LRT station is a short walk from this entrance.
From Jalan Raja Chulan, more of less opposite to St. Andrew's Church
From steps near the foot of KL Tower itself.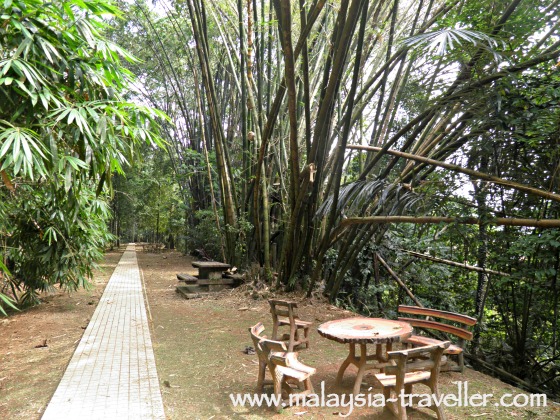 Visiting Hours
Opening Hours are from 7am to 7pm daily.
Admission Charges
There is no entrance fee to KL Forest Eco Park. However I saw that they are constructing a ticket office near the Canopy Walk so perhaps a fee will be charged if you want to go on the aerial walkway.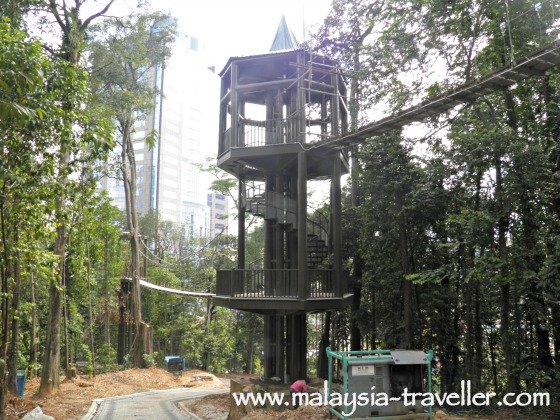 Contact Information
Forestry Department Peninsular Malaysia
Jalan Sultan Salahuddinn
50660 Kuala Lumpur
Tel: 03 2026 4741 / 03 2616 4488
Fax: 03 2692 5657
Website: www.forestry.gov.my
---
Share this page: