Kuala Selangor Attractions

Kuala Selangor Attractions
There is more to Kuala Selangor attractions than just fireflies and monkeys.
This small historic town is a hidden gem with a lot for visitors to see.
Here is my Top 21 list of Kuala Selangor attractions. They are arranged in the order that they appear on the map (below), not in order of preference. It is possible (just!) to cover them all in one long, tiring day but why rush? There are places to stay at Kuala Selangor or, since it is only an hour's drive from KL, just go again another day.
Map of Kuala Selangor Attractions

View Kuala Selangor Attractions in a larger map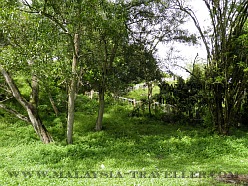 1. Tanjong Keramat Fort
The ruins of this fort, also known as Bukit Belanda (literally 'Dutch Hill') are located on a low hill close to the mouth of the Selangor River. It was originally built by Sultan Ibrahim, the 2nd Sultan of Selangor, who reigned from 1782-1826. It was captured by the Dutch in 1784 who renamed it Fort Utrecht. The fort was a two storey structure built of granite and clay and its walls were fortified with cannons. There were two entrances, one on the north and the other on the east. The site is now overgrown with grass and there is little evidence of the structure apart from mounds where the walls once stood.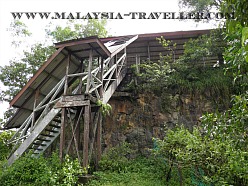 2. Makam Keramat Anak Dara
Nearby on a small rocky hill is a shrine venerated by the locals called Makam Keramat Anak Dara or Virgin's Grave. It is accessed by a rickety wooden staircase. There is a signboard outside which tells the story of a young pious girl who was forced to marry a man she did not love. On the morning of her wedding she disappeared while washing in the river. She later appeared in a dream to her parents, asking that they not look for her as she had found a better place. The next day her clothes were found on a tree and the parents decided to build this shrine where they were found. If this happened nowadays, police would be unlikely to accept the dream explanation and might suspect foul play!
For more photos of the shrine, see my blog.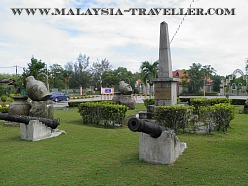 3. War Memorial
In the middle of a roundabout at the start of Jalan Keramat Tanjong (see map) is a small obelisk erected by the British to honour Allied and local soldiers who died during the two World Wars. The original bronze plaques listing the names of the fallen have been removed, probably by scrap metal thieves, and replaced by two wooden boards inscribed Medan Perwira (Bellamy). You can find information about this war memorial on the website of the Malayan Volunteers Group.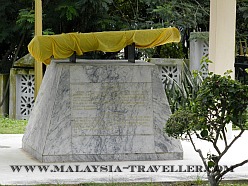 4. Royal Mausoleum & Meriam Penggawa
The next 11 Kuala Selangor attractions can all be found on Bukit Melawati, the main hill in the heart of Kuala Selangor. To tour this hill, you can either take the Tram Ride (see below) or walk. The first building you pass is the Royal Mausoleum (Makam Diraja). This royal burial ground contains the graves of the first three Sultans of Selangor who died in 1782, 1826 and 1857 respectively. In the grounds of the mausoleum is the Penggawa (Chief) Cannon, wrapped in yellow cloth. This cannon was found in 1966 on the banks of the Buluh River, 12km south of Kuala Selangor. The cannon is also known as Petoi Boga which means White Princess.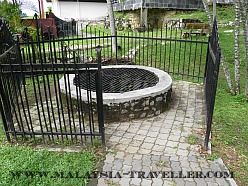 5. Poisoned Well
Next you will pass the poisoned well which was said to have been poisoned with a mixture of latex and itchy bamboo shoots and used to drown traitors. Some plastic water bottles appear to have been added to the mix by thoughtless litterers.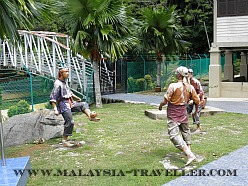 6. Traditional Games Museum
This museum was unfortunately closed during my visit. Its opening hours are supposed to be 9:30am to 5:30pm daily (closed on Mondays). Free admission.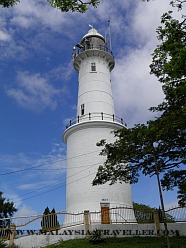 7. Lighthouse
The Kuala Selangor Lighthouse is the town's most famous landmark and symbol. It was built in 1907 and is also known as the Altingsburg Lighthouse which was the old Dutch name for Bukit Melawati. It is 27m high and its light can be seen 18 nautical miles away. It is not open to the public.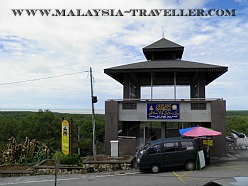 8. Moon Viewing Pavilion
In front of the lighthouse is a modern pavilion which was built specifically for the purpose of sighting the new moon to determine the beginning and end of the Holy Month of Ramadhan and other events on the Islamic calendar.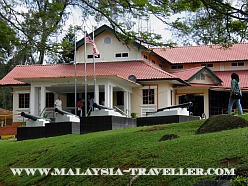 9. Historical Museum of Kuala Selangor District
The Kuala Selangor Historical Museum (Muzium Sejarah Daerah Kuala Selangor) provides information such as the development of the town and its surrounding area, its role as a trading centre for the collection and export of tin and how Kuala Selangor became the capital of Selangor State. The museum relates 3 possible theories on how the name Selangor originated, the most colourful of which is that it comes from the words salang and jemur, referring to two types of torture which might have been carried out here. The museum contains some dioramas, displays of old weapons, specimens of old currencies and other artefacts. The museum is open daily from 9:30am - 5:30pm (closed on Mondays). Admission is free.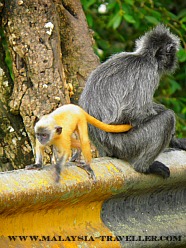 10. Monkeys
There are troops of loveable silver leaf monkeys (silvered langurs) who like to frequent the road and tree branches in front of the museum. This is where the tram bus stops and the monkeys have become accustomed to being fed by visitors. There are usually vendors here selling food for monkeys. They are not shy of humans at all and will take food from your hand, whether you want to give it or not! The monkeys are very cute especially the babies which are bright orange colour. The monkeys are among the most popular of Kuala Selangor Attractions.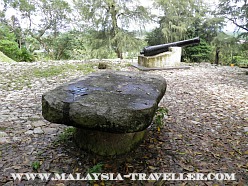 11. Batu Hampar
This 'bedrock' is a large stone situated in the corner of what was the Sultan's garden. Some say it was used to behead traitors while others, more probably, claim it is where the Sultan used to sit to watch the sun setting over his domain while enjoying the cooling breeze which blows across this corner of the hill.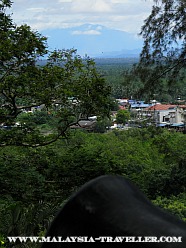 12. Melawati Fort
Nearby are some well preserved stone walls of the original fort (Kota Melawati) and cannons are strategically positioned with far reaching views over the surrounding area.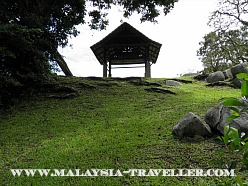 13. Melawati Mound
This 12 foot high mound was built during the reign of Sultan Ibrahim who used to observe cock fights here. It is believed that under the mound is a door to a cave which acted as the government's treasury. Could there still be treasure buried here?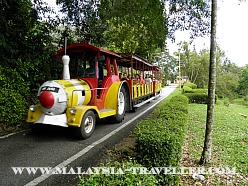 14. Tram Ride
The path brings us back to the starting point of the Bukit Melawati trail which is also where the pick-up point and ticket office for the Tram ride is located. Tickets are RM5 adult and RM3 child (ages 3-12). This ride also includes the fish park (see below).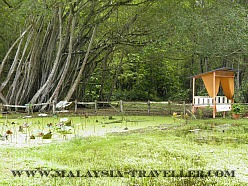 15. Taman Ikan Air Tawar
A short walk away is this small freshwater fish park with a few aquariums displaying a number of local fish species such as the Toman. There are also a couple of modest aviaries and a lotus pond. The entrance fee is RM2 for adults and RM1 for children. You can find more details on my blog.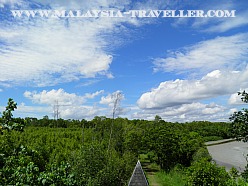 16. Kuala Selangor Nature Park
Kuala Selangor Nature Park is made up of mangrove forest, mud flats and secondary forest habitats and is a sanctuary for many bird and animal species. Read about it here.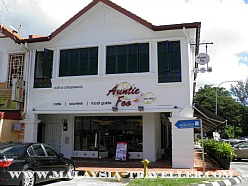 17. Auntie Foo
A good place to take refreshment is Auntie Foo's located in a heritage style building in the town centre. The sign outside this smart café says 'since 1935'. They sell home made ice creams, dried local seafood products and souvenir items and provide brochures and maps on local attractions. They have wifi.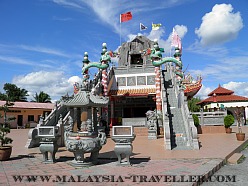 18. Chinese Temple
On the opposite bank of the River Selangor are a couple of Chinese temples, one of which is called the Monkey God Temple.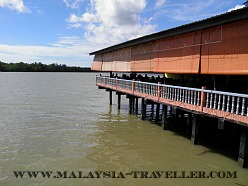 19. Seafood Restaurants and shops
Next to the Kuala Selangor jetty are a few seafood restaurants and shops selling dried fish and other seafood products.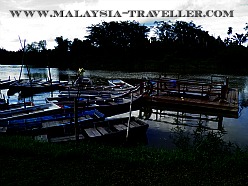 20. Fireflies at Kampung Kuantan or Firefly Park Resort
After dark the must-see Kuala Selangor attractions are the fireflies. The mangrove swamps along the banks of the Selangor River are one of a handful of places in the world where fireflies gather in such huge numbers. A firefly is a type of tiny beetle whose tail flashes on and off at night to attract mates. Kampung Kuantan and the Firefly Park Resort are two places where boats are taken out nightly to observe the firefly illuminations.
TIP: You can get a discount on Firefly Park Resort's mangrove boat ride experience by buying online through Tripcarte's secure website with instant ticketing,  refundable and hassle free e-tickets.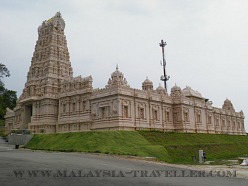 21. Shakti Temple Bukit Rotan
The latest of Kuala Selangor attractions is Shakti Temple at Bukit Rotan on the outskirts of Kuala Selangor. This new temple was consecrated in May 2013 and with its exquisitely decorated sandstone walls and gopuram, it will surely soon be recognised as one of the finest Hindu temples in Malaysia, if not South East Asia. You can read more about this temple on my Thrifty Traveller blog.
---
This completes my list of top Kuala Selangor attractions but if you feel there any that I have overlooked please let me know.
---
Kuala Selangor Attractions
Share this page: