Malaysian Railways
Overview of Malaysian Railways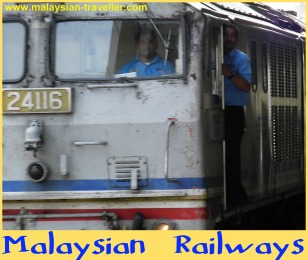 One of the best ways of getting around this country is by Malaysian railways.
Whether you are a train enthusiast or you simply want to get from A to B in a safe, economical and convenient manner, Malaysian railways are a good alternative method of transport.
Train travel is safer than driving and it is very reasonably priced. The downside is that Malaysia's 1700km or so rail network does not cover every corner of the country (there are no trains at all in Sarawak and a only a short line in Sabah, see below).
Let's take a look at the main Malaysian railway routes.
From the map you can see that the main long-distance routes (operated by the national rail company, Keretapi Tanah Melayu Berhad or KTM Berhad for short), known as Intercity Routes, are arranged in a Y shape with Johor Bahru (and Singapore) at the bottom. Gemas is the junction where the Y forks. The left arm is known as the West Coast Line (also called the North-South route) and goes up the western side of Peninsular Malaysia past Kuala Lumpur, Ipoh, Penang and up to (and across) the Thai border.
This western arm is also the route taken by the famous Eastern & Oriental Express when it is travelling the Bangkok-Singapore sector (see below for more details).

The right arm is known as the Jungle Railway (or the East Coast Line or the East-South Route) and crosses the heavily forested heart of Peninsular Malaysia before arriving at the east coast near Kota Bharu from where it is possible to cross the Thai border and continue travelling by train through Thailand. From the window of your carriage on the Jungle Railway you can admire views of lush rainforest, oil palm and rubber plantations, sleepy kampungs(villages) and historic, quaint railway stations.
Daytime and overnight trains (with sleeper carriages) are available on these longer routes.
Want to know more about the North-South route? Read a review of my Kuala Lumpur to Singapore train journey and see what conditions are like on board the train and what you can expect when crossing the international border from Malaysia to Singapore. 

Since all southbound Intercity trains now terminate at JB Sentral, the Shuttle Tebrau is the only way to travel between Malaysia and Singapore by train. Read details, timetable and fares here.
If you are planning to go to Penang by train you will need to take the Penang Ferry across to the island. Find details, timings and fares here.
Booking Tickets on KTM Trains
KTMB has a computerised booking system and you should not board the train without a ticket with a pre-assigned seat number.
You can buy tickets from any KTM railway station but I find it easier to book online through their website. You can choose your seat location, pay online by credit card and print out your ticket. This way there is no need to queue up at the station - simply board the train. It also guarantees that a seat will be available (it does not guarantee however that the train will leave on time - delays are not uncommon).
You can break your journey at any station and stay as long as you like but you need to have a separate ticket for each sector (there is no such thing as a free-and-easy, hop-on - hop-off ticket).
As an alternative to booking through KTMB's website, you can also book tickets online through BusOnlineTicket.com. Click on their advertisement below to get started.
Other Train Routes on Malaysian Railways

- Kuala Lumpur's Light Rail Transit System
Kuala Lumpur and its outlying suburbs have an extensive network of Light Rail Transit routes (LRT), commuter trains (KTM Komuter), and a mono-rail. The network is not quite as integrated as it could be (compared to say Hong Kong or Singapore) but work is in hand to improve connections, simplify ticketing and build new Mass Rail Transit lines.
KL Sentral is the city's transport hub and all of the routes in the network converge here.
---

- ETS
In 2010 KTMB completed the electrification and double tracking of the route from Ipoh - KL - Seremban and introduced sleek modern trains with the branding ETS. The service has since been extended up to the Thai border and south as far as Gemas. These are the pride of Malaysian railways. Journey times are shorter than the old diesel trains but they cost a bit more.
You can read about my trip to Ipoh on ETS here. 

---

- KLIA Ekspres & KLIA Transit
KLIA stands for Kuala Lumpur International Airport. As you may know KL's airport is a long, long way from the city centre. By far the best way to get to and from the airport is on the dedicated rail link, KLIA Ekspres.
This is a non-stop high-speed train service. With a top speed of 160km/h, the journey from the airport to KL Sentral takes 28 minutes, operating at 15-minute intervals during peak hours and 20 minutes during off-peak. The station is right inside the airport terminal with easy access for baggage trolleys for a smooth, hassle-free transfer. A VIP chauffeur-driven limo service from KL Sentral to your ultimate KL destination is also available as an add-on at reasonable cost.
KLIA Transit is a commuter service with stops at three intermediate stations, Bandar Tasik Selatan (Cheras), Putrajaya & Cyberjaya and Salak Tinggi. This service departs every 30 minutes and the journey from KL Sentral to KLIA takes 35 minutes.
TIP: You can get up to 10% discount KLIA Ekspres Airport Train tickets  by buying online through Tripcarte's secure website with instant ticketing and hassle free e-tickets.

---
- Eastern & Oriental Express
For the real train aficianados looking to recapture the romance of the golden age of luxury rail travel you should consider taking a tour on the Eastern & Oriental Express, a sister train of Europe's famous Venice Simplon Orient Express.
This company offers 4 days/3 nights packages on the Bangkok/Singapore sector which of course passes through the entire length of Peninsular Malaysia. Packages include luxury suite accommodation in opulent carriages, gourmet meals, entertainment and sightseeing excursions to places like Fort Cornwallis in colonial Georgetown, Penang and visits to the River Kwai in Thailand.
They currently do about 18 of these trips a year in each direction so you should be able to find suitable dates.
I have not yet had the pleasure of one of these trips. One day perhaps. The tours are not cheap of course but for a special occasion what could be a better way to travel?
You can find out more details by clicking here to see Eastern & Oriental's website. 

---

- Sabah State Railways
After some decades of decline and closures, a revamped line was re-opened in 2011 linking Tanjung Aru to Tenom, a distance of 134km. It is single track and non-electrified but it has quickened travel time between the two towns and the 13 intermediate stations.
---
This is a tourist steam train running between Tanjung Aru in Kota Kinabalu and the small town of Papar. 
---
Great Malaysian Railway Journeys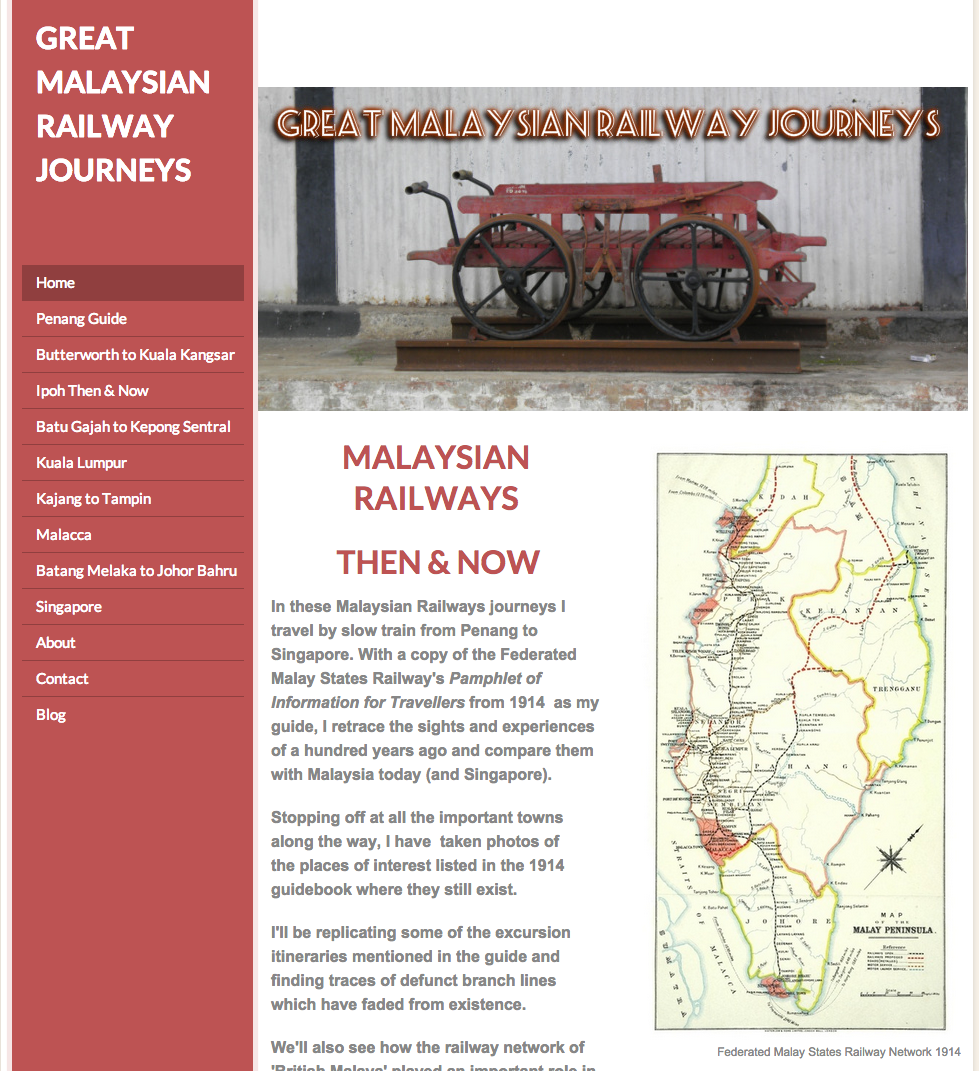 Talking about the golden age of rail travel, take a look at another of my websites, Great Malaysian Railway Journeys, which replicates a train journey made 100 years ago from Penang to Singapore and compares the sights of modern Malaysia with the Malaya of yesteryear. There is also lots of information about the modern day stations along the route and plenty of photos of the attractions in each town.
Also of historical interest is the Johore Wooden Railway, the first of the  Malaysian railways and perhaps the only railway in the world to have been eaten by termites!
---
Share this page: