Malaysian Mosques
Here is my selection of Malaysian Mosques (in no particular order) which are, in my opinion, visually appealing, architecturally significant or historically important. I took all of the photos myself of these Malaysian mosques which caught my eye during my never-ending travels around Malaysia.
Non-Muslims are welcome to visit many of these mosques outside of prayer times provided they dress and behave appropriately.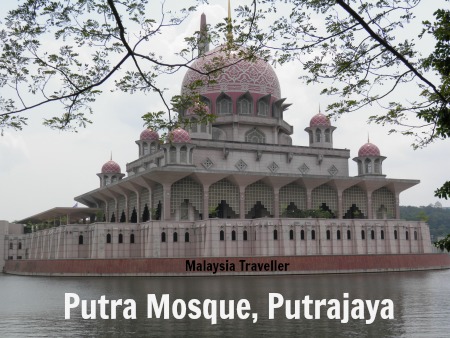 This imposing pink granite mosque was completed in 1999. It is capable of accommodating 15,000 worshippers. Elements of its basement design have similarity to the King Hassan Mosque in Casablanca while the minaret is thought to resemble the Sheikh Omar Mosque in Baghdad.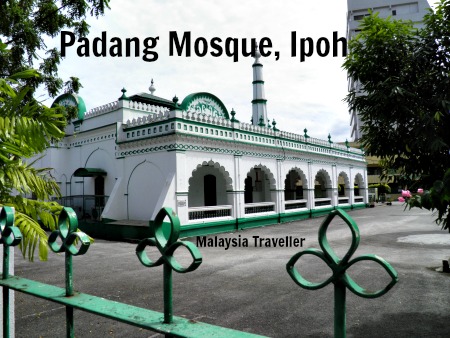 2. Padang Mosque, Ipoh
Padang Mosque was constructed in 1908 in Moghul style and has features similar to those in the Red Fort, Delhi. It was financed by a wealthy Muslim Tamil businessman, Shaik Adam. Inside is a lovely iron spiral staircase.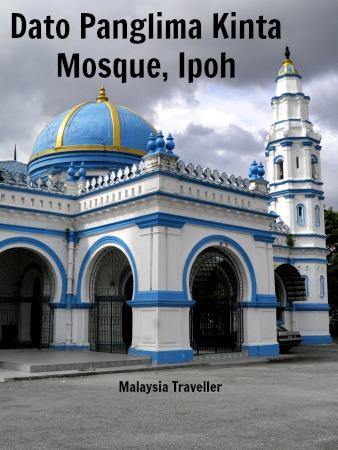 3. Dato Panglima Kinta Mosque, Ipoh
The historic Dato' Panglima Kinta Mosque built in 1898 by the Dato' in memory of his wife. It is designed in moghul style with a striking blue dome. In the compound of the mosque is an old wooden building which was once a religious school, the first Madrassa in Ipoh.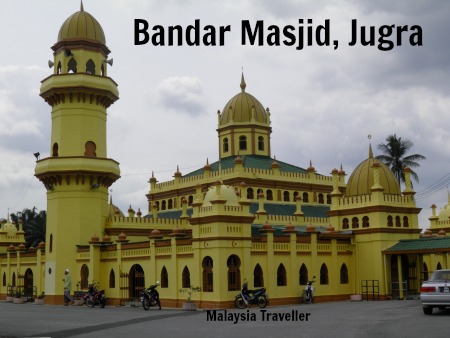 4. Bandar Masjid, Jugra
This heritage mosque, also known as Masjid Alaeddin, was built in 1905, the same year as the next door Bandar Palace.  Its design believed to be influenced by the Deli Sultanate in Medan, Indonesia. Sultan Aladdin used to deliver sermons from the pulpit here. The mosque is currently undergoing major refurbishment.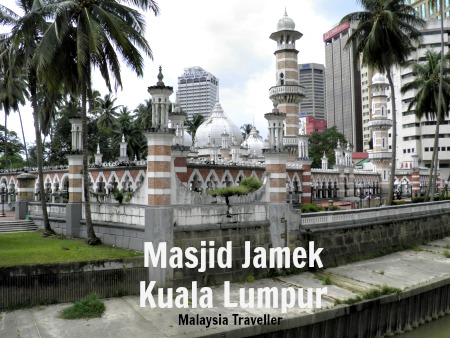 This was the first brick built mosque in KL, designed in 1907 in Mogul style by A.B Hubback, who also designed many of KL's other famous landmarks from that era. The mosque is sited where KL's history began, at the confluence of the Klang and Gombak rivers, the muddy estuaries which gave Kuala Lumpur its name. The mosque's compound contains a number of coconut palms which help to retain a rural atmosphere in the heart of busy KL.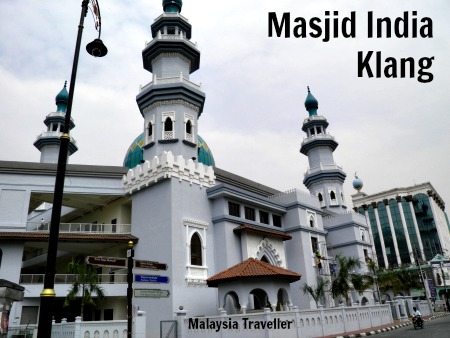 6. Masjid India, Klang
The original Masjid India was built around 1910 to cater for the religious needs of the Indian Muslim community who lived in and around Klang. Since demolished and rebuilt a number of times the current building can accommodate 3,000 worshippers. There is a mausoleum of one of the mosque's founders within the grounds.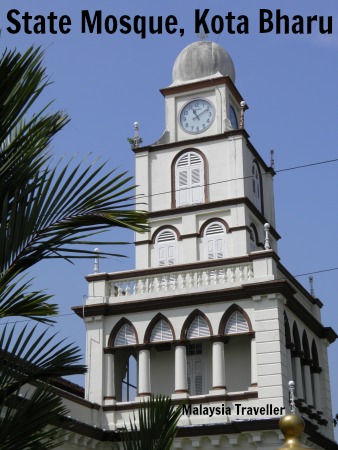 7. State Mosque (Masjid Al-Muhammadi), Kota Bharu
The State Mosque or Masjid Muhammadi was originally built from wood in 1867. The present concrete buildings date from 1922. Numerous extensions since mean that it can now accommodate 2400 devotees at a prayer session. The design is rather unusual and includes a clock tower which is rare in a mosque.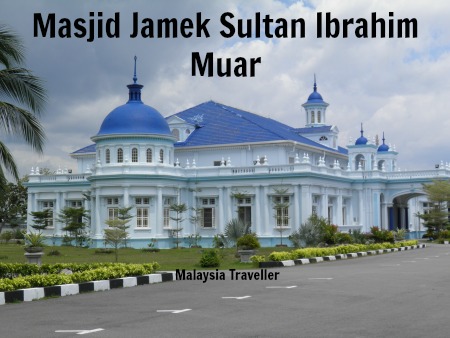 8. Masjid Jamek Sultan Ibrahim, Muar
Masjid Jamek Sultan Ibrahim is a stunning sky-blue coloured mosque built in 1927. They liked the design so much they built an identical mosque on the opposite bank of the river. This twin is much newer, having been built in 1999.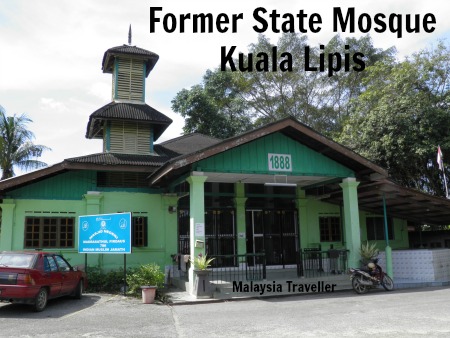 9. Former State Mosque, Kuala Lipis
The former State Mosque was built in 1888 and made mostly from wood. Although the mosque is located close to the river it has seemingly never been damaged by the frequent floods. The mosque was paid for by a Yemeni merchant named Habib Hassan. Perhaps he used to buy and sell the fragrant gaharu agar wood which was harvested by the indigenous Batek people from the nearby forests and which is highly prized in the Middle East.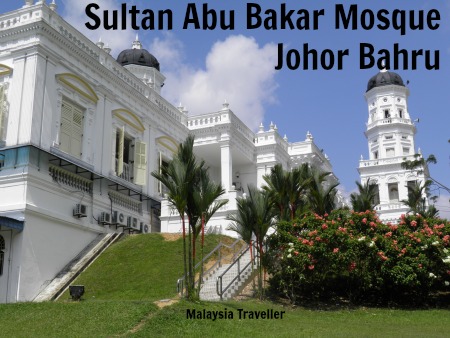 10. Sultan Abu Bakar Mosque, Johor Bahru
This is one of the most beautiful mosques in Malaysia built in 1900 in a mix of Islamic and colonial architectural styles. It occupies a hilltop with views overlooking the Strait of Johor.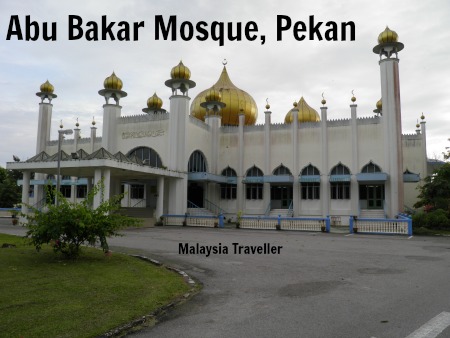 11. Abu Bakar Mosque, Pekan
This is Pekan's royal mosque. It opened in 1976, replacing the nearby Sultan Abdullah Mosque.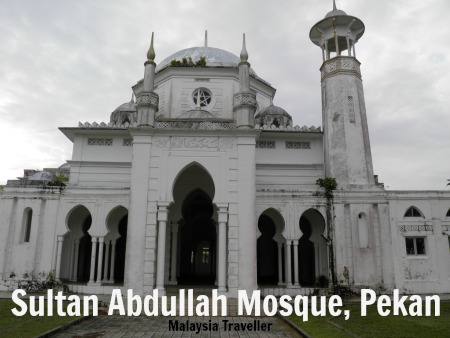 12. Sultan Abdullah Mosque, Pekan
Masjid Sultan Abdullah was built during the 1930s and served as Pekan's main mosque until 1976.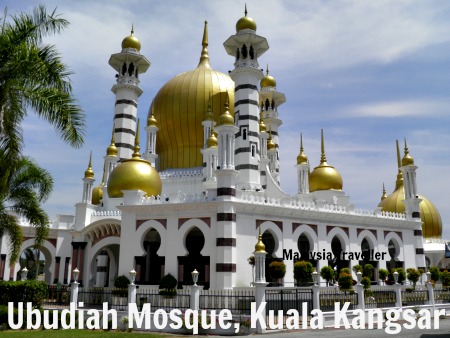 13. Ubudiah Mosque, Kuala Kangsar
Kuala Kangsar's most famous attraction, the Ubudiah Mosque, was completed in 1917 and is thought by many to be the most beautiful mosque in Malaysia. The interior, with its cool marble courtyards is as stunning as the exterior. It was designed by Arthur Hubback who also designed the old KL railway station and many other famous landmarks.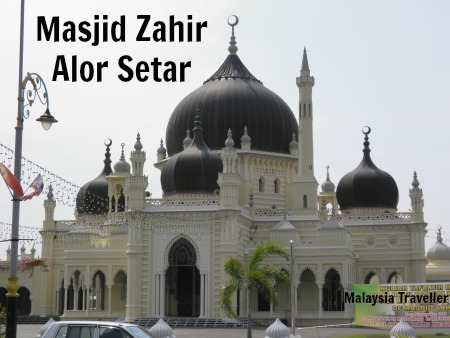 14. Masjid Zahir, Alor Setar
Masjid Zahir (Zahir Mosque) is a beautiful Moorish style mosque officially opened in 1912. It has five distinctive black coloured domes, said to symbolize the five pillars of Islam, and a mini-minaret which is not as tall as the main dome.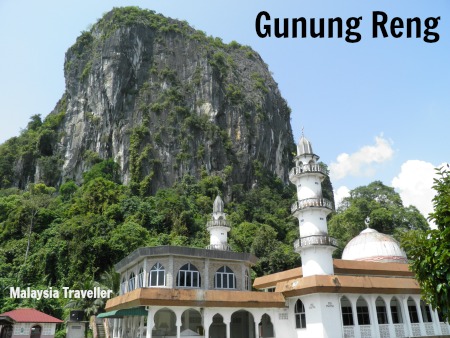 15. Gunung Reng Mosque, Kelantan
This mosque appealed to me because of its spectacular setting at the foot of Gunung Reng, a limestone outcrop containing a cave and the source of a colourful legend.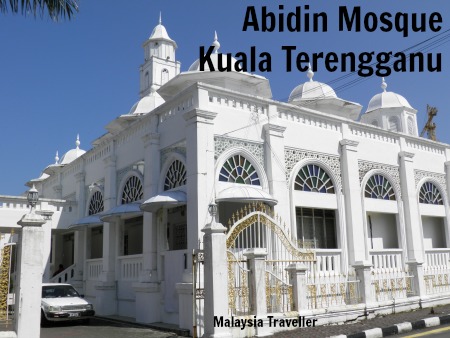 16. Abidin Mosque, Kuala Terengganu
The original wooden mosque on this site was built by Sultan Zainal Abidin II and was completed in 1808. Since then it has been rebuilt in brick and refurbished and expanded a number of times. Its most striking feature is its dazzling white colour and a 7 storey minaret. Some former Sultans are buried in the adjoining Old Royal Mausoleum.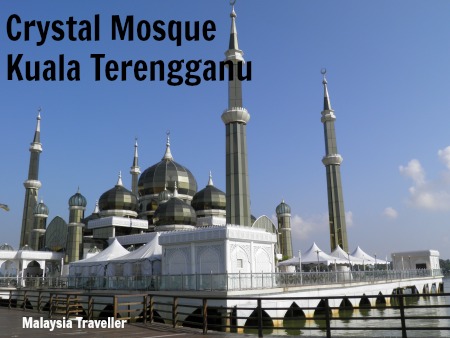 17. Crystal Mosque, Kuala Terengganu
The unique Crystal Mosque is one of the main attractions at the Islamic Civilisation Park on the outskirts of Kuala Terengganu.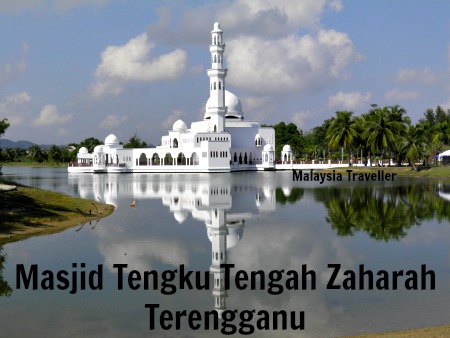 18. Masjid Tengku Tengah Zaharah, Kuala Terengganu
This is one the 'floating' Malaysian mosques, built on the edge of a river giving the impression that it is floating.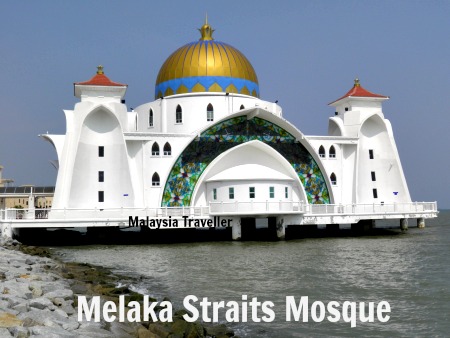 19. Melaka Straits Mosque, Melaka
Masjid Selat Melaka is a modern mosque in a hybrid Arab/Malay style on a reclaimed island (Pulau Melaka) close to the town centre. At high tide the mosque appears to be floating above the sea and it has been nicknamed the Floating Mosque.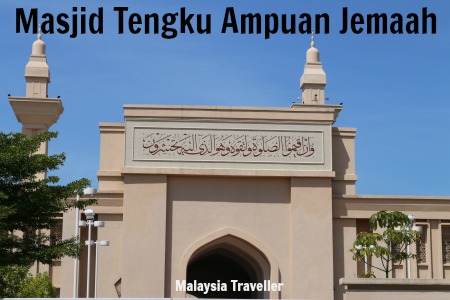 20. Masjid Tengku Ampuan Jemaah, Bukit Jelutong
Masjid Tengku Ampuan Jemaah is a relatively new mosque located in Section 8 of Bukit Jelutong, a growing township on the outskirts of Shah Alam. It is a royal mosque named after the Sultan of Selangor's late grandmother.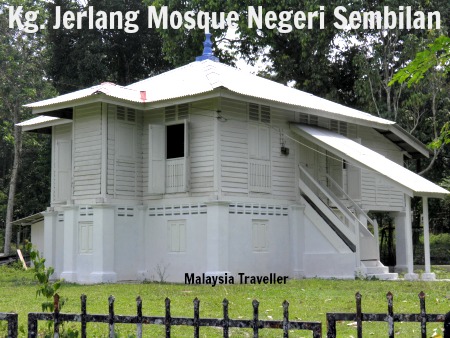 21. Kg. Jerlang Mosque, near Pantai, Negeri Sembilan
At Kg. Jerlang, is an old wooden mosque of a sort seldom found these days. The protruding mihrab (alcove) marks it out as a mosque otherwise you might think it is just a house.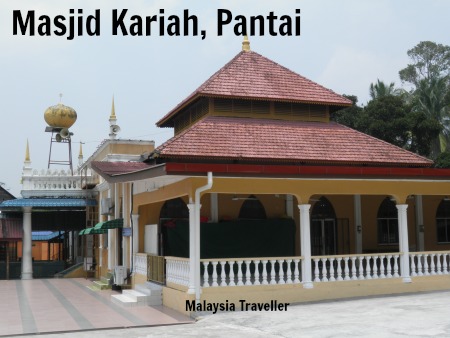 22. Masjid Kariah, Pantai, Negeri Sembilan
A small mosque with a simple improvised minaret.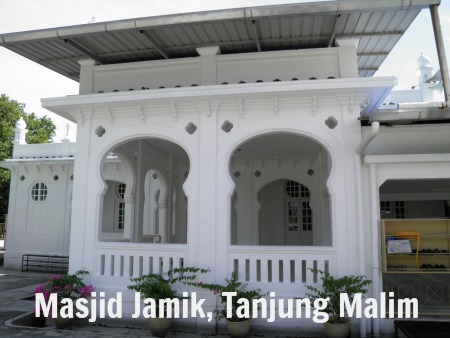 23. Masjid Jamik, Tanjung Malim
Close to Tanjung Malim railway station is Masjid Jamik Tanjong Malim, a graceful colonial era mosque designed in Moghul style by British architects. A plaque inside bears the date 1932 but part of the building is said to have been built in 1926 and possible earlier.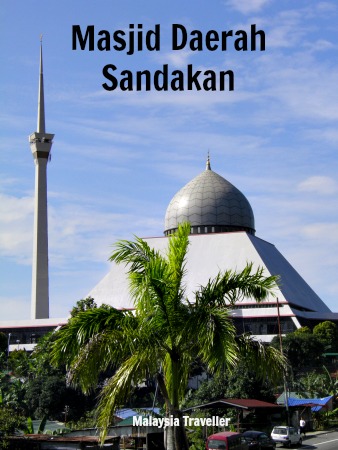 24. Masjid Daerah, Sandakan
This modern mosque is an impressive size and is designed in bold architectural style. It looks better from a distance. It is located close to Buli Sim Sim, the area where Sandakan began with stilted wooden houses built above the sea.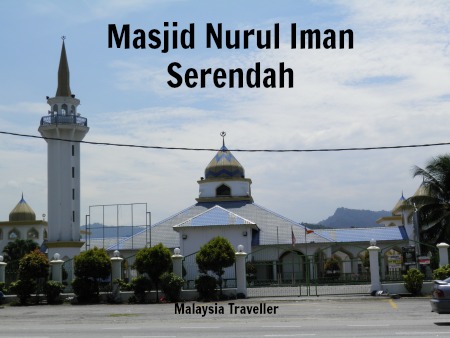 25. Masjid Nurul Iman, Serendah
The minaret and facade of this mosque have an unusual look.

---
This completes Part 1 of my Malaysian Mosques selection. 
To see Part 2 click here for more great Malaysian Mosques.
If you now think you can recognise all these Malaysian Mosques you can try my Malaysian Mosques Quiz to test your skills.
---
Share this page: