Pangkor Island Ferry

Schedule, Ticket Price, Location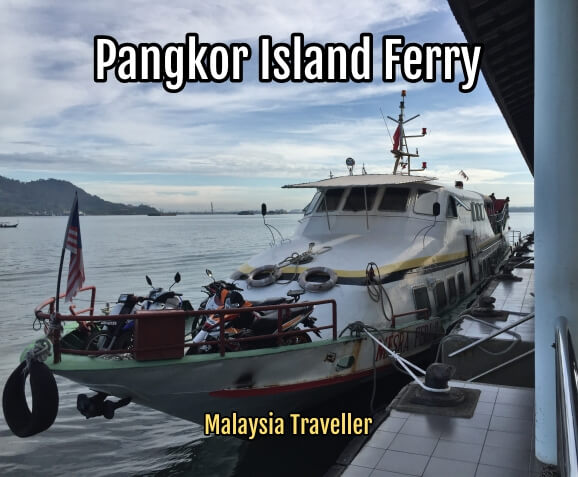 Take the Pangkor island ferry for an inexpensive, hassle-free, comfortable and punctual way of reaching the beach resort island of Pangkor from the ferry terminal at Lumut, Perak.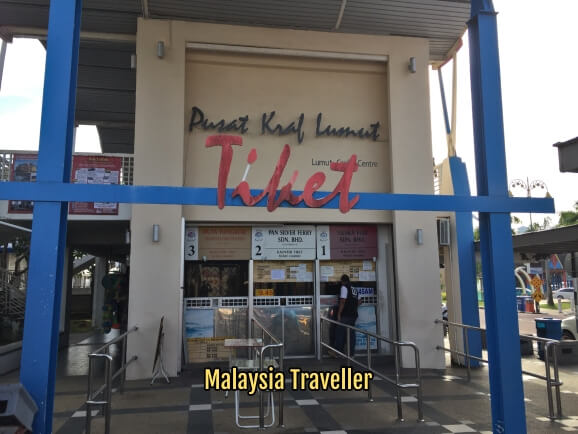 You purchase your return ticket from the ticket office at Lumut Waterfront.
The ferries come in various sizes. This one (above photo)  had an open deck at the rear (partly shaded) for those wishing to stand and get some fresh air on the way. Or there are air-conditioned cabins inside with plenty of comfortable seating.
Pangkor Island Ferry 2023 Schedule
Ferries depart every 45 minutes for most of the day and every 30 minutes at peak times. during the hours. You won't have to wait long for your ferry. Here is the timetable.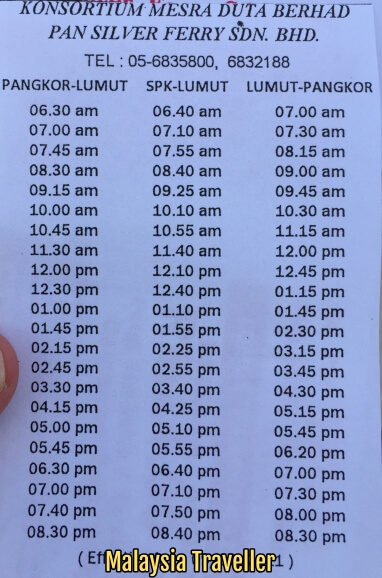 Following Covid, the timetable has been amended. The latest timings are as follows:
From Lumut to Pangkor
First Ferry departs 9.30am.

Then
9.30am
10.30am
11.30am
12.45pm
1.30pm
2.00pm
3.30pm
4.00pm
5.00pm
6.00pm
Last Ferry departs Lumut Jetty 6.00pm. 
From Pangkor to Lumut
First Ferry departs 6.30am.

6.30am
8.30am
10.30am
11.30am
12.30pm
12.45pm
2.00pm
2.30pm
3.30pm
4.30pm
5.00pm
Last Ferry departs Pangkor Jetty 5.00pm. 
Duration of Ferry Journey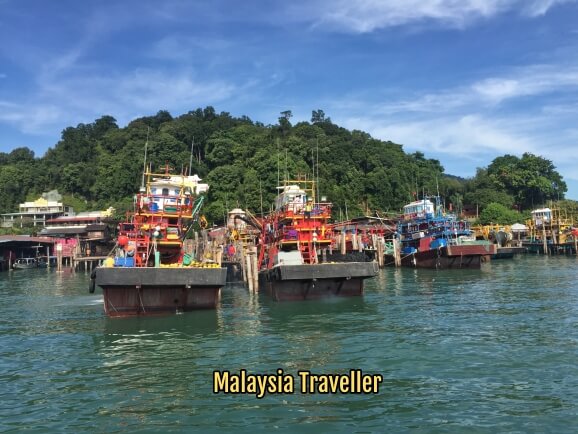 The journey takes 30-45 minutes depending on sea conditions, including a brief stop on the way at Sungai Pinang Kecil (SPK) which is a fishing village on Pangkor frequented mostly by locals rather than tourist or day-trippers. 
There is nice scenery along the way and you will see colourful fishing boats and houses built on stilts on the waterfront.

Fares (Updated January 2023)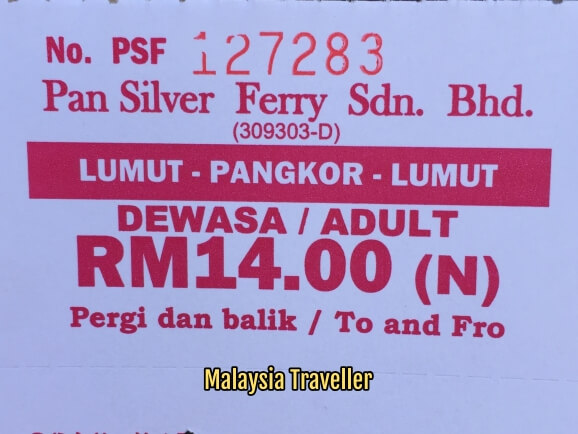 The price for a return ticket Lumut-Pangkor-Lumut is as follows:
Adult RM 14
Child (Ages 5 to 12) RM 5
Location of Lumut Ferry Terminal 
I have marked all the important locations on this map:

Address:
Terminal Jeti Lumut
Lumut
Negeri Perak, 32200
Malaysia
GPS: 4.236749, 100.632376

Parking Near Lumut Ferry Terminal
There is a multi-storey car park a short distance from the terminal. The location is shown on the above map. There is also on-street parking in the vicinity of the ferry jetty but bear in mind that you require to display parking coupons if you park here.

Location of Pangkor Ferry Terminal 
Address:
Pangkor Island Ferry, Jeti Pulau Pangkor, 32300 Pulau Pangkor, Negeri Perak, Malaysia
GPS: 4.213481, 100.576172
Marina Island to Pangkor Ferry Service
There is also a ferry service from Marina Island to Pangkor which you can read about here.

Nearby
There's lots do do on Pangkor, most notably:
While in Lumut you could try, as I did, hiking up Bukit Engku Busu for an energetic workout and fine views over the Sungai Tanjung and the surrounding area.
Frenzy Water Park
In nearby Marina Island is the Frenzy Water Park, a fun place where families or groups of friends can enjoy a floating playland and water based activities such as kayaking, canoes and yoyo boats.
TIP: You can get an 8% discount for this attraction by buying online through Tripcarte's secure website with instant ticketing, refundable and hassle free e-tickets.
---
Share this page: