Zoo Negara
I have visited Zoo Negara many times.  Here is my review.
Basic Facts
It's Malaysia's largest zoo, covering 44 hectares (110 acres), making it twice as big as the second largest, Melaka Zoo.
It is located on the north eastern outskirts of Kuala Lumpur in the shadow of the spectacular Bukit Tabur (Klang Gates Quartz Ridge). Although urban development has more or less surrounded the zoo, it is still a green and pleasant area.
The zoo is managed by a non-governmental organisation, the Malaysian Zoological Society, and relies on ticket proceeds together with corporate and private sponsorship/donations to offset its considerable running costs. 
Zoo Negara will celebrate its 60th anniversary in November 2023. The exhibits are spaciously arranged around a scenic lake and landscaped with mature trees including a sprawling giant banyan, reckoned to be one of the largest banyan trees in the Klang Valley. 
Animals
According to the zoo's official website, the zoo has 5137 creatures from 476 species of mammals, birds, reptiles, amphibians and fish.
Indeed the sheer variety of animals is impressive with all the major species represented.
The zoo is moving towards an open concept with the aim of giving animals freedom to move around and allowing visitors to view them unimpeded by cages. It is  a 60 year old zoo and  updating and improvement work is ongoing to eliminate the need to keep animals behind bars. Today over 90% of its animals are kept in spacious open enclosures with more natural landscaping.
Popular exhibits include:
Butterfly Garden
Bird Aviary
Tigers and Lions (including the Malayan tiger and the Bengal White Tiger
Primates
Children's World (a petting zoo with miniature ponies, goats and rabbits)
Show Amphitheatre starring sea lions, macaques and macaws performing twice daily
Penguin House (a bit tired looking)
Aquarium (good selection including Malaysian river freshwater fish such as the Giant Snakehead)
Bee Museum
Reptile House (seen better days)
Tapirs
Crocodiles
Elephants, Rhinos and Hippos
and many, many more.
Giant Panda Conservation Centre
The zoo's  star attraction is undoubtedly the pair of Giant Pandas called Xing Xing and Liang Liang who arrived in Malaysia in 2014 on loan from China and who will remain until 2024. Since their arrival in Malaysia they have produced three cubs, the latest of which is called Sheng Yi. Under the agreement, the cubs  are returned to China before they turn 4.
A huge purpose-built structure has been constructed to house the pandas, chilled by powerful air-conditioning and landscaped with grass, artificial rocks, a waterfall, trees and foliage.
No expense has been spared to make the pandas comfortable and the panda-house even has a kitchen to prepare panda cakes and a clinic in case of emergencies. Zoo employees remind visitors to remain silent to avoid stressing the pandas but it is difficult for children not to squeal with delight when they see the cuddly creatures.
I can see how this 'panda diplomacy' aids China by promoting its image abroad and as a way of rewarding nations who are friendly towards China. It is also good for the zoo by boosting visitor numbers and raising much needed revenue. But while it is lovely to see pandas in Malaysia, I can't help wondering if it is in the best interests of the pandas. Having visited the Research Base of Giant Panda Breeding in Chengdu last year I think the pandas would probably be happier remaining there where the climate is more suitable, where their bamboo diet is readily available and where there are more pandas for company.
One of Zoo Negara's giant pandas is seen here cuddling a block of ice to remain cool.
Suggestion for Malaysian Zoological Society
In the same way that China has designated the Giant Panda as a national treasure with fully protected status, Malaysia should consider declaring one or more of its unique and endemic species as national treasures. The orang utan would be an obvious choice. 

Verdict
Good Points
Attractive setting next to Bukit Tabur and convenient, easy-to-get-to location.
Wide range of animals.
 Scenic lake with free flying storks and flamingos.
The Show Amphitheatre is fun if you haven't seen that type of thing before.
Only place to see Giant Pandas in Malaysia.
Areas for Improvement
Continued upgrading of open-concept animal enclosures required.
Better variety of food outlets (all kiosks seem to have the same, limited menu).
2023 Ticket Prices
A Zoo Negara ticket costs as follows:
Malaysian Adult RM 45 (Foreign residents of Malaysia pay RM 50 - other foreigners pay  RM 88)
Malaysian Child (ages 3-12) RM 18  (Foreign child residents of Malaysia pay RM 25 - other foreign children pay  RM 43)
But you can get a 9% discount on these prices by buying online through Tripcarte's secure website with instant ticketing, fully refundable and hassle free E-tickets.
Tram Ride
Tram tickets are RM8.90 per adult and RM5.90 per child (RM11.90 and RM9.90 respectively for foreigners).
Opening Hours
Open Daily from 9am - 4pm.
Last Admission to Giant Panda Conservation Centre: Weekdays 4:30pm, Weekends 5:30pm
Animal Showtime (sea-lions and macaws)
Daily: 11am and 3pm.
Friday: 11am and 3.30pm.
How to Get to Zoo Negara
The location is marked on the interactive map on my Top Selangor Attractions page.
Address:
Zoo Negara, Hulu Kelang, 68000 Ampang, Selangor Darul Ehsan 
By Light Rail Transit System (LRT):
- Alight at Wangsa Maju Station, Kelana Jaya Line
- Board a taxi to Zoo Negara 
By Bus:
- Metrobus number 16 from Central Market, KL
- Rapid KL number U34 from Putra LRT Station, Wangsamaju, KL
- Rapid KL number U23 from Titiwangsa Station, KL
Parking
A pay car park is available in front of the zoo.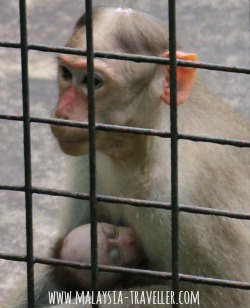 ---
Share this page: