Trick Art Museum @ i-City
You Can't Believe Your Eyes!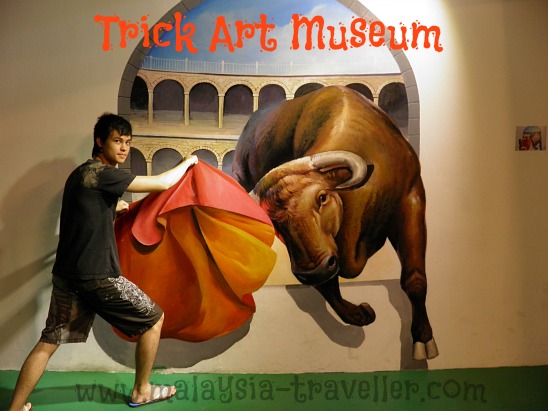 Trick Art Museum brings the ancient art of trompe l'oeil to Malaysia.This attraction is an enjoyable addition to i-City's range of family entertainment activities in Shah Alam.
Here your eyes play tricks on your mind as two dimensional paintings have been skilfully rendered by artists to make them appear as three dimensional.
As you can imagine from this exterior shot, it is a fairly small museum with 8,000 square feet of space on two floors: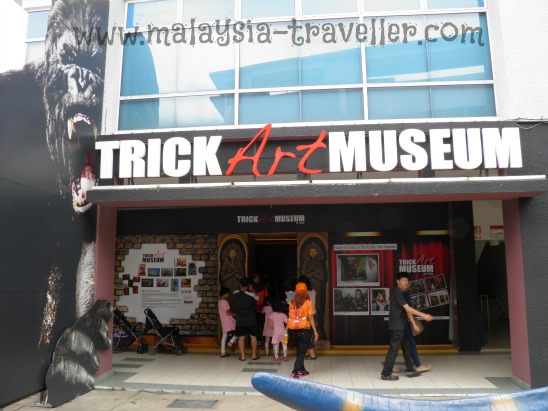 The illusionism paintings have been divided into 5 themes:
Masterpieces
Egyptian
Marine Life
Animal Kingdom
Modern Classics
The optical illusions are created by the clever painting of shadows and action outside the perimeter of the picture frames. So for example in the painting at the bottom of this page, a tea-cup is painted on the wall outside the frame which gives the perception of reality to the scene. Well placed lighting enhances the 3D effect.
Traditional trick eye art is usually just for viewing and appreciation but, at this museum, visitor participation is required to obtain the full effect by posing alongside the paintings as you can see from this example:
Photography is not only permitted, it is encouraged!
There are similar museums in Japan, Korea and Philippines among other countries but this is the first in Malaysia.
It is a great place to bring the children to spark their creativity and imagination and perhaps trigger an appreciation of art.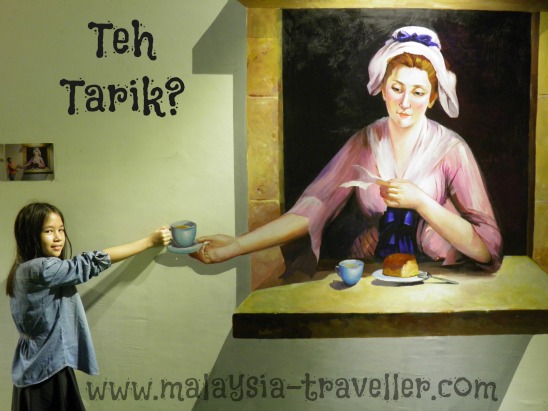 Opening Hours and Admission Fee


2019 Ticket Prices
The museum is open from 11am until midnight (1am during holidays).
You need to purchase a reloadable i-Card for cashless access to all the attractions at i-City. The cards cost RM 100 for 100 points.
Entry to Trick Art costs 15 points for MyKad holders and 20 points for everbody else.

The next door building is the Red Carpet Wax Museum. Read details here.
How to Get To Trick Art Museum
See my main i-City page for a map. The Museum is located next to the 5D cinema on the same level as Old Town White Coffee.
Accommodation
Too much to see at i-City in one day? There is a budget hotel there with family rooms. 
---
Share this page: