KL Butterfly Park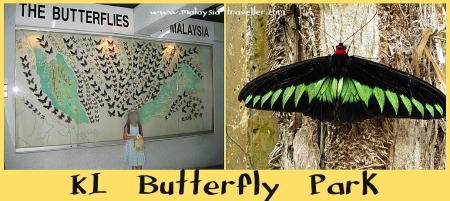 KL Butterfly Park, located on Jalan Cenderawasih on the edge of KL Lake Gardens and just 10 minutes from downtown Kuala Lumpur, has hundreds of colourful butterflies fluttering around freely under a huge netting canopy.
The Butterfly Park gets mixed reviews. The place is a bit dated and some tourists are disappointed by the butterflies themselves - there are supposed to be 120 different species but you will be lucky to see a fraction of that number. However the species that you do see are colourful and exotic and you can view them up close as they feed on hibiscus flowers sprayed with sweetened water and other delicacies.
Other visitors (me included) enjoy the humid, steamy, tropical feel to the park. They have created a rainforest habitat with a maze of footpaths winding through lush vegetation, across bridges over koi ponds, past waterfalls, gazebos and turtle ponds. The butterflies are just a bonus.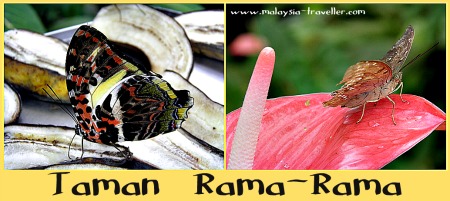 They also have an impressive collection of massive beetles, beautifully camouflaged stick insects in vivariums and other creepy crawlies. Here too you can learn about their breeding cycles of butterflies and moths.
A gift shop completes the tour. You will not need a great deal of time to visit the Butterfly Park - an hour maximum - so it would be sensible to combine your visit with a trip to the nearby KL Bird Park, about 5 minutes walk away.
There are other butterfly parks in Malaysia including at Cameron Highlands and Penang but in my opinion the Kuala Lumpur Butterfly Park is well worth a visit even if you have been to butterfly parks elsewhere.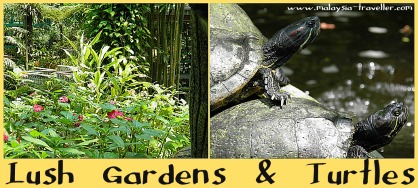 Did You Know?
Butterfly is one of those words that sounds beautiful in English but also translates well in other languages, for example it is mariposa in Spanish and Filipino, papillon in French, ferrash in Arabic and schmetterling in German. In Malaysia the butterfly is rama- rama so you can ask your taxi driver to take you to Taman Rama Rama.
Opening Hours and Entrance Fee
Open daily 9am - 6pm.
2018 Ticket Prices:
Adult RM 25
Child RM 14 (ages 2-11 years)
Video Camera RM 5
MyKad Holders (i.e. Malaysians)
Adult RM 12
Child RM 7
Family Admission Fee (MyKad only):
RM 38 (2 adults & 3 kids)
How To Get To KL Butterfly Park
You can find a map on my KL Lake Gardens page. 
Address:
KL Butterfly Park
Jalan Cenderawasih
Kuala Lumpur
50480, MALAYSIA
Telephone : +603 2693 4799
The taxi drivers who wait for fares outside the Butterfly Park charge tourist rates. If it is not raining you can walk to the nearby KL Bird Park where taxis have fixed rates booked through a ticket counter. They are still more expensive than a meter taxi but at least everyone is charged the same price.
---
Share this page: