Top Laos Attractions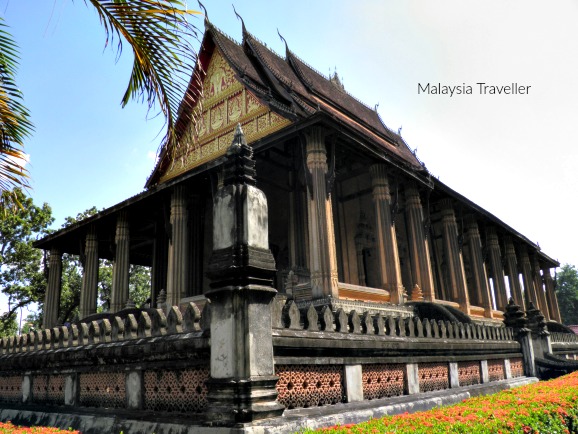 Here are some of my favourite Top Laos Attractions discovered on recent trips to Laos.
Laos is a beautiful, mostly mountainous and forested country and one of the most unspoilt in Southeast Asia. It is landlocked and depends so much on the mighty Mekong River for its transportation, commerce, energy, water, fish, agriculture and industry. Laos is surrounded by larger and more powerful neighbours including China, Vietnam and Thailand and over the centuries it has been careful to avoid being dominated by them. It was a French colony from 1893 until 1946 and French influence can be found in some of the architecture and food, such as baguettes and coffee. During the Vietnam War, Laotian territory was used by the North Vietnamese and Vietcong forces to infiltrate South Vietnam and, in an effort to stop it, Laos was heavily bombed by the Americans in a covert operation. Laos is officially a Communist country but is open to private enterprise which is bringing prosperity to the country. Laos is a devoutly Buddhist culture. 

Laos is a great place to visit from Malaysia. It is only a short flight away and AirAsia flies direct from Kuala Lumpur to two Laos destinations, Vientiane and Luang Prabang. This makes flying cheap and convenient. Malaysians, and other Asean member nationals, do not need a visa for Laos, while most other nationalities can obtain a visa upon arrival.

Once in Laos, there are some excellent hotels at very reasonable prices, eating out is cheap, shopping is also inexpensive and there are some great places to visit.
Here are some of the popular attractions:

Top Laos Attractions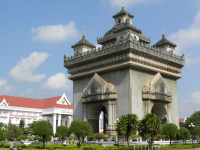 Things to do and see on a weekend trip to the capital include the National Museum, Wat Sisaket and other Buddhist temples, shopping at the night market and enjoying sunset at a café overlooking the Mekong.

---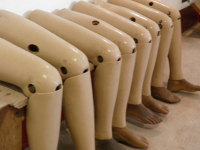 This mini-museum run by the Cooperative Orthotic & Prosthetic Enterprise highlights the continuing after-effects of unexploded ordinance left over from American bombing during the Vietnam War.

---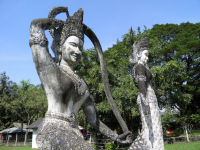 An unusual collection of concrete Buddhist and Hindu statues arranged in the open air some 25 km outside of the capital.

---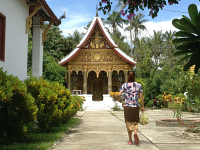 Luang Prabang is one of the most authentically preserved towns in the whole of southeast Asia. Here are some of the top Luang Prabang attractions.
---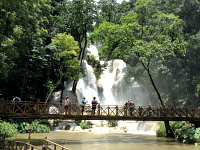 Spectacular Kuang Si Waterfall is one of the most popular tourist attractions in Luang Prabang, Laos. The Bear Rescue Centre is also located here. 

---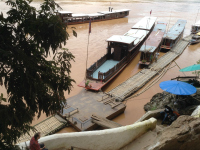 A relaxing boat ride on the Mekong River to Pak Ou Caves makes a pleasant way to fill half a day during your stay in Luang Prabang.

---
Hope you enjoy discovering these Top Laos Attractions as much as I have.

---
Share this page: