Penang to Langkawi Ferry

Schedule, Ticket Price, Location
Take the Penang to Langkawi Ferry for an inexpensive, hassle-free and speedy way of travelling between the two islands.
2023 Update: Ferry Operations between Penang and Langkawi were suspended during the Covid-19 lockdown and have not yet resumed . It is hoped normal service will be restored soon.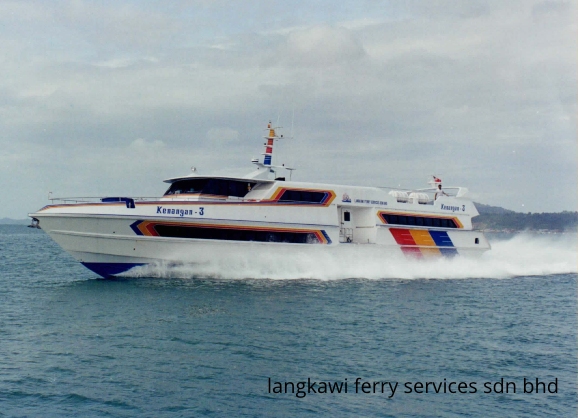 Penang to Langkawi Ferry 2021 Schedule
Currently only one ferry company is operating between Penang and Langkawi, this is Langkawi Ferry Services (part of Super Fast Ferry Ventures Sdn. Bhd).
There are only two ferries per day in each direction so advance booking is strongly recommended.

Here is the timetable:
From Penang to Langkawi (Kuah Jetty)
The morning ferry departs Penang at 8:30 am and arrives at Langkawi at 11:15 am
The afternoon ferry departs Penang at 14:00 pm and arrives at Langkawi at 16:45 pm
From Langkawi (Kuala Jetty) to Penang
The morning ferry departs Langkawi at 10:30 am and arrives at Penang at 13:15 pm
The afternoon ferry departs Langkawi at 15:00 pm and arrives at Langkawi at 17:45 pm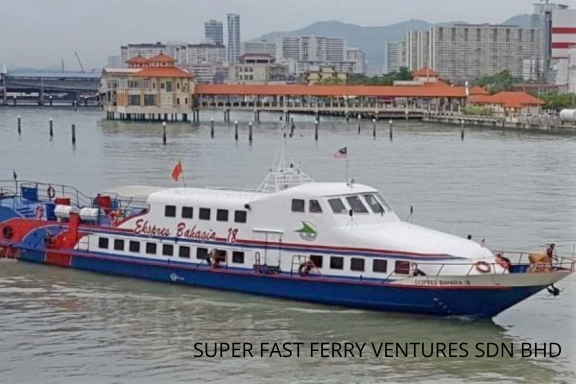 Duration of Ferry Journey
The journey takes between 2 1/2 hours and 3 hours depending on sea conditions.
This is a 'super-fast' ferry so it is quite a quick trip. As a comparison, if you fly on AirAsia from Penang to Langkawi the flying time is 40 minutes. When you add the time needed for check-in and security and travelling to the airport there may not be much difference between flight and ferry. 
Fares (as at February 2021)
The price for a one-way ticket is as follows:
Adult RM 73.60
Child (Ages 3 to 11) RM 54.90
Infant (Below 3) RM 34.90
Note: These prices include Port Handling Charges (Adult: RM13.60,  Child/Infant: RM9.90)
Return tickets are exactly double the one-way ticket.
TIP: This ferry can get booked up. To ensure a seat and avoid disappointment  buy  online through Tripcarte's secure website with instant ticketing and hassle free e-tickets
Location of Ferry Terminal in Penang
The ferry departs from Swettenham Pier in George Town. The location is marked on this map:

Address:
Langkawi Ferry Terminal, 1, Jalan Tun Syed Sheh Barakbah, George Town, 10200 George Town, Pulau Pinang, Malaysia
GPS:

5°25'08.0"N 100°20'43.3"E
5.418890, 100.345346
Location of Ferry Terminal in Langkawi
The ferry terminal is located in Kuah, the main town on the island. This is at the opposite end of the island from the airport. Whether it is more convenient for you will depend on where your accommodation is on Langkawi.
The location is shown on this map:

Address:
Kuah Jetty, Kuah, 07000 Kuah, Kedah, Malaysia
GPS:

6°18'18.1"N 99°51'00.5"E
6.305040, 99.850142
Comfort on Board the Penang to Langkawi Ferry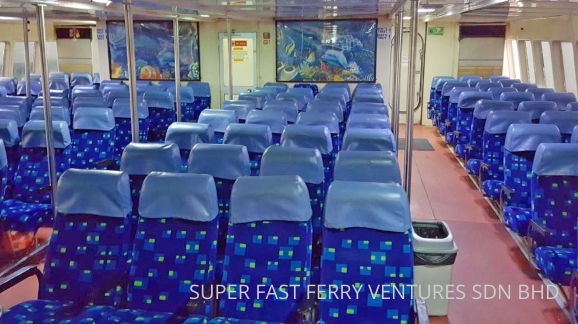 The ferries are air-conditioned and often the temperature is way too low. Bring something warm to wear in case. 
There is an on-board video but probably not worth watching. Bring your own entertainment and ear-plugs.
Bring some snacks with you in case there is nothing on board.

Passengers are not allowed to sit or stand outside on deck during the trip.

There are two types of vessel used on this route, a modern catamaran and an old style river ferry. The catamaran is better but both can feel cramped if the boat is full.

Sea conditions are usually smooth but if you are prone to sea sickness you might want to fly instead.

Note: The ferry is for passengers only - no cars.

---
Share this page: