High 5 Bread Town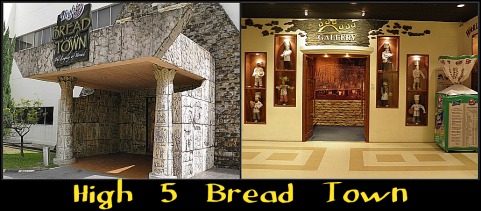 One of the more unusual museums in Malaysia is High 5 Bread Town. High 5 is the name of a brand of sliced bread produced by Silver Bird Group and this bread museum is located at Silver Bird's factory complex in Shah Alam.
Prior booking is essential to fix up a guided tour which can be conducted in English, Bahasa Malaysia, Mandarin or Cantonese.
Once inside you first take a seat in the theatre to watch a short video presentation called The Story Behind a Loaf of Bread, giving an overview of how bread making has changed over the centuries, starting from Ancient Egypt, through the Roman and Viking eras right up to the present day.
After the video you are led through a magic sliding door into a labyrinth of museum style exhibits on the history of bread making. I was interested in their collection of old toasters dating from Victorian days up to the 1960s.
After learning about the history of bread, the tour continues through an elevated walkway (880 feet long) with large windows giving an excellent view of the modern factory floor below, which, according to Silver Bird, is part of the largest stand-alone bakery plant in South East Asia. Here you can observe how the factory employees produce bread through all the various stages from raw dough to packaging and packing.
Finally the tour brings you out into the High 5 retail shop where you can stock up with all the cake and bread products of the factory at discounted prices.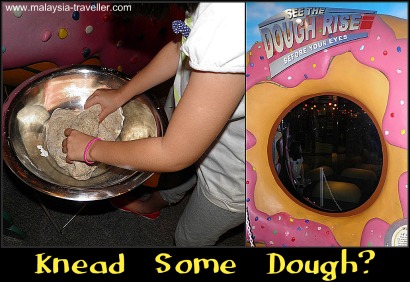 Admission Charges
There is a charge for the tour:
Adults RM 15
Seniors (age 55+) RM 12
Children RM 12
Below age 3 Free
The price includes a goody bag of bread and cake products which is handed out at the end of the tour.
Opening Hours
Monday - Saturday 9am - 6pm
(but closed on Wednesdays and Sundays).
The tour takes approximately 45 minutes.
How to Get To High 5 Bread Town
Address
Silver Bird Complex
Lot 72, Persiaran Jubli Perak
Seksyen 21
40000 Shah Alam
Contact
Tours are by appointment only and walk-in visitors are not allowed.
For bookings call 03-51922888. 

You can check their website for more details. 
---
Share this page: