Top Terengganu Attractions

Top Terengganu Attractions
What are the top Terengganu attractions?
Terengganu is one of the must-see states on any visit to Malaysia.
For a start it has some of the most beautiful paradise islands including the ever popular Perhentian Islands, coral-fringed Redang Island and the laid back Kapas Island.
Back on the mainland, Terengganu boasts the best beaches in Peninsular Malaysia (in my opinion anyway).
The state capital Kuala Terengganu is a pleasant city and ideal for a short walking tour around the main heritage sites.
Inland is massive Kenyir Lake and there are plenty of mountains, forests and waterfalls waiting to be explored.
Here is my suggested list of what to see at the state's best tourist sights.
Map of Top Terengganu Attractions
Click on the photo or link for further information on each attraction.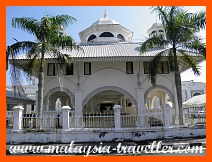 Explore Kuala Terengganu's tourist trail on foot with my self-guided walking tour and map. Highlights include the Abidin Mosque, Chinatown and Bukit Puteri.
---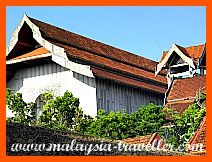 The Terengganu State Museum at Kg. Losong, Kuala Terengganu is the largest museum in Malaysia. Nine spacious galleries covering different aspects of Terengganu culture are arranged over 4 attractive buildings.
---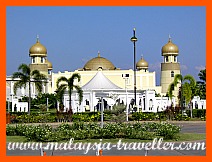 This new Islamic themed attraction features scaled down replicas of 22 famous historical Islamic monuments from around the world. The park is located on an island near Kuala Terengganu and has family attractions too.
---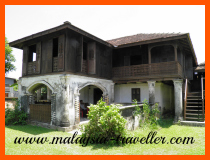 This island on the Sungai Terengganu has some traditional boat building yards and a small museum.
---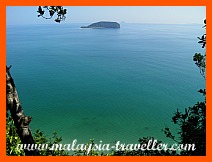 Bukit Keluang has some of the best coastal scenery in Malaysia with lovely beaches, a walkway along the cliff edge, caves and a hill with superb seaviews.
---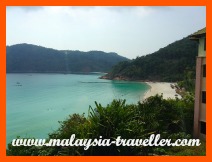 Said to have the world's most mature coral gardens. Very popular for diving snorkelling, beach activities and jungle walking. There are famous wreck sites nearby.
---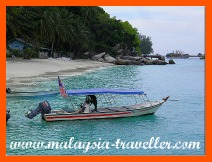 Two hilly, jungle covered islands fringed with powdery white sand beaches and surrounded by good spots for snorkelling and diving. Most of the resorts are basic or budget standard.
---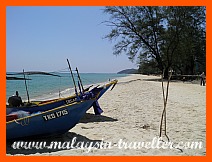 One of the most scenic beaches on the east coast where traditional fishing craft are hauled up onto to the beach next to a sleepy kampung. Has seen some recent storm damage and coastal erosion. Read about Penarik and other Terengganu beaches on my blog.
---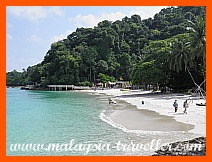 A beautiful quiet island close to the mainland with excellent beaches, clear waters and some basic accommodation. The better snorkelling spots are a little offshore and boat trips can be arranged.
---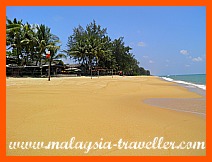 Rantau Abang used to be the place to come at night to watch leatherback turtles lay their eggs. Sadly no more! It is still a very nice beach though. 
---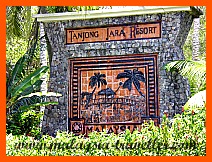 Tanjung Jara
The luxury Tanjung Jara Resort is probably the top resort on the East Coast of Malaysia. If you cannot afford to stay here, the neighbouring public beach has the same coastal views for free.
---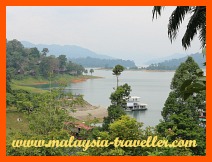 There are many attractions at Lake Kenyir, Malaysia's largest lake, but it requires an effort (and a boat) to find them all.
---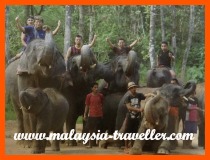 Kenyir Elephant Conservation Village
At Kenyir Elephant Conservation Village you can ride elephants, give them a bath in the river, have a photo with them, enjoy a canopy walk and more.
---
If you have suggestions for more places that should be included on the list of Top Terengganu Attractions please let me know.
---
Top Terengganu Attractions
Share this page: