Malaysia's Beautiful Beaches and Islands
Malaysia is justly famed for having some of the world's most idyllic beaches and islands, with over 4,600km of coastline and dozens of gorgeous islands to choose from.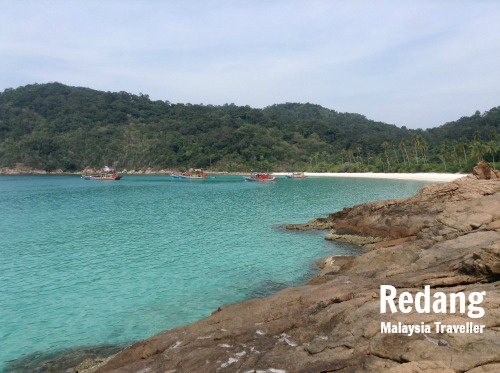 As you can see from the two interactive maps which I have compiled below, Malaysia's coasts are lined with beach and island tourist destinations ranging from uninhabited coral atolls to built up and developed islands.
Starting with Peninsular (or West) Malaysia I have marked around 90 beaches and islands on the map.
By the way, beach in Bahasa Malaysia language is 'pantai' and island is 'pulau'.
The west coast has relatively few of the classic golden sand beaches. This is because much of the shore is lined with mangrove forests or muddy swamps and many of Malaysia's mighty rivers, flowing westwards into the Straits Of Malacca, deposit their silt, sediment and vegetation onto the muddy shorelines.
Furthermore, being one of the world's busiest shipping lanes, there is a fair amount of rubbish and pollution which washes ashore.
Having said that, the west coast is dotted with a number of paradise islands and beautiful beaches. Working down from the north, Langkawi Island share many of the geographical characteristics of other famous Andaman Sea islands such as Thailand's Phuket, 200km further up the coast.
Next there is Penang, a booming economic powerhouse with a large population, a dynamic industrial and commercial hub, a UNESCO World Heritage site (Georgetown) and some beautiful beaches including the famous Batu Ferringhi.
Further south there is Pulau Pangkor, a scenic island with a more tranquil atmosphere. The island boasts some sparkling sand beaches such as Teluk Nipah, secluded coves and an active fishing community.
Closer to Kuala Lumpur you can explore colourful islands such as Pulau Carey, Pulau Ketam (Crab Island) and Pulau Indah. There are no beautiful beaches here but they are all interesting in their own way.
Port Dickson is the closest sandy beach to Kuala Lumpur and for that reason is very popular with local and foreign visitors alike.
The east coast of Peninsular Malaysia is essentially one continuous sandy beach from Kota Bharu to Kuala Terengganu to Kuantan so you are spoilt for choice.
Cherating, with exclusive resorts like Club Med, is one of the more famous stretches of beach on this coast where you can ocean kayak, sail and windsurf.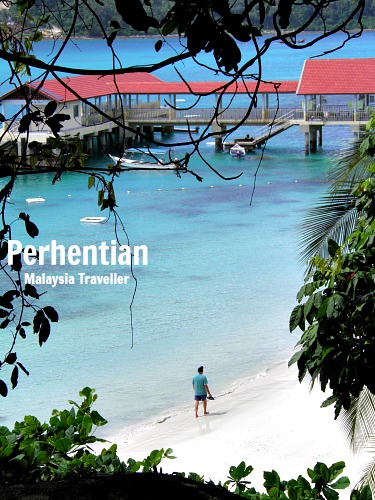 Off the east coast are some of the country's best beaches and islands diving resorts, including Redang Island (famous for wreck diving), the Perhentian Islands and Tioman Island where you can admire tropical fish and other aquatic life in crystal clear water.

View Malaysia Beaches & Islands (Sabah, Sarawak & Labuan) in a larger map
In East Malaysia (Sarawak, Labuan and Sabah) I have listed 26 famed beaches and islands on the map. (Pan with the right arrow if Borneo is not showing on the above map).
Just off Kota Kinabalu are five unspoilt islands making up the Tunku Abdul Rahman Marine Park, a great destination for snorkelling, relaxing and spotting giant lizards.
On Sabah's eastern coastline, in the Sulu Sea off Sandakan you can find many of Malaysia's premier scuba diving sites such as Sipadan, Mabul, Kapalai, Layang-layang and Turtle Islands Park where you might encounter turtles, sharks, manta rays and more.
I plan to visit as many of these 100 beaches and islands as I can over the coming months and years (tough job!).
Click on the links below to view reviews of the beaches and islands I have visited so far.
West Coast of Peninsular Malaysia Beaches and Islands
Which is the best beach in Langkawi? Here I review a dozen top Langkawi beaches and give you my suggested rankings. 
---
Pulau Pangkor, with its fine beaches, interesting fishing villages and laid back atmosphere is a great place for a relaxing and enjoyable holiday.
---
At Teluk Batik Beach, located close to Lumut and Sitiawan, the family can enjoy a day frolicking in the sea and trying water sports. Lifeguards, shops and facilities are on site.
---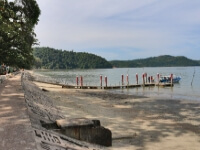 Merdeka Beach (Pantai Merdeka) is a popular public beach with fine views of Gunung Jerai, good recreational facilities and attractions such as its unusual red mudstone and a British WWII bunker.

---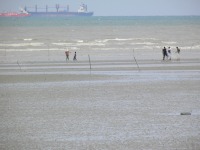 Carey Island is famous for oil palm plantations, seafood and ethnic wooden handicrafts produced by the Mah Meri Orang Asli community. 
---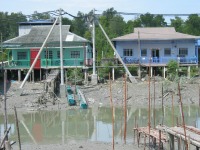 A ferry ride to Pulau Ketam (Crab Island) makes an enjoyable daytrip from Kuala Lumpur. Enjoy tasty seafood and explore the fishing village built on stilts amid mangrove swamps. 
---
Pulau Indah is an unusual island - a combination of container port, industrial estate, mangrove coast and sleepy kampungs. Read about my visit here. 
---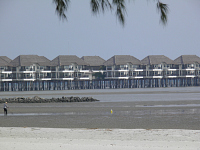 This is one of the best beaches in Selangor and home to the AVANI Sepang Gold Coast Resort, Malaysia's answer to Dubai's Palm Island.
---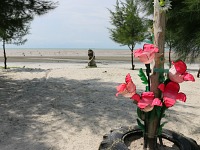 Visit Pantai Cunang, a beautiful white sandy beach maintained by Mah Meri villagers amid a mangrove forest on Selangor's coast near Tanjung Sepat.
---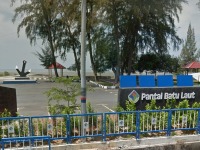 Batu Laut Beach is a quiet muddy Selangor beach with mangrove trees and a sailing centre where basic boating skills are taught.
---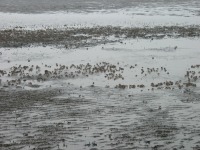 Morib Beach is one of the closest beaches to Kuala Lumpur and site of a historic military landing at the end of WWII.
---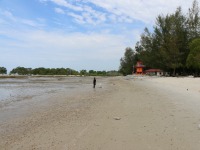 Pantai Kelanang is a little known beach close to Kuala Lumpur. Go on a weekday and you may get it to yourself. Read details here.
---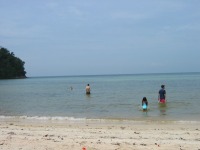 Which is the best beach in Port Dickson? Here I review a dozen top Port Dickson beaches and give you my suggested rankings. 
---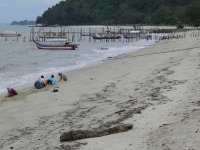 Teluk Bahang is a busy fishing village in the northwest corner of Penang. The beach looks inviting but is not advisable for swimming. 
---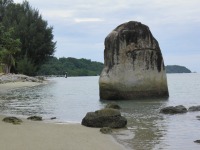 Pulau Besar is part beach resort and part Islamic pilgrimage site. There are also legends of elves, goblins and strange rocks. Worth a visit.
---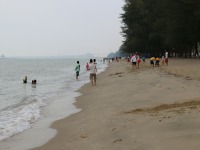 Pantai Puteri
A long, sandy and reasonably clean beach at Tanjung Kling, close to Melaka, and popular with locals for seafood. Visitors can also visit Hang Tuah's tomb nearby.
---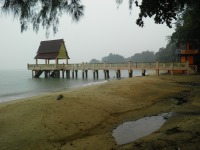 Tanjung Bidara
This is another popular beach close to Melaka with yellow sand, a small jetty, life guard and facilities. Tanjung Bidara Beach Resort hotel is located here. Nearby is Al Khawarizmi Astronomy Complex.
---
East Coast of Peninsular Malaysia Beaches and Islands
Redang Island beaches are some of the best in Malaysia. Read my review and travel advice here.
---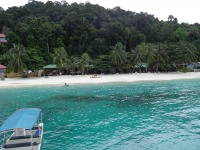 The Perhentian Islands have white sand beaches and varied aquatic life but is this the unspoilt marine paradise that some claim? Here is my personal view. 
---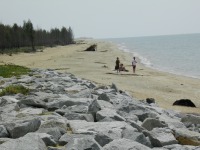 Moonlight Beach (Pantai Cahaya Bulan)
Pantai Cahaya Bulan is probably the closest beach to Kota Bharu but it was quite a tiring trip for my poor old tricycle driver. 
---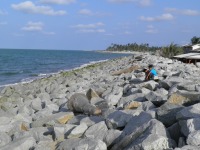 Dasar Sabak Beach near Kota Bharu is where the Japanese began their invasion of Malaya during WWII. Unfortunately coastal erosion has eaten the beach away.

---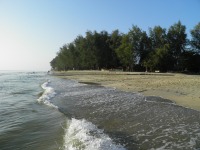 Coastal erosion has taken its toll on Pantai Irama, once rated as the most beautiful beach on Malaysia's East Coast, but it is still a nice beach. 
---
This pleasant Kelantan beach is fringed with casuarinas trees and coconut palms backing onto a lagoon. Also known as Beach of Whispering Breeze.
---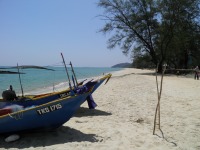 One of the most scenic beaches on the east coast where traditional fishing craft are hauled up onto to the beach next to a sleepy kampung. Read about Penarik and other Terengganu beaches on my blog.
---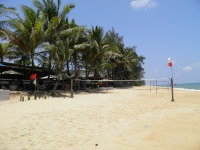 Rantau Abang used to be the place to come at night to watch leatherback turtles lay their eggs. Sadly no more! It is still a very nice beach though. 
---
A beautiful quiet island close to the mainland with excellent beaches, clear waters and some basic accommodation.
---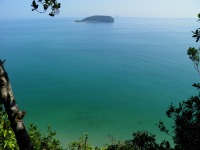 Bukit Keluang has some of the best coastal scenery in Malaysia with lovely beaches, a walkway along the cliff edge, caves and a hill with superb seaviews. 
---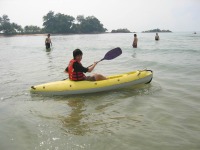 I had never seen myself as a Club Med sort of person but this superb resort really changed my perception. 
---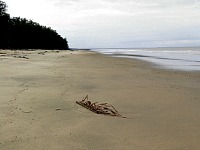 Pantai Hiburan
A beautiful wide sandy beach in Kuala Rompin, southern Pahang and almost deserted on my visit. A little bit too much litter, some washed ashore and some left behind by picnickers, but sadly that is the case with most beaches in this region these days.
---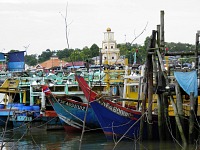 Endau Town
Endau at the mouth of the Endau River which separates Johor from Pahang is not a beach but a scenic fishing port, one of the largest on the east coast.
---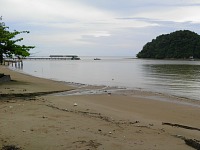 Pantai Penyabong
This beach has a quiet and peaceful setting with a boat jetty and a couple of islands located nearby. There is a basic beach resort here, Endau Beach Resort, which receives better reviews than most in this area.
---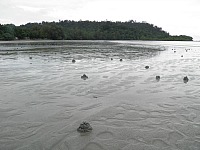 Teluk Gorek
This deserted, grey sand beach was strewn with the coiled castings of sandworms. There were no beachgoers around but some there were poles sticking out of the sand left behind by harvesters of shellfish.
---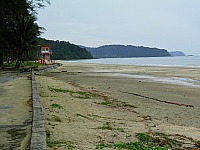 Air Papan
A long beach with more facilities but virtually deserted when I visited in March. Lovely sandy beach. Cleanliness of all these beaches varies according to the sea conditions and whether or not the beach has recently been cleaned.
---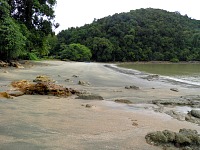 Teluk Buih
This is a lovely sheltered beach with a wooded headland. The sea is green coloured. There is a small resort hotel here which has mixed reviews.
---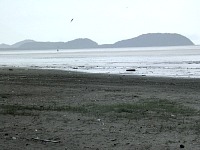 Mersing
The beach at Mersing town was looking grubby and gloomy during my visit. Most tourists do not linger here and only visit to catch a boat to the offshore islands shown here, Pulau Babi Besar or Pulau Rawa.
---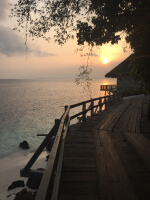 Pulau Rawa is an idyllic tropical island paradise off Johor's East Coast. Read my review of the accommodation, facilities and activities of the island's top hotel, Rawa Island Resort. 

---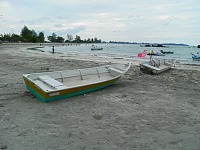 Tanjung Balau Beach
Within easy striking distance from JB and Singapore, this grey sandy beach can get busy and is popular with kite flyers. There is a fisherman museum here.
---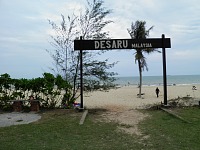 Desaru
Desaru is a 25 km stretch of beach within 45 minutes drive from JB. Nice golden sand but the sea can get rough during the winter monsoon season. There are a few resort hotels here but most are tired looking.
---
Sabah Beaches and Islands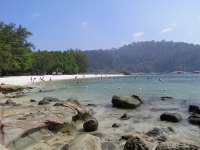 This beautiful little island has pristine beaches, clear water, a cool zip line and giant lizards yet is located only 20 minutes boat ride away from Kota Kinabalu. Read about this and other Tunku Abdul Rahman Marine Park islands here.
---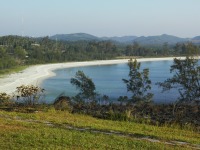 Located at the Tip of Borneo, this gorgeous beach, sometimes called Kalampunian Beach, is one of the best in Malaysia. Read more on my Thrifty Traveller blog.
---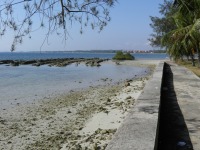 Just north of the quiet town of Kudat is a popular beach called Bak Bak. It does not have much sand bit there are some interesting rock formations to explore. Read more on my Thrifty Traveller blog.
---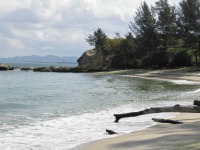 This secluded beach has lovely sand and the sea has a high seaweed content. You can even stay in a traditional Rungus longhouse. Read details on my blog.
---
Sarawak Beaches and Islands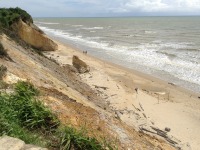 There are a number of good beaches south of Miri. Read my review of seven of the best.
---
Malaysia's Best Beaches and Islands?
Out of all of these beaches and islands, which is my favourites?
Read here about my Top 10 Malaysian Beaches and Islands.
Best Places to Snorkel in Malaysia?
Where are the best beaches and islands in Malaysia for snorkelling?
Read here about my 5 Best Places to Snorkel in Malaysia.
---
Share this page: