National Library of Malaysia

 National Library of Malaysia
Perpustakaan Negara Malaysia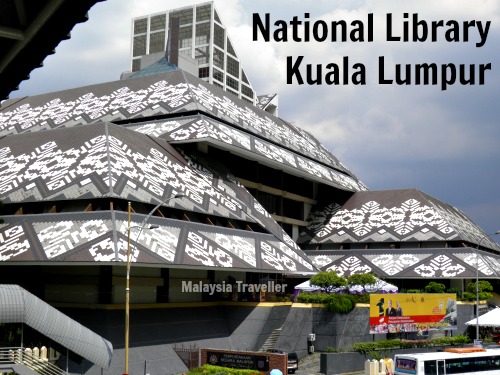 The National Library of Malaysia was established in Kuala Lumpur in 1972 to make library resources available to the general public and to act as a store for collections of national interest.

 The Building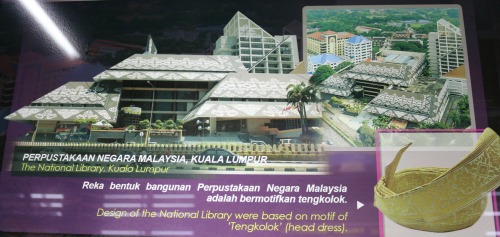 Photo source: Architecture Museum, Melaka
The award winning exterior design of the building was inspired by the Tengkolok (Malay headdress) while the decorative pattern on the roof tiles resembles the patterns found on the songket (traditional woven cloth).

The building is divided into four sections, the tallest of which extends to eleven floors including offices (some rented out to third parties), a gymnasium and badminton court, a cafeteria, auditorium, children's theatre and exhibition hall. Facilities are supposed to be designed to be wheelchair friendly. 

Only two of the floors are dedicated to books and materials which the public can borrow and most of these are located in the annexe building called Wisma Sejarah. The kids section is in the main building.

The Library
The library holds close to 5 million items, including books, publications, magazines, newspapers, and online materials. Books available for borrowing number over 500,000 and are in Malay, Chinese, Tamil and many other languages but over half are in English.
In addition to being the country's flagship lending library, it also serves as a central depository for Malaysia's historical memory and culture and holds an extensive Malaysiana collection of printed materials, special documents, film and audio files of national heritage value. The library has also acquired private collections of well known Malaysian figures comprising books, journals, articles, manuscripts, documents, photos, letters and so on.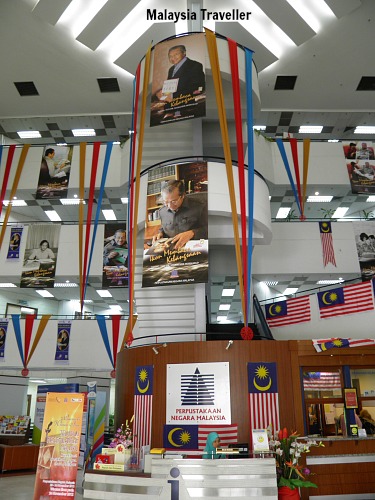 Using The Lending Library
They have quite a good online catalogue of over 750,000 items so you can find out what is available even before you go there. Here is the link: 
opac.pnm.gov.my/search/query?theme=PNM2

Books can only be borrowed by members. Becoming a member is simple and free. Just complete a membership form and bring along some ID (MyKad/MyKid/Passport). Non-Malaysian residents of Malaysia can become members too.  Members can borrow up to 3 books for a duration of 3 weeks. 

Visitors are not allowed to take bags into the areas where the books are located (too many stolen books I imagine). Lockers are available to safely store bags.

Opening Hours
Tuesday to Saturday: 10am to 7pm
Sunday: 10am-6pm
Closed on Mondays & Public Holidays
How to Get to National Library of Malaysia
I have marked the exact location on the map on my Top KL Attractions page. 
There is covered visitor parking inside the building.
GPS: 
3°10'13.7"N 101°42'39.6"E
3.170460, 101.71099
Address: 
National Library of Malaysia
232 Jalan Tun Razak 
Titiwangsa
50572 Kuala Lumpur
Malaysia 
Phone: +603 2687 1700

Another excellent library near Kuala Lumpur (more modern) is Raja Tun Uda Public Library in Shah Alam.
Nearby
---
National Library of Malaysia
Share this page: