Bukit Merah Laketown Resort

While driving in Perak recently, I saw a sign for Bukit Merah Laketown Resort and I took a detour there to have a look around.
What I found was a water-based theme park, built in the mid 1990s as part of an ambitious (perhaps over-ambitious?) Lake Town project. There was a model of the Lake Town masterplan in the entrance to the Resort and it seemed that only a portion has so far been built and I wondered whether it ever will be completed.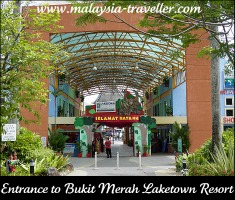 The Laketown Resort itself was cheerfully painted in bright colours and was being well maintained but it was apparent that many of the facilities were not operational, including the centrepiece Waterpark which was closed for maintenance. One of the employees told me that I should visit during the school holidays when most of the facilities are open.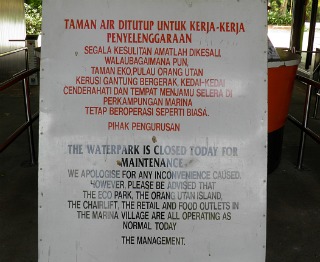 According to their brochure the Resort's main attractions are:
Waterpark with wave pool, waterslides, tube rides and so on. This was closed for maintenance as mentioned.
Eco Park, a mini-zoo with walk-in enclosures.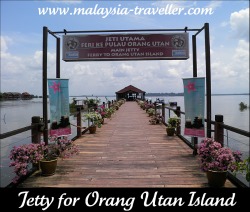 Orang Utan Island. A 35 acre island on the beautiful and huge Bukit Merah Lake, part of which has been set aside for an orang-utan sanctuary. You have to take a boat to reach the island. Visitors are confined to a cage while the primates roam around freely on the outside. As this is perhaps the only place in Peninsular Malaysia where you can see orang-utans apart from at zoos, this in my view is the Resorts' top attraction.
Chairlift. This was working, transporting visitors from the entrance of the Waterpark to the Eco-park area. 
Accommodation
There are a few choices:
Water Chalets (Kampung Air)
A handful of wooden chalets built in traditional Malay style on stilts over the lake are available for rent.
Laketown Hotel
Located close to the main entrance to the Resort.
To check availability and room rates for the Laketown Hotel take a look at Agoda's discounted prices here.
Suria Service Apartment Hotel
Located a few minutes drive away with its own pool and facilities.
I noticed a few lakeside bungalows and some apartment blocks along the shoreline. A number of the apartments had 'For Rent' signs outside where no doubt the owners were trying to recoup some of their investment in the project.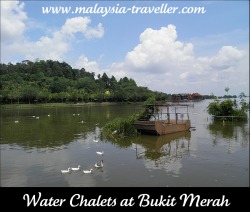 How to Get To Bukit Merah Laketown Resort?
It is easy to find the Laketown Resort as it has its own exit on the North-South Highway (exit # 150).
The journey takes around 40 minutes from Penang Bridge or an hour from Ipoh by expressway.
Verdict
I am sure younger kids would enjoy this place provided all the facilities are open. (There was nothing on their website to warn that the waterpark was closed so better call first to avoid disappointing the kids - Tel: 05-8908888.)
For waterpark attractions in Perak I think Lost World of Tambun is a far superior facility, but on the other hand Bukit Merah has orang-utans!
---
Share this page: