Batu Laut Beach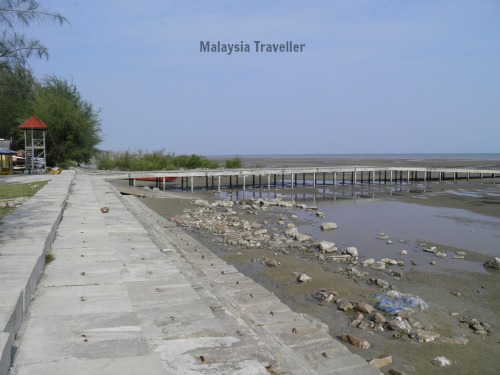 Batu Laut Beach (or Pantai Batu Laut) is located at Kampung Batu Laut, about midway between Morib and Tanjong Sepat.

To be honest there is not a great deal to see here.  The coastline is mostly mangrove swamps interspersed with grey mud and sand beaches which are soft underfoot.  At low tide the sea recedes far out revealing soft muddy sand, mangrove stumps and lots of crabs.  The village itself spreads out inland along a grid of roads lined with plots of oil palms, banana trees and other vegetation. Opposite the beach are a few shops facing a car park where a sailing centre is located.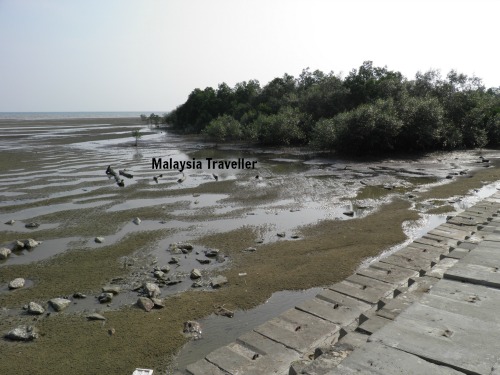 Tourism Selangor's website describes how students train for yachting tournaments at 'The Yacht Centre' at Kampung Batu and has photos of top-of-the-range ocean going yachts. In reality the training at the sailing centre (Pusat Latihan Perahu Layar Kampung Batu Laut) teaches on more modest sailboats and dinghies and on my visit these were stacked up on the land and nobody was sailing.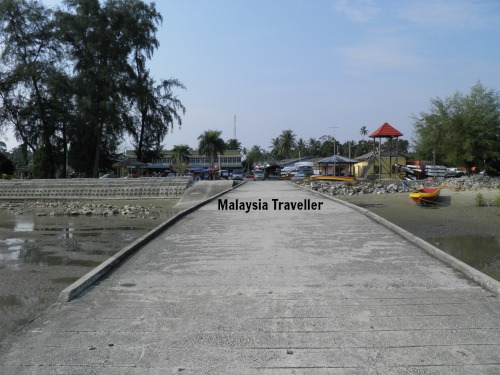 There is a concrete slipway for launching the boats.

There is a large anchor statue in the car park next to the beach inscribed with the words Iltizam ke arah kecemerlangan meaning 'commitment to excellence'. Judging by the sleepy atmosphere and run down appearance of some of the facilities it might be time to renew that commitment.
Still, in my opinion, there is nothing wrong with a sleepy atmosphere and this quiet beach is a good place to potter around amid the mangrove trees and spot the birds and marine creatures squelching in the mud.
 How to Get To Batu Laut Beach
Batu Laut is located on Highway 5 roughly half way between Morib Beach and Tanjung Sepat. Drivers coming from KL could either approach via Banting and Morib or via Sepang and Bandar Baru Salak Tinggi, depending on which is more convenient for you.
I have marked the exact location on this interactive map (click on the expand image symbol in the top right hand corner to see a larger map):
GPS Co-ordinates:
2°40'30.4"N 101°30'53.9"E
2.675110, 101.514960
Nearby
Unless you are planning to do some sailing, you might wish to combine your trip with a visit to other nearby beaches and places of interest:
---
Share this page: