Klang Gates Quartz Ridge
You have probably noticed Klang Gates Quartz Ridge if you have ever driven along KL's Middle Ring Road near Zoo Negara. It is that impressive line of hills rising up abruptly beyond the edge of the city.

Also known as Bukit Tabur, this rare geological feature is said to be the largest pure quartz dyke in the world. Shaped like a protruding backbone, it measures 14km in length and its ridge is no wider than 200m, narrowing down to just a few meters in places. As far as Malaysian mountains go it is not particularly high, ranking 291st on my list of Malaysia's Highest 300 Mountains but it still provides an energetic and challenging hike.
It has been a protected area for decades but Kuala Lumpur's relentless growth is pushing development right up to the foot of the ridge.

For now it remains an excellent spot for hiking with, on one side, views of the city's famous skyline in the distance, while on the north-east side, it overlooks reservoirs serving the city and unbroken forest reserves as far as the eye can see.
How to Get to Klang Gates Quartz Ridge
I went there a while back with my teenage sons.
From the starting point the path climbed steeply through woods for about 20 minutes before emerging onto a clearing near the top of the ridge. From here we could walk left or right along the ridge. We opted for left which is much easier and safer.
The route was quite well defined and we proceeded along the ridge-top, enjoying the views, clambering over crags in places until we reached a sharp pinnacle with a Malaysian flag on top. I let my sons scale this steep rock face while I had a little rest. From here we made our way back to the starting point. The whole hike lasted about 2 1/2 hours.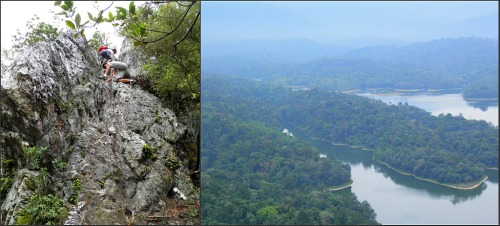 I would recommend this hike to all outdoor enthusiasts and nature lovers. It is an enjoyable day out, good exercise and useful practice for anyone planning to take on more challenging hikes or climbs in Malaysia.
Opening Hours & Admission Charges
Update as at March 2014. Climbing at Bukit Tabur is now only allowed on Saturdays and Sundays between the hours of 7am to 5pm. Climbers must register with the Selangor State Forestry Department employee stationed at the start of the trail and pay a fee of RM5 per person. Telephone District Forest Officer for more details: Tel 03-9075 2885.
---
Share this page: