Om Sri Maha Athi Nageswary Amman

 Om Sri Maha Athi Nageswary Amman

Hindu Temple


Puchong Gateway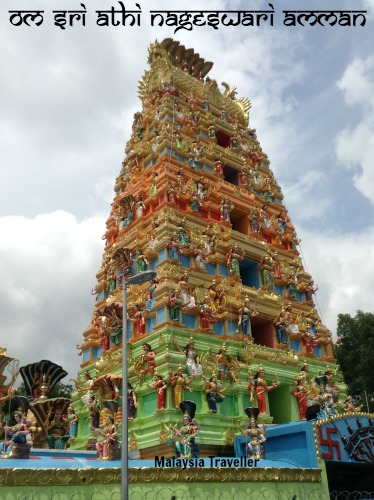 Om Sri Maha Athi Nageswary Amman is one of the most ornately decorated Hindu Temples in Selangor. It was officially consecrated in February 2016. It replaced an earlier temple of the same name in Jalan Serdang.
It's multi-coloured eight-tiered gopuram is clearly visible to motorists using the Lebuhraya Damansara- Puchong expressway near Puchong Gateway. 

Main Features of the Temple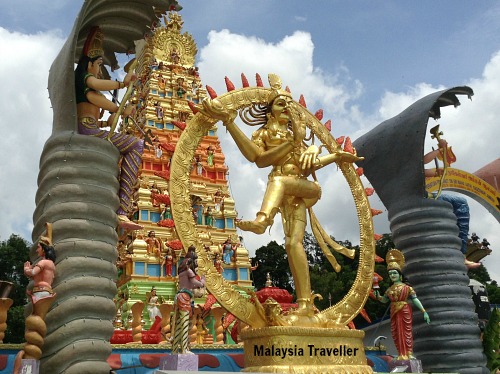 The temple is dedicated to the Snake Goddess Nageswari Amman and a number of giant seven-headed cobra design pillars surround the temple with deities sitting protected beneath the hoods of the cobra heads.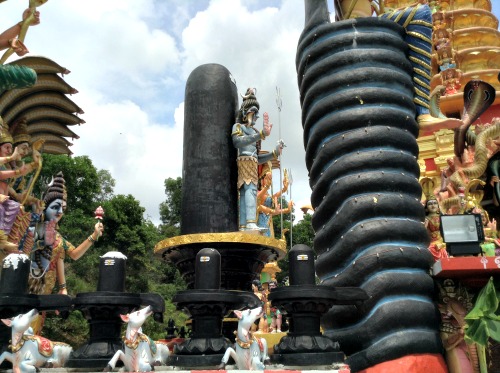 Another notable feature is a 65 feet high Shiva Lingam, a symbol of Lord Shiva and source of mystical powers for Hindu devotees. The lingam was shipped in from India together with 50 masons who worked for years on creating and decorating the countless statues and motifs adorning the temple.
There is a hall within the temple compound where weddings and other functions can be accommodated.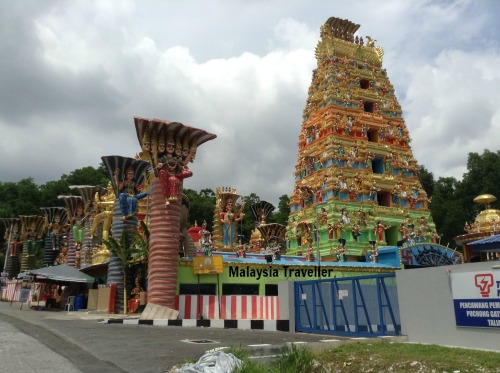 It is a pity that they had to build an electricity sub-station immediately adjacent to the temple as it obstructs the frontal view of the gopuram, but I suppose land is expensive and the temple management had to take what was on offer.
You can more photos of the temple during its construction stage on my Thrifty Traveller blog. 

Rules for Visiting the Temple
Non-Hindus should ask permission before entering.
Dress appropriately.
Be respectful.
Remove shoes / slippers and wash feet (tap outside the entrance).
Remove hats and helmets.
No smoking.
No outside food.
Do not spit, litter or run.
Switch off mobile phones.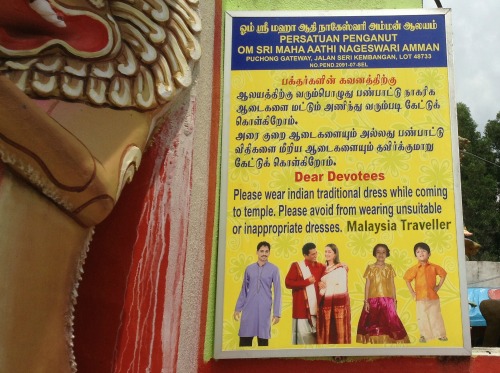 How to Get to Om Sri Maha Athi Nageswary Amman 
I have marked the exact location on the map on my Top Selangor Attractions page.
GPS: 
2°58'55.4"N 101°38'34.1"E
2.982068, 101.642820
There is limited free street parking outside the temple.
The official address of the temple is:
Persatuan Penganut Om Sri Maha Aathi Nageswari Amman
Puchong Gateway
Jalan Seri Kembangan
Lot 48733
Puchong 47100
(Note the variation in spelling).

Access is via Jalan Suria Puchong 6 (exit the LDP expressway for McDonalds and the Petronas filling station).
Tel: 012 942 8714
For more details and news of events you can find the temple's Facebook Page here.
Please contact them directly if you need information.
---
Om Sri Maha Athi Nageswary Amman
Share this page: