Broga Hill
Bukit Broga
Bukit Broga (Broga Hill) is one of the best places to hike within easy range of Kuala Lumpur. It is only 400 metres high (1312 feet) and can easily be climbed in an hour but it is steep and challenging enough to get the heart pumping and lungs puffing. What's more, it is about the only hill or mountain in Peninsular Malaysia which is covered in lalang grass instead of trees so the views from the top are excellent.
The Trail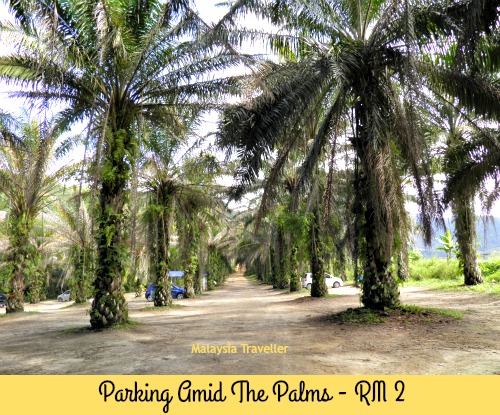 From the car park, which is amid the trees of an oil palm plantation, you walk for ten minutes up to the start of the trail which is marked by an archway erected by RHB Bank.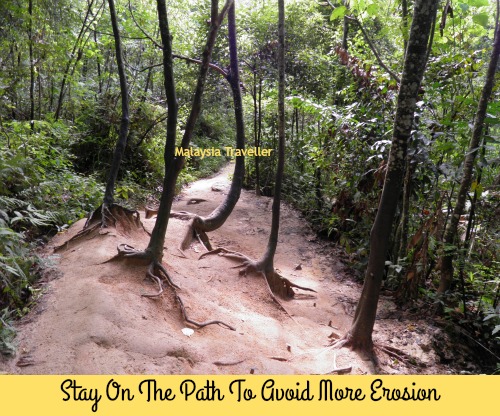 The trail is well worn and easy to follow. It gets busy, especially at weekends and at dawn when many climber like to witness the sun rise. Thousands of feet have eroded the path. Stay on the main path to avoid causing further damage to the hillside.
The trail climbs through a forested area for 15 minutes or so before emerging at the foot of a steep hill covered in grass. Here the tiring ascent begins but you will soon find yourself enjoying the fine views over the surrounding countryside. There are three viewing points marked by RHB signs  at 880 feet, 1150 feet and finally at the top at 1312 feet.
Take care, especially when coming back down. The path can be slippery with mud, if it has been raining, or with loose sand in the dry weather.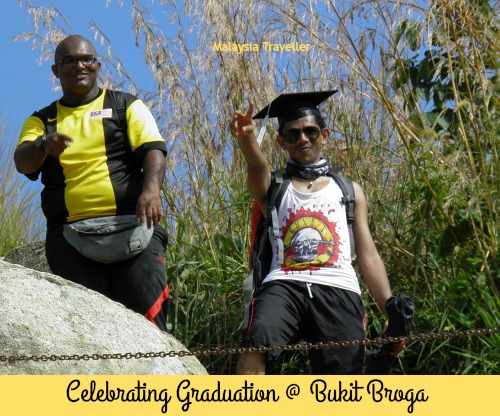 At the top of the hill, if you still have energy, the path continues on for a further 3.1km to Gunung Tok Wan (675m) but this is not a very straight forward hike. You can read details of my attempt to climb Gunung Tok Wan here.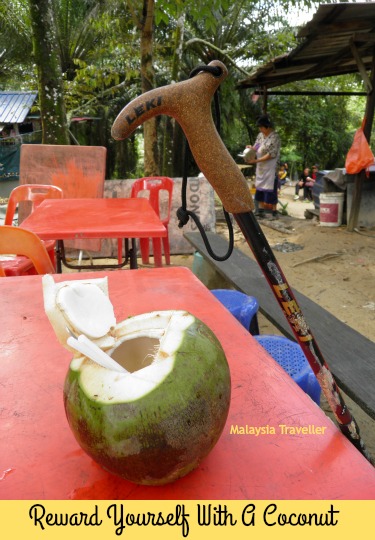 Once you've completed your descent from Broga, there is a coconut stall at the foot of the trail where you can enjoy a refreshing drink.
Good Place to Train for Climbing Mt. Kinabalu?
I have probably climbed Bukit Broga over 20 times in the past 6 years, because it is conveniently close to my home and I enjoy the exercise. At one time I was climbing it every week because I was in training for a more strenuous mountain hike. 
In fact if you are thinking of climbing Mt. Kinabalu or a similar peak, you could get yourself in shape by practising at Broga. Although Mt. Kinabalu (4095m) is over 10 times higher than Broga, the main trail at Kinabalu starts at 1866m so the actual height climbed is only 2229m or equivalent to climbing Broga 5 times. In terms of distance covered, Broga is 1.7km each way and Kinabalu is 8.7km each way, so again about 5 times further.
In other words if you were to climb and descend Bukit Broga five times in succession you would have an idea of the effort needed to climb Mt. Kinabalu. And don't forget that Mt. Kinabalu is usually climbed over two days so you could climb Broga 3 times one day and 2 times the next for a more realistic simulation. Of course Broga hikers do not have to worry about altitude sickness unlike Kinabalu. You can find out more about Mt. Kinabalu here.
What to Bring
Plenty of water and a snack.
Hat and or sun block.
Trekking pole is useful.
Phone/camera.
Suitable footwear (not flip flops!).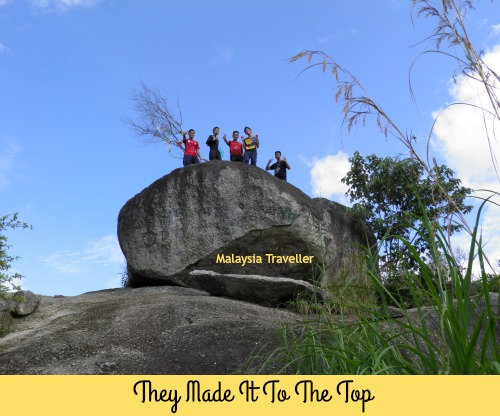 Location of Broga Hill
Here is a map showing the location of Bukit Broga. Click on the box in the top right hand corner to expand the map.
Broga Hill is located at Broga, a small town on the border of Selangor and Negeri Sembilan. It is 50km from Kuala Lumpur and 33km from Seremban.
The entrance to the car park is directly opposite Rabbit Fun Land (since moved to Lenggeng).
The car park used to charge RM 2 and there was no charge for climbing the hill. It has now changed to free parking and an entrance fee of RM 1 per person. They probably got fed up with people parking outside and walking in to avoid paying the parking fee!
There is a sign saying pets are not allowed.
Update as at October 2017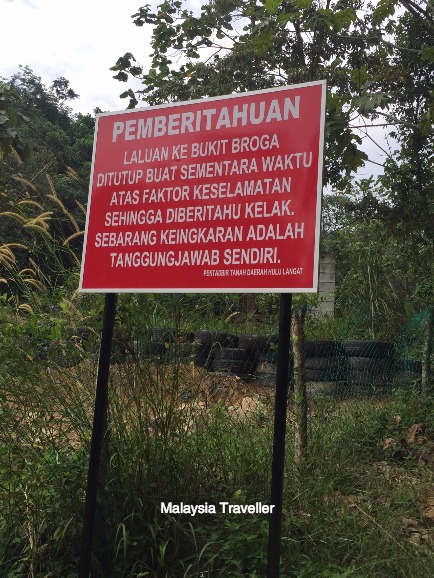 The trail is closed.
Although the announcement in August said that a restoration project to repair the damage to Broga hill would take 3 months, no work had commenced when I visited in mid October 2017. It appears that the hill will be closed for much longer than 3 months.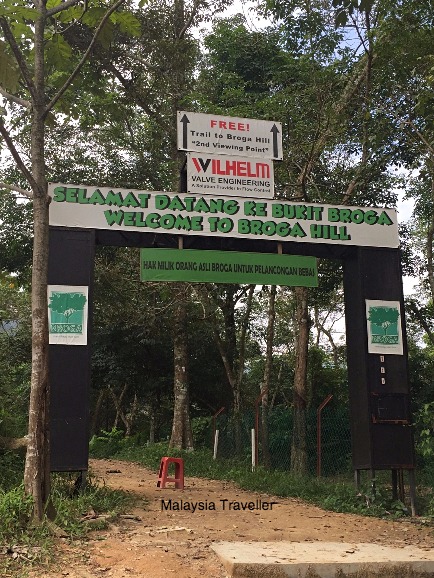 Enter here (located next to the old entrance gate).
However it is still possible to reach the top via the entrance gate marked 'Trail to Broga Hill 2nd Viewing Point'.

This path is well signposted and it takes you through a rubber plantation before turning to ascend the hill. This diversion joins up with the original trail about one third of the way up, allowing you to reach the summit.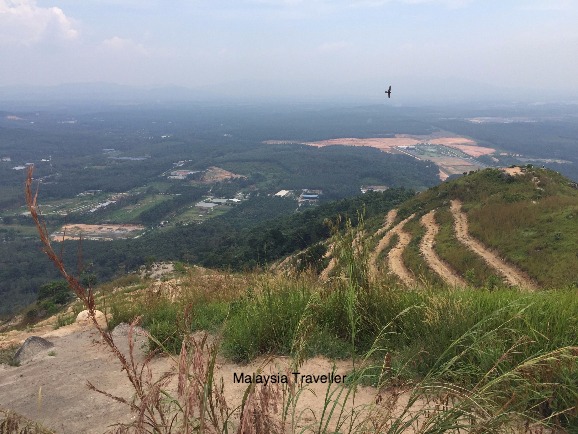 The damage caused by unauthorised bulldozing of terraces will take a long time to recover.
You should note the following:
There are a lot more mosquitos on this 2nd Broga Hill trail. 
When you rejoin the old trail the path is even more eroded, steep and uneven than it used to be. It could be dangerous and care should be taken.
After the first viewing point, the lalang grass is becoming overgrown since the number of climbers has decreased.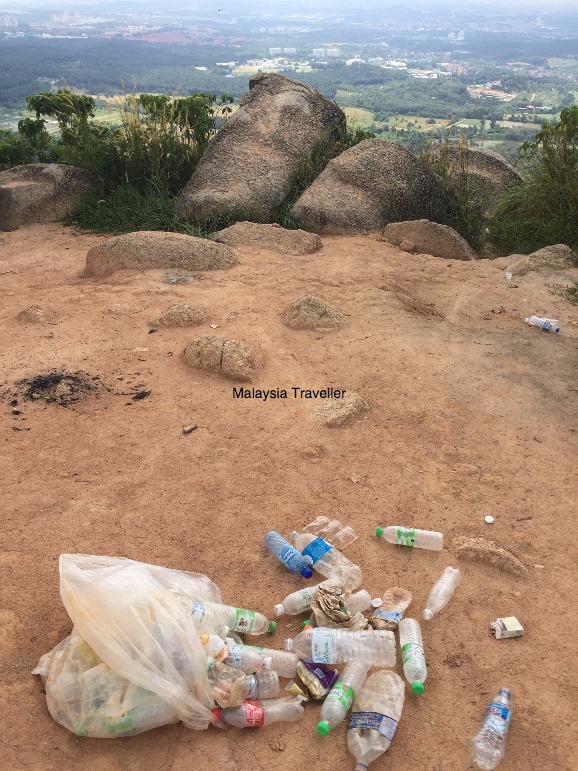 Take your rubbish home with you. Nobody is collecting it now. An empty water bottle is not heavy!
---
Share this page: