Crab Island - Pulau Ketam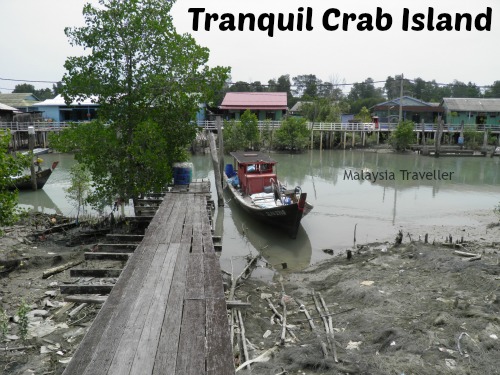 A trip to Crab Island or Pulau Ketam makes an enjoyable family outing from Kuala Lumpur.
Pulau Ketam itself is low-lying, muddy and fringed with mangroves forest which is an ideal habitat for the crabs and other marine crustaceans which inhabit these waters. The island was first settled by a group of fishermen from Hainan in southern China in the 1870s. Today it is home to a community of about 8000, majority Chinese, who have built mostly wooden homes on stilts over the soft tidal mudflats. Services such as schools, a clinic, police station and electricity have been added over the years.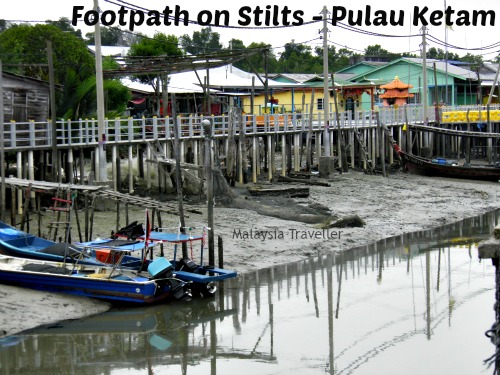 There are two settlements on the island, Pulau Ketam village and Sungai Lima village. There are no roads or cars and the only way to get around is by boat or walking/cycling on the narrow wooden or concrete boardwalks within the village.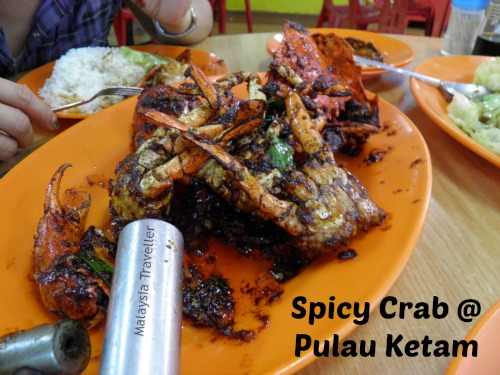 Once you arrive at Crab Island's ferry jetty you can walk through the busy main street of the village which is lined with shops selling dried fish and groceries. Here too is where the island's many seafood restaurants are located.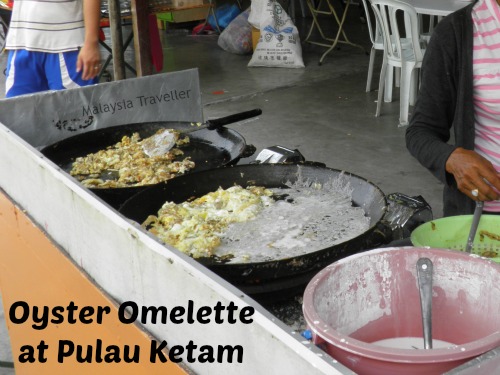 If you have ever been to Lamma Island in Hong Kong you will have an idea of the sights and smells that you can encounter here. The meals are similar too (perhaps slightly better in Lamma?) with typical dishes containing crab, prawns and fish. Oyster omelette seems to be a popular dish here.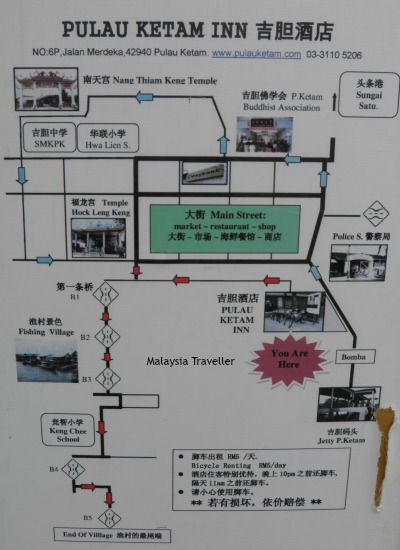 After your meal you can wander round the village. It is possible to rent bicycles but children and inexperienced cyclists should be careful on the narrow paths. You cannot go too far anyway - the pathways peter out at the edges of the village.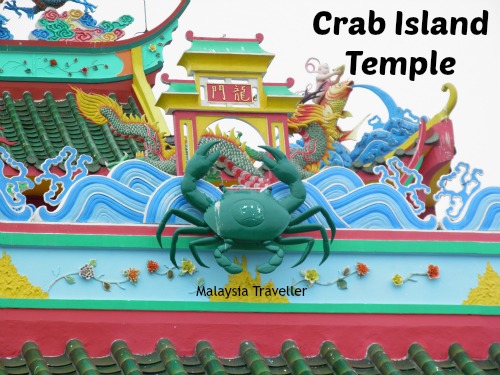 There are no beaches on this island but there are plenty of sampans and fishing boats which rest on mud when the tide goes out.
There are some Chinese temples in the village and a couple of hotels if you miss the last ferry home.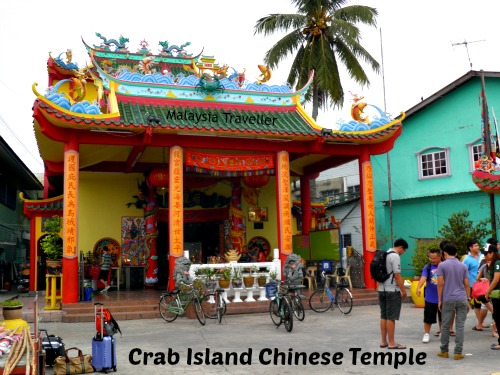 It is best to avoid public and school holidays if you can as this place can get busy. On normal weekdays you probably will not need to join a long queue for the ferries and the service in the restaurants will be better too.
As for souvenirs, most locals would buy dried seafood. We managed to find a couple of good Pulau Ketam T-shirts.

Crab Island is definitely worth a visit!

How to Get to Pulau Ketam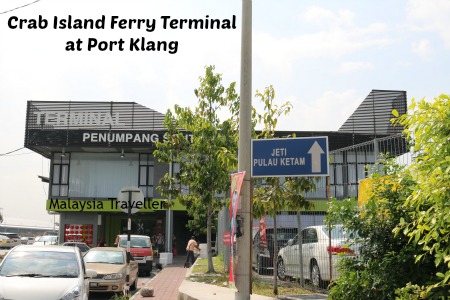 Unless you have your own boat you will have to take the ferry which departs from the terminal at Port Klang (Terminal Penumpang South Port). 
If you come by KTM Commuter train from Kuala Lumpur Sentral Station you get off at Port Klang station which is the final stop. The rail journey now takes 1 hour 23 minutes (used to be 1 hour 8 minutes - progress?!) with the slow train stopping at 18 stations along the way. It costs RM 6.40 one way for adults and RM 3.20 for kids.  You can find KTM's timetable here.
On arrival at Port Klang you just have to cross the street to the Pulau Ketam ferry terminal.

If you are driving you can refer to this map (click on the View Larger Map symbol in the top right corner to expand the map):

Paid car parking is available outside the nearby Asa Niaga Harbour City Terminal (international ferry terminal for Dumai and Tanjung Balai, Indonesia).
GPS Coordinates of Pulau Ketam Ferry Terminal at Port Klang:

2.99843, 101.3918

2°59'54.4"N 101°23'30.5"E
Address:

Jalan Foreshore, Kawasan 20, 

42000 Pelabuhan Klang, 
Selangor, Malaysia
Ferry Timetable
There are two ferry companies. Here is the timetable for the original PKF Pulau Ketam ferry service :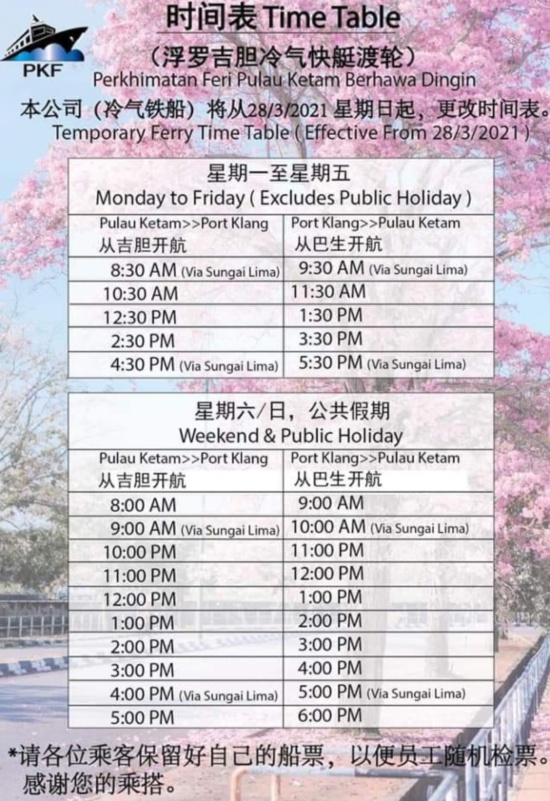 Basically ferries depart every hour during daylight hours (no ferries after dark) at weekends and less frequently on weekdays. However you should note that those departures highlighted go to Sungai Lima village which is a separate village on Crab Island so you should avoid those unless you have reason for going there. 
PKF Ferry Ticket Prices (2023 Prices)
Ticket prices for the original Pulau Ketam Ferry are RM 9 for adults and RM 5 for children (each way) as at January 2023. Scroll down for Alibaba prices.
How is the Ferry Trip?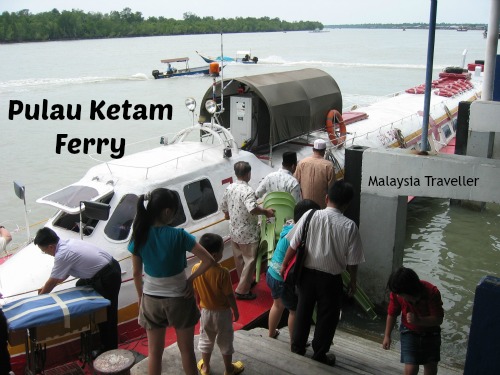 When I use the word 'ferry' don't imagine that I am talking about an ocean going vessel with multiple decks. This ferry is more like a large torpedo which sits low in the water.
The ferry is a bit rusty but it gets there quickly (30 minutes) in air conditioned comfort.

The route takes you out of Port Klang's busy South Port from where you might catch a glimpse of the Boustead Cruise Centre on nearby Pulau Indah. Large cruise ships and visiting warships sometimes dock here. Then the ferry takes a short cut through the rivers which dissect the swampy mangrove island of Pulau Klang before reaching Crab Island.

Alibaba Pulau Ketam Cruises
An additional public ferry service between Port Klang and Crab Island was launched in late 2016. The Alibaba ferries look more modern, more spacious and have both indoor and outdoor seating areas. 
Here are their latest schedules and ticket prices (2023 prices):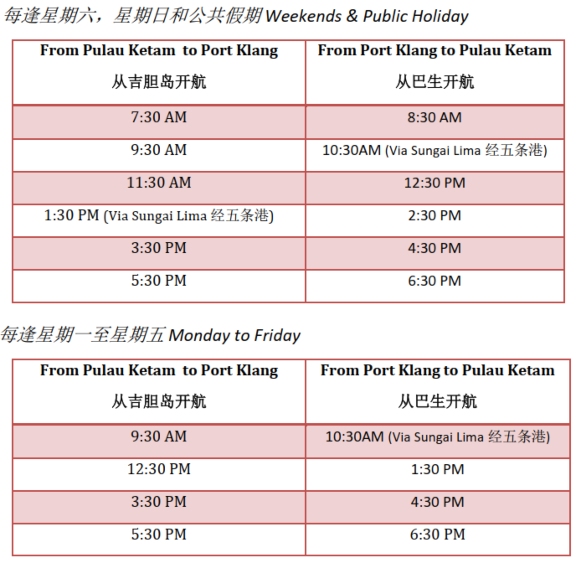 Alibaba Ferry Ticket Prices 2023
Adult Return-trip ticket        RM20
Children Return-trip ticket RM12
Adult One-way ticket             RM12
Children One-way ticket      RM6
Nearby
There is quite a lot to see in nearby Klang town. See my Top Klang Attractions page for details.
---
Share this page: