FRIM Canopy Walk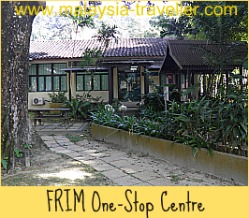 Forest Research Institute Malaysia
UPDATE AS AT NOVEMBER 2015
FRIM Canopy Walk and the Rover Track are closed until further notice. A large Melumbu tree fell onto the walkway during a recent thunderstorm and caused considerable damage. FRIM are conducting repairs and safety checks of the whole trail area.
Walking the FRIM Canopy Walk is a great way for adults and families to spend a day or half-day in the fresh air with plenty of exercise.
FRIM, or the Forest Research Institute Malaysia, is located near Kepong on the northern outskirts of Kuala Lumpur not far from Batu Caves. In fact you can see both FRIM and Batu Caves on the same day if you are pressed for time and are feeling energetic.
If you have plenty of time however it is best not to rush your visit to FRIM as there is plenty to do and see there apart from the Canopy Walkway.
FRIM is one of top tropical forestry research institutes in the world. It was established in 1929 on land which had already been stripped of its original forest cover. Trees replanted at that time are now well established (i.e. huge!).
FRIM's campus sprawls over a massive 486 hectare site, most of which is accessible to the public, and is surrounded by the Bukit Lagong Forest Reserve.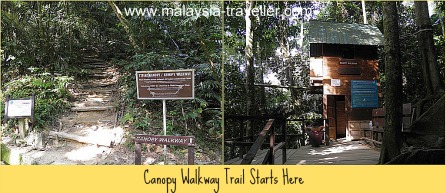 FRIM Canopy Walkway
The Canopy Walk is the park's top attraction.
To get there:
From the FRIM Main Entrance, head straight to Zone D where you will find the FRIM One-Stop Centre/Souvenir Shop. There are a few parking areas nearby if you are coming by car. If you are arriving by taxi you might ask the driver to take you as far as the One-Stop Centre rather than dropping you at the main entrance as it is at least 10 minutes brisk walk away.
At the One-Stop centre you pay for the Canopy Walk ticket (see below for charges) and ask for directions, or better still, a map to the Canopy Walkway Trails.
The route takes you past the mosque and onto the Rover Track which is a dirt road winding its way through the jungle. After 15 minutes or so gentle climb you will see steps leading off to the right and signposted 'Canopy Walkway 500m'. It seems further than 500m because it is fairly steep uphill but after a further 15-30 minutes you will arrive at the wooden tower guarding one end of the ropeway.
Inside the tower you will need to show your ticket.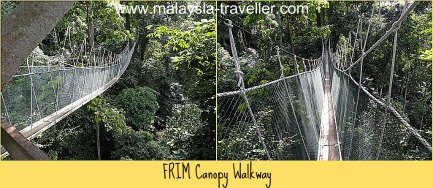 The FRIM Canopy Walkway itself is about 30 meters above the ground and has four sections totalling 150 meters in length.
Each is made of long metal ladders covered with wooden planks. These are suspended in a cradle of nylon ropes and anchored by steel cables wrapped around sturdy trees at each end. The whole suspension bridge is enveloped in netting to prevent you or your possessions from falling through the cracks.
Only four people are allowed on each span at any one time. The walkway does sway and wobble and at first I had visions of the whole thing twisting upside down and spilling its contents (me!) into the jungle below.
But after the initial concerns faded I was able to enjoy the splendid views and appreciate nature from this unfamiliar vantage point.
For those people who lose their nerve after seeing the walkway, there is a path which you can take which brings you round to the end-point of the walkway so as to avoid going on it.
After descending from the FRIM Canopy Walkway, you take the Waterfall Trail back down to the Rover Track. From here there are a number of different trails you can take depending on how much time and energy you have left.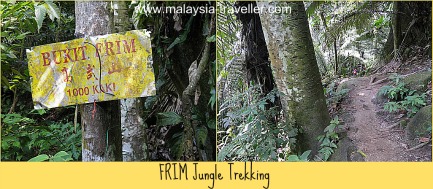 Other Attractions at FRIM
Besides the Canopy Walk the main attractions are:
- Six different arboreta: Dipterocarp and non-dipterocarp (I leave you to work out the difference), coniferatum, fruit tree, monocut and bambusetum.
- Ethno Botanic Garden (unfortunately closed at weekends so I was unable to view their prized specimens of Tongkat Ali and Kacip Fatimah - Malaysian herbs said to be aphrodisiacs for males and females respectively).
- Traditional Malay houses from Terengganu and Melaka.
- Wetland Area.
- Kepong Botanical Garden.
- Nature Trails. Besides the Rover Track there is the Keruing Trail, Salleh Nature Trail, Engkabang Trail, Sebasah Trail and Razak Walk (Malaysia's first disabled-friendly trail.
There were plenty of mountain bikers and joggers in the park on the morning of my visit.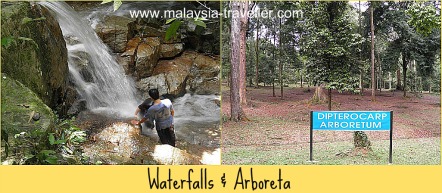 Opening Hours and Admission Charges
The FRIM canopy walkway is open daily except Monday and Friday from 9.30 am to 2.30 pm. Last registration is at 1.30 pm. You must purchase a ticket from the FRIM One Stop Centre before you commence the trail. If there are more than 10 people in your group you should phone first for a reservation (03-62797592 or 03-62797649).
Operating hours are subject to weather conditions.
The park itself is open daily and closes later (7.30pm for joggers).
Admission Charges Payable at the FRIM Main Gate
Adult and Children, Malaysian RM 1, Non-Malaysian RM 5
Mountain Bike RM 2
Car & Driver, Malaysian RM 5, Non-Malaysian RM 9
Additional Charges for the Canopy Walkway Payable at the One-Stop Centre
RM 10 Non Malaysian adult
RM 5 Malaysian adult
RM 3 students aged 13 years and above – must show student ID
RM 1 children aged 7 – 12
How To Get To FRIM
There is a good map on FRIM's website.  A taxi is your best bet if you are not driving yourself.
---
Share this page: