Batu Arang Heritage Town
Welcome to my Batu Arang Heritage Town page. 
Batu Arang is a small town near Rawang in Selangor which was once the centre of Malaysia's coal mining industry. Various relics of the town's industrial past can still be seen and in 2011, Tourism Selangor, together with Majlis Perbadanan Selayang put together a trail comprising 22 of these sites, each one marked by a sign board. Next to the town's one roundabout is a map showing the locations of these 22 historic sites.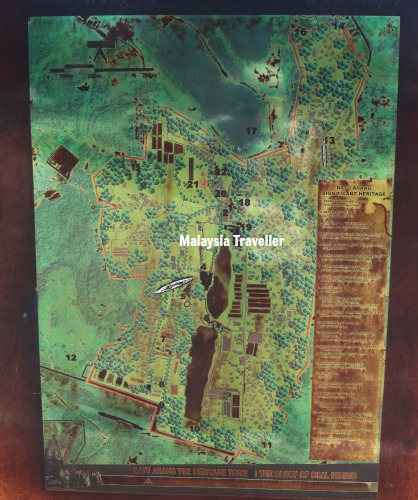 Since the map is becoming weathered and difficult to read, I managed to find all 22 locations and I have marked them on this Google Map (click on the View Larger Map symbol in the top right corner to expand and see the Key):
Here are the 22 Batu Arang Heritage Town relics, in the same order as shown on Tourism Selangor's map. 
(The GPS co-ordinates below show the positions of the Tourism Selangor signboard for each attraction.)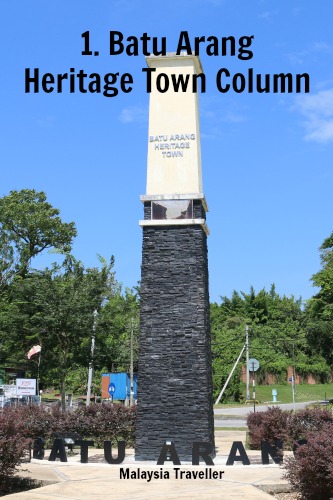 1. Batu Arang Heritage Town Column. 
GPS 3.31876, 101.47215
This monument sits at the heart of the town, in the centre of a roundabout. Its design resembles the chimneys in the nearby brick factory. Batu Arang means 'coal' and coal was discovered here in 1911. Malayan Collieries Ltd mined coal here from 1915 and production peaked in the 1940s. The mine closed down in 1960
2. Row Of Old Shops.
3.31832, 101.47204
It is difficult to imagine now but Batu Arang was once the second largest town in Selangor after Kuala Lumpur with a population of 12,000 including several thousand miners, a railway line, an airstrip, a hospital, and a contingent of Gurkha soldiers.  This row of 1920s shophouses on Jalan Besar is one of only two shopping streets that remain. The red building houses the 'Happy Public Home Rescafe'.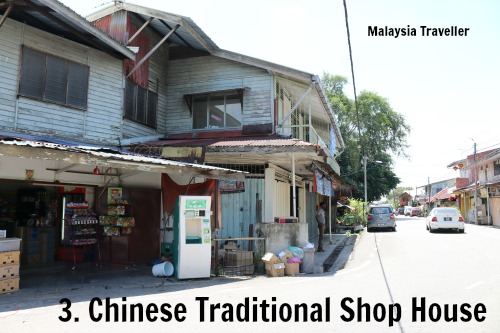 3. Chinese Traditional Shop House.
3.31644, 101.47155
Lorong Pasar has some more old shophouses as well as a public market.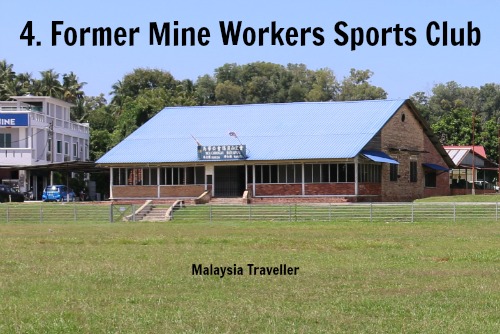 4. Former Mine Workers Sports Club
3.31703, 101.47087
The town has a padang sports field where the mine workers had their club.
5. Chap Khuan Chinese Primary School
3.31379, 101.47021
I didn't visit this school.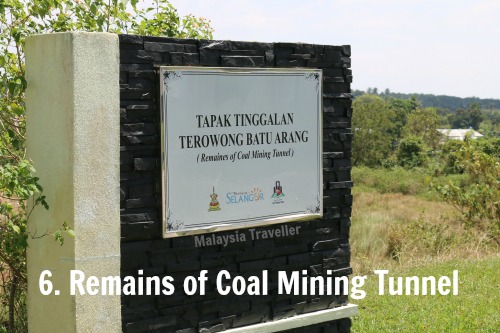 6. Remains of Coal Mining Tunnel
3.31237, 101.46974
Little evidence of mining tunnels can be seen from the road. It just looks like a grassy field.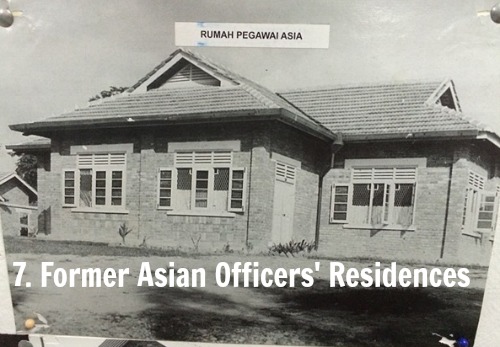 7. Former Asian Officers' Residences
3.31358, 101.46951
The senior local staff at the colliery lived in these houses. They still stand today.
8. Former Mine Workers' Settlement
3.31124, 101.46943
The ordinary miners lived in these barrack-style blocks, some of which are now derelict but a few are still occupied.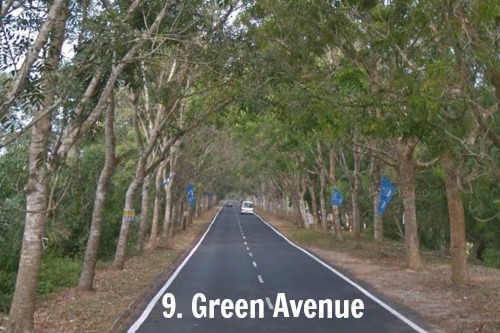 9. Green Avenue
3.30792, 101.46884
The 9th site on Tourism Selangor's map is called Green Avenue. I am not sure what historical significance this street has but it is pleasant enough.
10. Remains of Batu Arang Railway Station
3.30577, 101.47104
A branch line of the KL-Rawang railway used to transport coal from Batu Arang and connect the It is now the Welcome Community town to Kuang and Batang Berjuntai. Part of the line was dismantled by the Japanese during World War II and never rebuilt and the remainder was dismantled in 1971. The site of the station now appears to be occupied by a farm. Could that brown wooden door behind the signboard have come from the original station? It is painted in KTMB brown. 
11. Remains of Railway Bridge
3.3056, 101.47315
Again the sign marks the spot but I could not recognise any remnant of a railway bridge.
12. Open Green Space
3.30966, 101.46357
The significance of this grassy field is not clear. I did not take a photo of it but I have marked the exact location of the signboard on the map.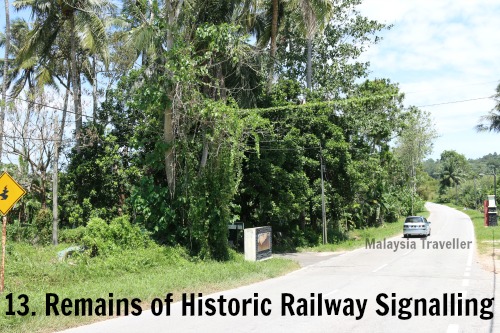 13. Remains of Historic Railway Signalling
3.3242, 101.47824
Once again I could not find any trace of this railway relic.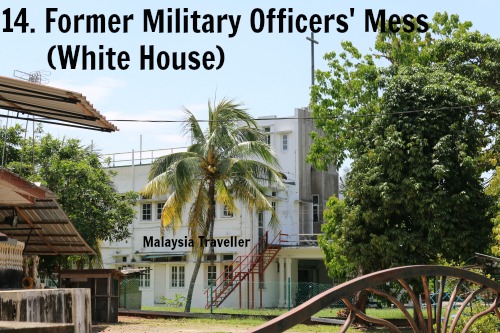 14. Former Military Officers' Mess - White House
3.32889, 101.47845
This art-deco style building dates from the 1920s when it was used as an officers' mess for the British Army contingent based in the town. After the War it was taken over by Catholic missionaries who erected a cross on its roof. Catholic Welfare Services now uses the building as the Welcome Community Home, an after-care home for HIV/AIDS patients.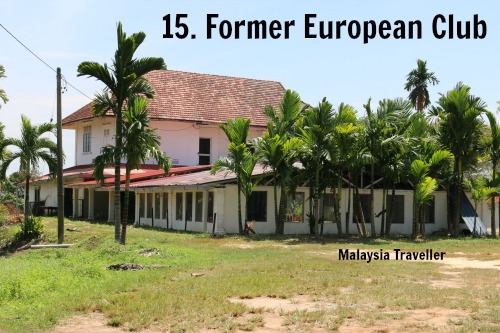 15. Former European Club
3.32097, 101.46711

This building sits on a hilltop overlooking the town. It is surrounding by hoarding as if the site is to be demolished or redeveloped. As you can see from this photo, which I took through a hole in the fence, it still looks in reasonable condition.
This is how John T. Mackenzie, a soldier, described the place in the late 1940s in his book There Was A Piper, A Scottish Piper: 
The club was very posh, with manicured lawns, flower gardens, tennis courts, and so on. It was for the "White Rajahs" - senior mine officers, many of whom had been ordinary miners in Wales. They looked down on everybody else. British soldiers, in their view, were definitely second-class citizens.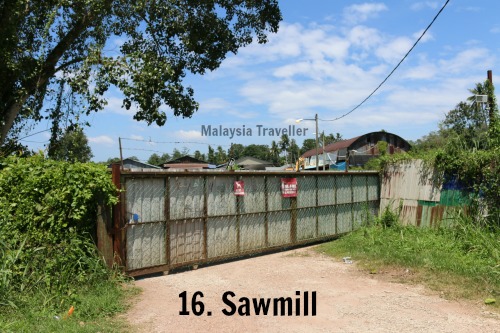 16. Sawmill
3.3277, 101.47625
The 'sawmill' is behind this gate and visitors do not appear to be welcome.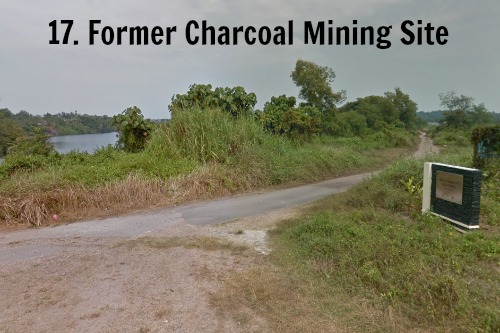 17. Former Charcoal Mining Site
3.32139, 101.47432
This signboard stands close to a scenic lake on the northern edge of the town which was created by open cast coal mining.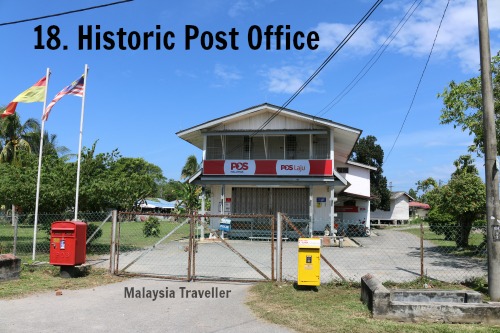 18. Historic Post Office
3.31882, 101.47291
The post office was badly damaged in 1955 by subsidence in a disused underground mine shaft.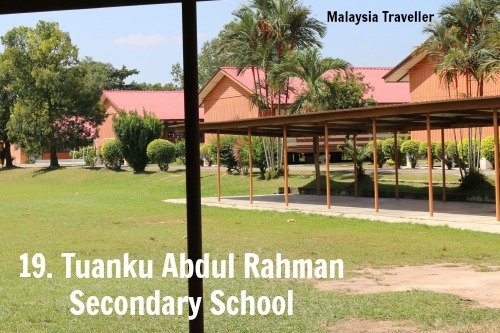 19. Tuanku Abdul Rahman Secondary School
3.31776, 101.4731
This school was originally an English school set up by Malayan Collieries Ltd. for the children of its employees.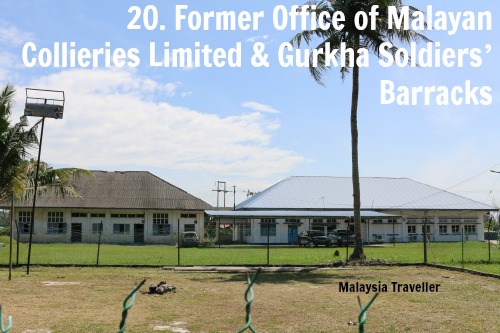 20. Former Office of Malayan Collieries Limited & Gurkha Soldiers' Barracks
3.31933, 101.47204
During the Malayan Emergency Batu Arang was a hotbed of Communist Terrorist activity in the form of sabotage of mining equipment, attacks on strategic and soft targets, and militancy among the large coal mining workforce. Gurkhas were employed by the British Authorities to combat the CTs and to help maintain order.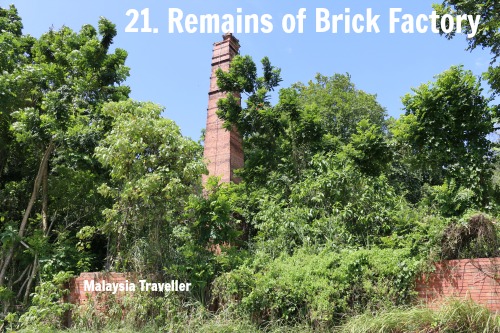 21. Remains of Brick Factory
3.31963, 101.47133
There was a large brick factory in the town and three of its tall brick chimneys can still be seen, together with the walls of the compound and other remnants.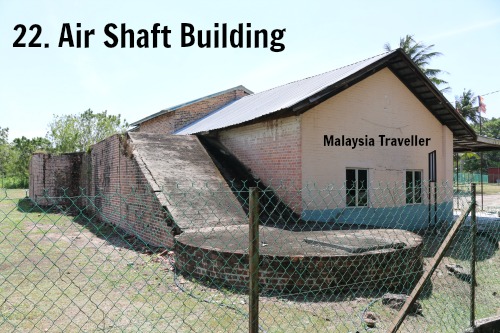 22. Air Shaft Building
3.32015, 101.47129
This building houses one of the former entrances to the disused mine shafts. The building now appears to be used an office for a political party.
Conclusion
That completes our Batu Arang Heritage Town trail. Although Tourism Selangor have done a good job in identifying these 22 historic sites and erecting signboards, more work is needed if Batu Arang is truly to become a historical tourism destination. For example, they could create a museum in one of the vacant buildings, such as the European Club, with photos and displays showing the history of the town. On the other hand, perhaps the inhabitants of the town prefer to keep things the way they are and not be disturbed by large numbers of tourists. 

How to Get to Batu Arang Heritage Town
Use the above map to pan out and see the town's location relative to Kuala Lumpur.
---
Share this page: